DePaul Art Museum exhibit pays homage to Latino thinkers with 'Portraits of Liberation Across Latino America'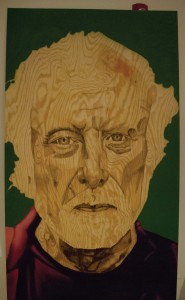 The large, colorful portraits, made mostly from aerosol, stood up against the white walls while about 50 people filtered in and filled up all the seats. Funky hiphop and smooth Latin music played in the background while the guests enjoyed refreshments and took photos. This was the scene Wednesday night at DePaul Art Museum's latest exhibit, "Portraits of Liberation Across Latino America."
Lavie Raven, artist-educator and founder of the University of Hip-Hop, Desi Mundo, artist-educator and founder of the Community Rejuvenation Project, and Virgilio Elizondo, professor of Pastoral and Hispanic Theology at the University of Notre Dame.
Christopher Tirres, mediator and assistant professor of religious studies at DePaul, introduced the guests and discussed his own interest in liberation theology, the freedom from unjust social and political conditions in association with Catholicism. He described the subjects of the portraits, such as Gustavo Gutierrez of Brazil, as having "cultural sensitivity." He also touched on the intersection of art and education, and its ability to "open up to issues of social justice." He then proceeded to ask Raven, Mundo and Elizondo how their work encompasses social justice, identity and art.
Virgilio Elizondo spoke first about his major influences growing up: parents, his "Mexicano" church, his "barrio" or neighborhood, which he referred to as "paradise," and speaking Spanish. Elizando also discussed problems he had with his identity, as he often asked himself, "¿Soy Mexicano o soy Americano?" or "Am I Mexican or am I American?" and emphasized the importance of turning a "dual identity into a new identity." For Elizondo, liberation theology manifests itself in his childhood neighborhood, groups of acculturation and groups of the poor.
Lavie Raven, from Chicago's South Side, who created some of the portraits, talked about the influences of the black power movement and the "confines of an oppressive regime" being African-American. During his childhood, he experienced life in Liberia and Israel, and ended up back in Chicago under President Nixon, Mayor Daly in Chicago and the deaths of Dr. Martin Luther King, Jr. and Malcolm X.
Also from Chicago's South Side, Desi Mundo was one of Raven's first students at the University of Hip-Hop and also worked on the portraits. "I'm a writer, first and foremost," Mundo said, referring to his work as a graffiti artist, or as he calls it, "aerosol writing." Mundo says he was taught to never use the term "graffiti," as it is "derogatory" and "…relates stylized writing to a scribble." Mundo was a member of Chi-Rock Nation, and has studied murals in Hyde Park and in Latin America.
The speakers then spoke about their roles as art educators. For Raven, the notion of "transcommunity," or "the union of divergence and different communities around a common goal," has played a huge role in educating his students. Raven believes education is "… a formal fragmentation of life…Western civilization breaks down our cosmological self."
"We have to reflect the communities we're working with…education is the dialogue," Mundo said of his perspective on teaching art to youth. For Elizondo, his early education as a non-English speaker taught him to feel ashamed of himself, he said. "Education was alienation."
Mundo and Raven also spoke about art and its role in shaping the lives and identities of many children, specifically those who are oppressed or underprivileged.
"Art is a language…it enables people to be at ease with who they are," Elizondo said. "It is liberation in the depths of the soul."
The event ended in open questions from the audience for the guests and Raven rapped briefly for the audience, speaking to the oppression many face and the social issues that accompany it.