'Generation Sex' entertains, educates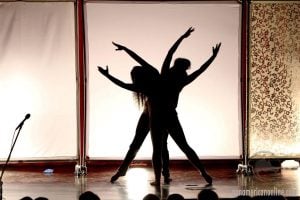 Wednesday night, Latina theater group Teatro Luna performed a never-before- seen version of the play "Generation Sex." Though they have performed this play in other iterations, they added new segments and elements of performance that made the event a truly innovative experience. The Student Center's multi-purpose room was filled with about 50 audience members.
"Generation Sex" explores women's experiences in the wake of technological advancement. Teatro Luna combines spoken word, dance, music, video clips and animation to explore various dimensions of sexuality and womanhood in the internet era. Their work has been featured in the New York Times, Chicago Tribune, American Theatre Magazine, NBC, Univision and NPR, amongst others.
Though it is billed as an exploration of sex, Generation Sex deals with the subject in a number of unexpected ways.
The show begins with an emotionally agitating vignette in which a woman describes being raped by a coworker to other women in her office. The women quickly cover it up, attempting to convince her that it had been consensual.
The six Teatro Luna performers are outfitted in high-waisted lamé briefs and nylons in shades of black and nude. Their outfits coordinate but don't match; each member maintains a sense of individuality. They wear matching black leather Mary Jane heels.
They then screen a clip entitled "Vulcan Sex," which features an interview with a woman who claims to only have sex once every seven years as a devotion to Star Trek.
The next scene is an original piece written for the play that delves into BDSM: "My man hits me, and he loves me." The women dance through various sheer screens and chant, "How can it be wrong when it feels so autocorrect?"
Then, three performers dance on stage to a remixed version of "The Whisper Song." One by one, they confess their versions of "vanilla kink," or petty theft, not recycling and watching Netflix with a jar of Nutella all evening. The play segues into a sequence where one performer narrates her Craigslist "Casual Encounters" posting. She sprawled out on the side of the stage, away from the audience, while using a camera to project her face over the entire opposite wall.
She seductively drawls a list of criteria — "be 4/20 friendly," "be real, be passionate, be real passionate" — and rejects the ridiculous responses with an air of disgust, one by one.
The discussion of Craigslist evolves into a monologue about human connection through technology. "Tell me you love me," she says. "And tag me so I know it's real."
The performers then retake the stage, girlishly lying on their stomachs toward the audience, their faces resting in their palms and propped up with their elbows, kicking their legs behind them.
They begin to recite a piece about the wonders of the "diva cup," a silicone cup that collects menstrual blood, with footage of women doing things one would expect from a tampon commercial — synchronized swimming, bowling, and talking to boys — projected on the screen behind them. In the talk-back, one performer stated it is "another way that technology has changed sex: menstrual technology."
The benign gushing over this device turns political when they ask the audience to put their sticky, menses-covered hands up and proclaim, "Free at last!" The group said they were interested in "reclaiming menstruation" and reducing the shame surrounding it.
They then screened a loosely animated piece about a 40-year-old woman named Inez who met a man who wrote erotica on the website TarotDaily.com. The clip details Inez's internal monologue as she wonders whether she should make a move; worries whether he will want something from her; and eventually, allows herself to experience the encounter.
The performers loudly coo, "Aw."
Then, after another dance sequence, they project a long slideshow of numbers and statistics about women's rights. "7.8 million women are victims of domestic violence, worldwide," it reads. "1.3 million women are victims of rape." The slideshow touches on issues of violence, poverty, equal pay and other concerns that women disproportionately face.
They close the play with a piece about Greek mythology's idea of soul mates.
The talk-back was revealing: the performers, director and choreographer all gave the audience an opportunity to ask about parts they were confused about, a luxury rarely afforded in the art world. Director Alexandra Meda took the stage to explain that a central theme in this play is to "stop talking about how other people see us, how men see us. It's about how we see us. And not just the positives. I'm interested in the interpersonal damage we do as women." Sisterhood should not always be idealized.
Meda continued, "I had to build a bizarre-o world of people, an exaggerated reality, to realize how much more messed up things are than I thought they were."