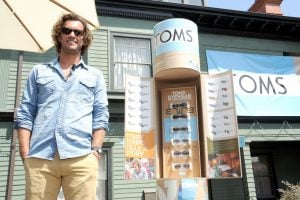 "BRIIIIINNNNNNGGG."
Your phone alarm yells at you for the second time this morning to wake up. One number repeats itself in your head, "96." It's a Monday and you're already counting down the hours until the weekend.
The cold water brings a chill down your spine as it splashes life onto your sleepy, droopy eyes. The smell of roasting coffee tickles your nostrils and offers promise for the day ahead.
Today is a trial run for the new "Carpe Diem Espresso" you purchased from TOMS. Yes, TOMS, the shoe company known for their charitable works and "buy one give one" mode of operation, now sells coffee.
Like its famous "one for one" shoes, which you slipped onto your feet while running out the door, your TOMS steaming cup of coffee also improves the lives of people in other countries. According to Toms.com, with every bag of coffee purchased, TOMS gives one week of clean water to a person in need. Or does it?
Laura P. Hartman, a DePaul business ethics professor who runs a school in Haiti, said you might not be helping suffering villages as much as you thought you were.
"The challenges with 'one for one' models, like TOMS, is that if you send shoes into a developing economy, you are displacing the part (of the economy) that would be creating shoes," Hartman said.
It seems obvious that if no competition exists in regards to price, the consumer will buy the product that keeps on giving.
It feels good to give; the consumer not only receives something in return but also connects to others by serving the greater good.
The "buy one give one" or "one for one" model of consumption in the United States is rapidly increasing. Take a look around. All different types of products, from water, shoes, clothing, coffee, glasses and even toothbrushes, are now part of the "one for one" design model.
Oftentimes, a "one for one" model connects people nationally, even worldwide.
Take project (RED), for example. (RED) has partnered with more than 20 companies, from Apple to Belvedere Vodka, for the fight against AIDS. (RED) products are easily identifiable from the popular logo and cherry- red coloring.
(RED), started in 2006 by U2 singer Bono and attorney/ activist Bobby Shriver, has raised more than $240 million and 100 percent of the money has gone towards work on the grounds, according to red.org.
This is a great idea, right?
You may feel philanthropic while listening to a (RED) song on your (RED) iPod; however, you may not know the whole truth about the organization.
"The problem with project (RED) is their waste of funding dollars," Hartman said.
The branding and licensing millions of dollars and a large majority of that money goes towards (RED)'s advertising, according to Hartman.
Hartman is a proud supporter of Soles for Souls, a company that combines giving with microfinance. Soles for Souls contributes, or "loans," shoes to individuals in a local economy for them to sell. The individuals then owe half of their profits back to the company after selling the shoes.
"This model is teaching methods of business, to people who are generally illiterate, without displacing the entire shoe economy," Hartman said.
"If you just give, unfortunately at some point you will run out."
The question comes down to how aware we, as consumers, have to be about the products we purchase. Is it enough to believe a company's mission statement, or are we responsible to research where our money is going and how it helps individuals suffering economically?
"I feel like a lot of people don't take the time to look into their organizations," DePaul sophomore Kathryn Carlin said. "Oftentimes, they do their good deed and move on."