Aftermath of the shutdown
Shutdown leaves uncertainty in government
President Donald Trump ended the government shutdown by signing a bill early last week to reinstate funds after a three-day deadlock in the Congress. The bill extends funding for the government until Feb. 8, giving Congress over three weeks to come to a conclusion about an official spending bill.
On Jan. 19, after debates about the budget bill refused to be resolved, the government entered an official shutdown until both parties were able to agree on a plan to continue funding the government. Democrats focused their negotiations over DACA before the shutdown, a controversial decision that has divided the parties as to whether or not undocumented immigrants who were brought to the U.S. as children should be extended protections under the government.
"I think, more than anything else, what caused the government shutdown was an unwillingness from the Democrats in both houses to move forward without a deal on Dreamers," political science professor Ben Epstein said. "There was an unwillingness to wait any longer on that issue that is really important to their constituents."
This was the first government shutdown to take place under a single party's control of the House, Senate and White House. Epstein refers to this as unified government, and said that every other time a shutdown has happened it was "under a divided government.
After pressure, Democrats, lead by Senate Minority Leader Chuck Schumer, approved a short-term spending bill that would continue to fund the government for another few weeks. The new bill does not address the fate of undocumented immigrants protected under DACA, leaving many worried about what will happen once the permanent bill is approved. Schumer said that Majority Leader Mitch McConnell would bring legislation to the floor to debate the Dreamers' fate.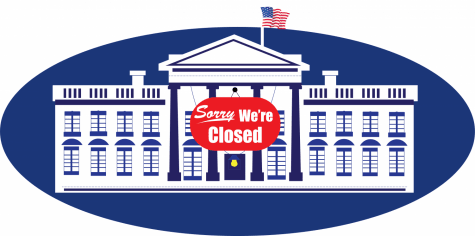 "This (shutdown) was unique because the Democrats who wanted bipartisan agreement on DACA, and thought they had one with the White House, saw it unravel over some politically charged rhetoric taking place in a White House meeting and some communication issues about the funding of the president's border wall with Mexico," public policy professor Kelly Tzoumis said. "This was the first time Democrats used the budget process for making a policy agreement."
The Dreamers' protection will be over in early March, leaving many worried about the future of undocumented youth in the U.S. Trump recently proposed a plan to get an estimated 1.8 million Dreamers – twice the number that are enrolled in DACA — on a path to citizenship, in exchange for increased border security and curbing legal immigration. The trade-off was met with disdain from key Democrats.
"According to many polls, the American people want to support DACA," Tzoumis said. "And now, the Democrats made this a very salient issue on the agenda, as political science theories teaches us. This is an opportunity for the political parties to work together to deal with DACA."
The Jan. 22 bill also extended funding to the Children's Health Insurance Program (CHIP) for six more years. CHIP provides low-cost insurance for families whose incomes don't qualify for Medicaid but are potentially too low for private insurance. Funding ran out for CHIP in September, and it had been running on a short-term funding extension from Congress.
"Without this program, these children are caught in a dangerous gap that would deny them access to needed care," said Joel White, the Council for Affordable Health Coverage president, in an interview with Fox News. "Every day that CHIP remains without a long-term reauthorization is a day that access to health care is threatened for the most deserving and vulnerable among us."
Trump spoke out earlier in support of CHIP via Twitter, saying on Jan. 18 that it "should be part of a long-term solution, not a 30 Day, or short term, extension." The six-year extension to the program will allow for nine million children to continue being covered. Funding for the program had been used as a tool by both parties to use against the other before and during the shutdown.
Many government-funded institutions like national parks and post offices were closed as a result of the shutdown, and thousands of workers were told not to come into work the Monday after because the official shutdown meant the government couldn't pay them. Epstein stressed that it wasn't just military workers who were out of work, but people who "work in all different areas of government work that would have either been furloughed or working without pay."
The government is still holding on to a temporary bill that will be up in early February, and nothing is confirmed about what will happen once the date has passed. Many worry about what the new bill will bring — or won't deliver — to veterans, Dreamers, social security and a number of other government-run programs.
"They have to pass either another continuing resolution, which is a short-term budget deal, or pass a longer-term budget deal," Epstein said. "That would be ideal, but they basically keep doing the short-term fixes for a long time. They will also decide whether or not there will be any movement on immigration, and it's definitely something to pay attention to."