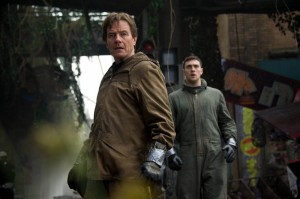 After seeing the new "Godzilla" film, I feel like someone thinks they pulled a fast one on me, but they didn't. Naming the movie "Godzilla" was misleading.
"Godzilla" isn't really about monsters; it's more about the American military complex — and I didn't appreciate that because I thought I could escape advertising and government propaganda for two hours by being sealed off in a dark theater.
It shouldn't be hard to ruin a story that pretty much tells itself: A primordial green lizard — 10 times the size of a T-Rex and a million years more ancient — born from when the Earth's radiation was at staggering levels, rising terrifyingly from the ocean depths to annihilate the hapless Japanese, with their gluttonous use of nuclear energy. Add some radioactive moths, and you have a May blockbuster.
But I was wrong on all counts.
Actually, it was more of a two-hour long Navy commercial with the same archetypes that are jammed into every other monster/ disaster film: A crackpot conspiracy theorist dad (Bryan Cranston of "Breaking Bad"), a loving, overly understanding wife (Elizabeth Olsen of "Captain America: The Winter Soldier"), and the buff, handsome, white marine hero (Aaron Taylor-Johnson of "Anna Karenina").
How I longed for the linguistically delayed, badly dubbed-over Japanese versions with Godzilla disco dancing through the city.
The problem is, when a monster movie is slapped together like this, with puddle- deep characters and absurdly fortunate plot twists (Taylor-Johnson, the only marine who could disarm a nuclear warhead), you need to give us what we came to see: giant monsters in a city-wide battle royale. But there simply wasn't enough of it.
There's plenty of delicious foreshadowing, like Cranston studying echolocation (a prelude to the geometrically lurid Mothra who is communicating with a female), and the M.U.T.O. discussions, an acronym you'll have to research yourself. And then the poignant one-liner delivered by Dr. Ishiro Serizawa (Ken Wantanabe), "Let them fight."
Most of what's seen of Godzilla is akin to seeing the shark fin skim the surface in "Jaws." It's frustrating, and this is a remake, not an original. You don't have the luxury of finely threading out a plot line, teasing us with glimpses of green progeny and pathways of destruction left by something big.
But you should endure Cranston's overacting and the legion of clichés doled out, knowing that, sometime, Godzilla will emerge from the ocean and save us all. When he does finally emerge about an hour into the movie, it's a digitally satisfying spectacle and the first things you see are his eerily human fingers.
A bit more boxy and angular than previous movies, Godzilla delivers with sheer size and authority to steal the movie, it just takes too long. There is some intense satisfaction if you're like me and forgot Godzilla can breathe electric fire. When his scales start to glow like stars, you know you're in for something digitally pleasing.
However, it felt like the Army and Navy were trying to recruit me and I didn't fall for it. I know this because I saw far more Army and Navy combat tactics than I saw of Godzilla. I suggest changing the name to "The U.S. Navy vs. Mothra, and sometimes Godzilla."
That aside, this version of "Godzilla" is a slight mea culpa for the 1998 disaster starring Matthew Broderick. But the same problems recurred: Dismal character development, obnoxiously long scenes without monsters and a lead role simply not relatable enough to root for.
For a movie marketed to pre-teen and teenage boys, the military recruiters churned out a good pile of propagated garbage masqueraded as a movie.
They took the dapper Taylor-Johnson, stuck him in the gym and cropped his hair to make him the prototypical white American soldier, and Olsen as the understanding, all-American blonde wife.
"Godzilla" was more of an American military propaganda film than a monster movie, though at some points Godzilla did make a solid appearance.
The vital scene comes aboard a freight plane where Navy troops parachute from the smoke-darkened skies with red flares streaking from their ankles, a scene rendered artistically to the score from Kubrick's "2001: A Space Odyssey." They plunge down over the monsters, as they tear through San Francisco.
Scenes like this showcased director and digital legerdemain Gareth Edwards' cinematic talent for providing expansive panorama.
Most scenes are replete with smeared gray skies and foreboding dialogue. The roughly scaled Godzilla is an aesthetic upgrade from the previous 1998 version.
Visually, the movie was a delight. The myriad aerial shots gave us the grandiose scope consistent with the blockbuster production value of "Godzilla."
But the whole wasn't greater than all of its parts, and if you want your fill of monster mayhem, I'd recommend last year's summer sleeper "Pacific Rim."