400 attend Amiwala fundraiser as board race heats up
Correction: An earlier version of this story stated Amiwala received news of a press release from an opposing candidate who accused her of not filing a critical fundraising form. The form originally stated in the article is required to be filed when candidates receive donations of at least $1,000. In reality, the press release alleged Amiwala had violated 10 ILCS 5/9-9, a statute designed to prevent individuals and groups from anonymously collecting money to influence political campaigns in Illinois.
The writer acknowledges and regrets the error.
When DePaul sophomore Bushra Amiwala was a little girl, she never thought she would be hosting a fundraising dinner for her political campaign in her hometown of Skokie.
Amiwala is the first Muslim woman and the youngest person to run for a seat on the Cook County Board. She first announced she was running commissioner for Cook County's 13th District in March, 2017.
She was alone in her bedroom when she published a Facebook post in which she first announced her campaign to the public. Then, she didn't have a support base or any money to run against incumbent Larry Suffredin, who has held the position for the past 16 years.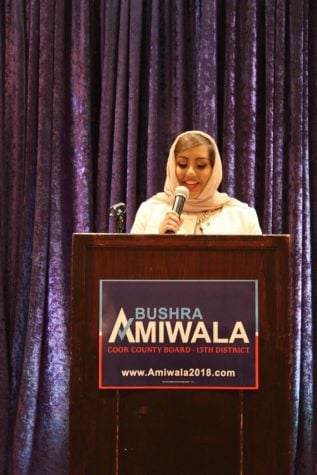 Eleven months later, Jan. 31, Amiwala would be treating nearly 400 supporters in the ballroom of Skokie's Holiday Inn Hotel to a Mediterranean dinner as she attempted to garner more support, pledges, and ultimately, more votes.
"It was incredible. It was so exciting. Feb. 1  marks the eleventh month of me announcing my candidacy and campaigning, and seeing that within three weeks of planning an event I was able to get 400 people into a room," Amiwala said. "These are the real members of the community. These are my constituents, like the people who I will be serving. They are showing up and they believe in me. I have their full support."
The theme of her fundraising night was "Women in Power." Five women highly involved with local politics and grassroots organization spoke about their relationship with Amiwala. Each speaker expressed why they believed she should be elected to the Cook County Board, all while Amiwala walked around the ballroom introducing herself and shaking supporter's hands.
Speaker Kathleen Dillon expressed how she thought Amiwala would make up for the lack of diversity currently present in public office.
"We need more progressive candidates in office, especially progressive women of color. We also need millennials, immigrants, Muslims and folks of a variety of religious affiliation, gender identity and other identities present in the United States to be in public office," Dillon said. "If the diversity presented in this nation was actually represented in our government that would be something else."
Associate professor Wendy Heltzer, who was Amiwala's financial accounting professor during fall quarter, was one of the featured speakers of the night.
"I wholeheartedly endorse and support Bushra for Cook County Commissioner. It was my honor to be her professor last quarter and it is my honor to be her friend and support her tonight."
Among those in the audience was Democratic candidate Aaron Goldstien, who is a running for attorney general of Illinois, Dilara Sayeed, Democratic candidate for state representative 5th District and Ugochukwu Okere, a Loyola senior who recently announced his run for 40th ward alderman last week.
"I am here supporting Bushra because Bushra is a representation of exactly what it is that I am trying to do as well. She has set and paved the way for young people, millennials to run for office," Okere said. "She is showing everyone that it is not as scary as it seems – that there is a reason to do it and there is a chance that you can win."
Okere announced his run for 40th ward alderman on Jan. 27 in Steingold's of Chicago Deli in the Ravenswood neighborhood. He is up against Alderman Patrick O'Connor who's held the position for 35 years.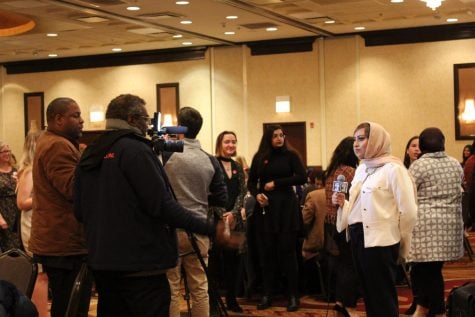 Amiwala was a featured speaker at his announcement where she too expressed her support for his campaign.
"If we can band together, organize and support each other strongly enough, we can prove to those people who are at the top, who are older than us that we do have power. It's there it can be organized and we can be a stronger force than anybody could ever think is possible. It is important for me to stand with Bushra as she stood there for me at my announcement event."
In one night Amiwala was able to raise an estimated $6,000 from online ticket sales alone, not including checks and pledges which hadn't been counted by Amiwala's team by the time of publication.
Her ultimate goal is to reach at least $10,000 to send a countywide piece of mail to 300,000 residents to ensure that each county resident would recognize her name before the primary elections.
Not everybody is in support of Amiwala's movement. A day after her fundraising dinner she received news of a press release from opposing candidate Daniel Foster who accused her of allegedly violating campaign finance laws among other grievances.
In the press release, Foster, stated, "the statute in question is 10 ILCS 5/9-9, which requires all political committees that solicit funds to include a notice that relevant reports have been, or will be, filed with the State Board of Elections. Ms. Amiwala has been raising funds since at least March of 2017, but has never included the required statement on her fundraising webpages or printed materials."
She publicly responded to the press release by uploading a photo of her crowd of 400 supporters to her Facebook page. She described how her support and funds come from grassroots campaigning.
"I'm honored to receive this attack; that means I am the most threatening candidate in this race," Amiwala said.
This comes only five months after Amiwala denied a donation of $54,500 in corporate funding, simply because it did not come from the local people she was representing.
To even her own surprise, Amiwala's campaign is picking up speed. She hopes her campaign encourages other young women to run as well.
"I started this campaign literally alone in my room and all I had was my D1 form, which is my statement of organization that you need to legally collect funds, and I had a Facebook page," Amiwala said. "Now look where I am. I have this large following because good things happen to good people."
---