Lt. Gov. candidate Ra Joy talks 'Kennedy Kush' with College Dems
Ra Joy, lieutenant governor candidate and running mate to Chris Kennedy, was hosted by the  DePaul Democrats on Wednesday.
Joy spoke on a myriad of issues during the course of the evening, but he put special emphasis on marijuana legalization — what he likes to call "Kennedy Kush."
Last week, state Sen. Daniel Biss visited DePaul with signs that read "CannaBiss." This week, Joy chose to hammer home that same message.
"Jack liked to call it Kennedy Kush," he said, referencing his staffer, Jack McNeil. "If you tweet one thing tonight, tweet that Ra Joy supports the legalization and decriminalization of marijuana."
Joy said that his campaign would also support commuting the sentences of those currently incarcerated for cannabis related crimes.
Although legalization was a big part of Joy's message on Wednesday, it is not an issue that sets the Kennedy-Joy campaign apart from any of the other Democratic gubernatorial candidates. All six Democrats on the ballot openly support the legalization of small amounts of marijuana.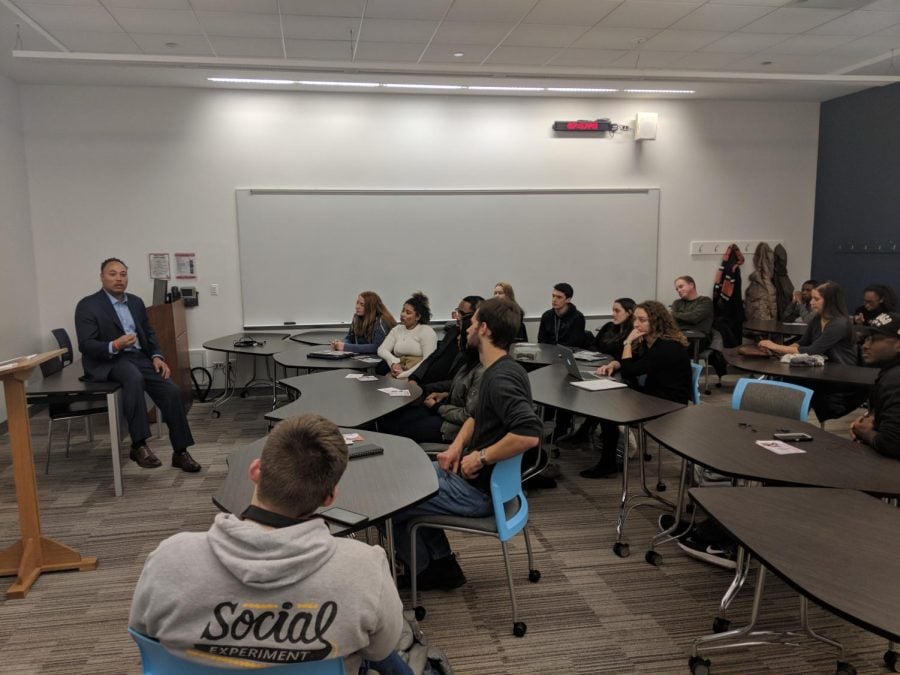 But there is one part of the Kennedy-Joy plan that differentiates them from the rest of the field. Their campaign calls to have the University of Illinois act as a third-party arbiter. Kennedy and Joy say that Illinois should learn a lesson from some of the other states that have already legalized marijuana.
"States like Colorado have made some mistakes," he said.
Joy said that legislators are not the best people to roll out a comprehensive plan on cannabis reform. He mentioned Colorado's failed attempts to discourage packaging that would look appealing to minors, or not realizing that some cannabis products have incredibly high levels of THC (the psychoactive component in cannabis). Joy said that allowing a university to handle the legislation could prevent some of those same mistakes in Illinois.
Marijuana was not the only issue of the night. Joy talked in length about the exodus facing Illinois, particularly concerning African Americans and college students.
During a budget impasse that left Illinois without a budget for 793 days, over 72,000 college students left Illinois, according to Capitol Fax. Joy said that is unacceptable.
"If we invest in higher education, America will give us their jobs," he said.
Doug Klain is the vice president of the DePaul Democrats. He helped plan the evening and said that for many students, actually sitting down with a candidate is often the most effective way for them to decide where they will cast their vote.
"We find it helps when students can actually ask a candidate their own questions, instead of just seeing them on TV," he said.
Klain said that he didn't have too many expectations for the evening, though he did mention a recent scandal in the gubernatorial race.
"I think the elephant in the room is going to be the J.B. Pritzker tapes," he said before the event.
Klain was making mention of a string of FBI wiretapped tapes from 2008 that were recently published by Rauner. On the tapes, Pritzker says unflattering remarks about African Americans while talking to then-Governor Rod Blagojevich. He calls a possible African American appointee the "least offensive" option.
Klain was right. The very first question asked by students to Joy asked him to address the Pritzker tapes.
"People usually don't talk about race," Joy said. "Particularly in mixed company.
Joy said that he was not surprised to hear those comments from Pritzker, and that some people were missing the point entirely.
"I was profoundly offended by the language," he said. "Under what context is least offensive appropriate?"
Michael Lynch, president of student government, was in attendance. He was happy to see students engaging politically during what he says will be a very important election.
"This was a great opportunity for DePaul students to hear from candidates and have a chance to interact with them and hear what they are all about," he said.
After talking for over half an hour, he did not rush out of the building. He stayed behind to shake hands and took the time to sit down with student media for another half-hour. Even after the event, some students waited for Joy to finish being interviewed so that they could head to Derby — a local bar.
"It's been a long night," Joy said. "Now we are all going to grab a drink."
Editor's Note: In an earlier version of this story it was incorrectly mentioned that Mr. Joy made reference to President John F. Kennedy. In fact, Mr. Joy was referencing his staffer, Jack McNeil.