Style for spring and summer
As the weather begins its slow turn to warmth there may finally be a chance to rock that new outfit you've been planning out since it started snowing. Now that both New York City and London's spring and summer fashion weeks have passed, it's time to figure out how you can work the new styles and trends into your own wardrobe. Although you can never be quite sure what to expect from Chicago weather, the upcoming trends for spring and summer provide plenty of versatility, allowing an outfit to pop—rain or shine.
Nostalgia for the 1980s and '90s is as strong as ever in fashion, with more designers experimenting with big shoulders and box-like cuts or nipped waists in womens wear. Sequins, ruffles, fringing and heritage checks were all thoroughly represented throughout the fashion house's collections, reminiscent of a revamp of "Clueless,"—in a good way of course. Though the leg warmers have been left in the past, the colors of the last two decades made strong appearances in many of the prominent runway shows.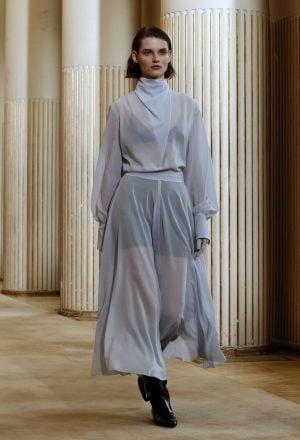 Bold, monochromatic primary colors like red, blue and especially yellow adorned many of the best outfits from fashion week. The full-colored outfits were often paired with materials like shiny plastic or sheer sparkling tops, giving the impression that the more basic colors were used to corral the eccentric materials.
"Yellow is going to be big—Gen Z Yellow, specifically, was very popular throughout fashion week," said Celia Ver Ploog, an Associate Buyer with Neiman Marcus. She describes the color as being bright but not oversaturated or overtly golden. Think of fresh pineapple or bananas rather than the typical lemon or gold, she said.
If you're looking for something a little less ostentatious then the popping primary colors, then don't worry because pastels have once again proven to be a reliable spring or summer staple. Colors reminiscent of gelato or sherbert were unavoidable, and lilac, periwinkle, lemon and duck egg blue suits, dresses and coats were a common sight on catwalks that featured lighter hues mixed into some outfits with unexpectedly decorous results. Be careful when experimenting with pastel colors, which can be classified under the "less is more" category. Try to stick to one pastel color or a monochromatic pastel outfit rather than mixing hues to avoid looking like a forgotten Easter Egg.
Trench coats were another common sight at many different shows, falling in line with box-like strong shouldered looks. And yet, each had their own flairs—Balenciaga's trench coat, for example, which from behind is actually a denim overcoat with the trench laying flat on the front. Trench coat-centric outfits can be sleek but early adopters may want to tread lightly to avoid accidentally looking like an Inspector Gadget cosplayer.
Pencil skirts and pants suits also made quite an appearance on runways, further emphasizing the nostalgia factor in design at the moment. This could be a possible reaction to the popularity of athleisure in prior years, with a shift back towards more classic well-designed features rather than the relaxed casual looks that have become so prevalent, coinciding with the growing streetwear trend of the last decade.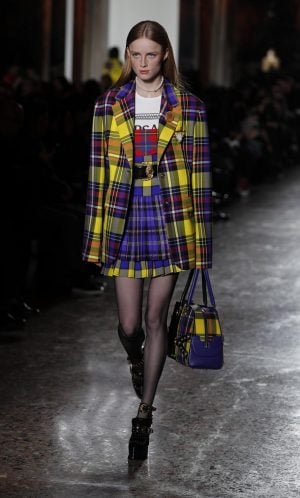 Transparent fabrics and even clear plastic materials were also showcased in both cities, with clear pieces being included in the shows of Burberry, Calvin Klein and Chanel, the latter of whom debuted an eye catching pair of knee-high boots made from a clear plastic. The transparent outwear is great for showing off an outfit while staying dry. Even though the clear material trend is one of the more difficult to imitate, with rain never too far off during spring in Chicago it may be time to invest in some clear plastic apparel.
Menswear followed suit, continuing the dad core-like style that has steadily grown over the last five years. After Balenciaga released their Triple S Speed Trainer earlier this year, a chunky thick soled shoe deemed a "dad shoe" in the vein of the Nike Monarch, it became a staple in the closets of suburban fathers everywhere. The style blew up and now other fashion houses such as Prada are imitating the trend.
Printed button ups, nylon pullovers, and androgynous style reigned supreme as designers seemed to take inspiration straight from the family photo album where your Dad looks like a suburban Steve Jobs-Tom Selleck hybrid.
For the most part menswear followed a similar vein as women's trends, emphasizing pastels, clear plastic, and '80s nostalgia. But what did stand out was the inclusion of black garments, much more so than the newly previewed womens collections.
"You can never go wrong with black. All black everything," Alonso Wright, local designer for the brand GUTTER, explained.
"Brights and pastels may be blowing up but you can always fall back on black."
Spring and Summer are fast approaching, hopefully bringing warmth and sun. This fleet of new style ideas and trends should keep you well outfitted for the upcoming months.