An improvised life
The promise of dodgeball and capture the flag during the warm Ohio summer was enough to entice tomboy Christian Borkey to attend theater camp with her three older brothers in the summer after third grade.
Borkey learned the motto "it's better to be loud and be wrong than to be quiet and right," at camp during musical rehearsals, and it continues to stick with her as she takes on different roles in her college career and performing pursuits.
"I do everything loud and sometimes wrong," Borkey said with a laugh. "Do it wrong, do it strong, man."
Borkey, 20, is midway through her second year studying Chinese and international studies at DePaul. She is now the artistic director of Springboard Theater in addition to being a team coach for DePaul Improv and Sketch Comedy (DISC) and a member of the DISC improv team the 2002 Chicago Bulls.
In a coat, sweatshirt, gray joggers, and a beanie that covers most of her cropped hair, Borkey looks ready for any scenario. Folded in an armchair, she continuously winds her headphones around her fingers as she quickly cracks smiles and jokes, mimics voices, and widens her blue eyes.
"People usually think I'm a 14-year-old boy," said Borkey.
In the fall of her freshman year, Borkey answered a call for a social media post writer at Springboard Theater, a DePaul organization that produces original and accessible theater outside of The Theatre School. She also acted in and worked on Springboard's shows throughout the year, including the 24 Hour Play Festival. By December 2017, the company's artistic director was nearing graduation and had other commitments, Borkey said, so senior members asked her to become the new artistic director. Borkey officially took over the position last month, with her longtime friend Emily Lindsey serving as managing director.
"She has a super strong personality and a lot of creative ideas that make her perfect for the position for the position of artistic director," said Emily Lindsey, a DePaul sophomore and friend of Borkey for seven years and counting.
Lindsey first met Borkey in seventh grade at auditions for a production of "Alice in Wonderland" at their community theater in Cleveland.
"I thought she was super talented," said Lindsey.
Though neither of them were cast, they went to theater camp the next summer and eventually became inseparable.
Later that summer, the community theater director asked Borkey to audition for the community's improvisational comedy team at age 12. She auditioned in the winter, got in, and began officially improvising. Being six years younger than the team's most seasoned veterans, Borkey felt she had the opportunity to bomb on stage.
"I would not be as far as I am had it not been for that supportive group and such a supportive director, Sandy Kosovich Peck, my queen," said Borkey.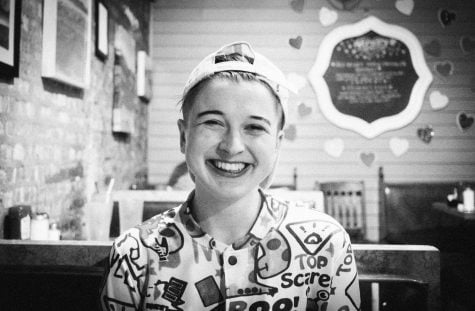 Improv was not explicitly on Borkey's mind when she arrived at DePaul, she said. Once she saw that DISC was holding auditions, she decided to go for it, and made the cut from the hundred auditions and was thrown together with other DISC newbies that would become the 2002 Chicago Bulls.
"I was like 'What? Validation?'" said Borkey, "'I guess I'll take that. Yum, yum, yum.'"
The 2002 Chicago Bulls improvise and perform together typically on a weekly basis. Also in the realm of comedy, Borkey is coaching a new DISC team and is studying improv in the conservatory program at The Second City.
"I also find my personal best scenes with her just because she's so confident and talented on stage," said Oisín Heneghan, 22, who is a team member of the 2002 Chicago Bulls.
The 2002 Chicago Bulls and DISC put on two sold-out performances in January of the Middle School Dance, a variety show dealing with the drama and awkwardness of middle school, which was the brainchild of team member Jerwin Gabriel Santiago. Borkey helped book the Blackout Cabaret at The Second City for the shows because of her conservatory student status.
"It felt so good to help uplift someone else's voice as well as provide an opportunity for other people to just dick around," Borkey said.
After the success of the first run, Middle School Dance is returning March 8 for a 10-week run at Under The Gun Theater on Thursdays at 10 p.m. The show, produced by Santiago and Borkey, will feature P.O.C., non-binary, LGBT+, and femme comedians.
"I really care about uplifting marginalized voices, especially in the comedy community," Borkey said.
Regardless of the type of performance, Borkey is excited to be a part of it. She even created her own drag king persona, "Sick Boy," who begins a strip tease by unbuttoning a white shirt only to discover another buttoned shirt under it, and performed in Act Out DePaul's 2017 and 2018 Student Drag Shows.
Though her days are usually jam-packed with weeknight rehearsals and weekend performances, Borkey makes time for studying her double business-related majors and other school obligations. Recently, she performed a rap verse at DePaul's 10th Annual Chinese New Year Gala.
"Literally, I've been living a double life," Borkey said.
She talked in detail about her experiences, occasionally mentioning a potential move to Australia, almost getting expelled from high school at one point, her love of SpongeBob SquarePants: The Broadway Musical, and her life philosophy.
"The universe is meaningless and stupid; why not just enjoy it?" said Borkey.
Borkey describes herself as "very Sylvia Plath" when thinking about a career path, and the people in her life also don't know what she is going to do next.
"I feel like one year she may stumble into a Broadway production only to end up working for the UN the year after," said Heneghan.
Whatever direction she pursues, Borkey will keep laughing.
"I love using comedy and using laughter as a means of just getting people to understand what it's like to be different," said Borkey, "because laughter is such an effective tool for communication that's universal."