Kennedy supporters upset by Pritzker's victory
The optimism and anticipation supporters of Chris Kennedy held was replaced with disappointment and bewilderment as J.B. Pritzker emerged victorious in the primary elections for Illinois' next governor.
Many supporters furiously campaigned for Kennedy as the election approached, with over 100,000 calls made in four days leading up to March 20.
Cherry Hardie has been a supporter of Kennedy for many years. Hardie campaigned for Kennedy for nearly a year.
"I have worked tirelessly," Hardie said. "Yesterday I got to the campaign office at 10:30 a.m. and I didn't get home until 8. I worked for phone banks to encourage people to vote for Kennedy. I passed out about five bags of informational leaflets to inform people on why Kennedy would be a good candidate. I was on and off busses constantly to get the word out."
Hardie supported Kennedy because of his policies and because of the history of social justice in the Kennedy family.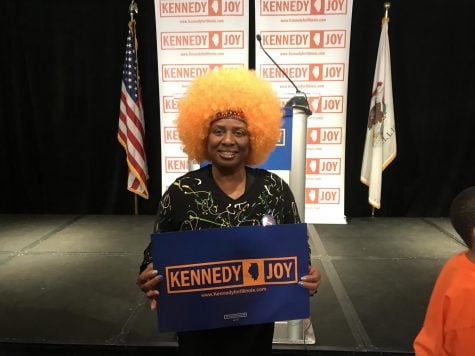 "Politics is in their blood and I think that it is divine decree that Kennedy should win today," Hardie said. "If he doesn't win then we are in trouble."
As news agencies began calling Pritzker the winner in the primary, many people's faces sank and their eyes brimmed with tears which they fought to keep back.
"I am very upset," Jocelyn Pinsler said. "I am going to write someone else in the ballot in November. I refuse to vote for Pritzker."
Pinsler believes $70 million Pritzker spent funding his campaign played a major role in why Pritzker secured the win.
"He has spent so much money on ads and lied about so many people, that people have no idea what to believe," Pinsler said. "I loved the way Kennedy stood up for himself rather than deriding his opponents like Biss and Pritzker were always doing, but I think that he should have run more ads."
Hardie echoed Pinsler's thoughts that the funding Pritzker put towards his campaign is what was the deciding factor.
"Maybe if Kennedy had been a billionaire too he could have run as many ads as Pritzker and people would have seen that he was the better candidate," Hardie said. "People do not inform themselves and just do what the TV tells them too. This election is a battle of the billionaires."
Mimi Jensen also felt that no other candidate could compare to Kennedy, citing Pritzker's recent scandals involving offshore holdings and the wiretap recordings of conversations Pritzker had with former governor Rod Blagojevich in which they discussed selling off Barack Obama's empty Senate seat.
"Now we are going to have to write someone else in who isn't going to buy your vote," Jensen said. "I might just not vote because someone who is shelling out millions and millions of dollars against the people. I think that it's against democracy and that democracy should be the people with the best intentions and not billionaires."
Jensen believes the constant stream of TV advertisements Pritzker ran is a key aspect of his victory.
"[People who voted for Pritzker] are couch potatoes and do not have the energy to investigate and look to see where Pritzker got his money or how he is using his money. People are easily swayed by commercials."
Soon after Pritzker was declared the winner, Kennedy took to stage to address his supporters with his concession speech.
"In just under a year we have battled JB Pritzker for the heart and the soul of the Democratic party in Illinois," Kennedy said. "All of us, his opponents, battled him. We called him out, we ran millions of dollars of ads, we ran campaigns to try to beat him and every time he battled back. The voters of Illinois have spoken and now we must follow their lead and give Mr. Pritzker the support he has earned."
Kennedy said that he does not regret running for governor and would be much more displeased with himself had he not run at all.
"Throughout the campaign many of you have heard me share the Kennedy family adage that It's better to win than to lose, but it's better to lose than to cheat," Kennedy said. "Let me share more of this with you tonight. We very much believe that it is better to play in the field than stay on the sidelines. It's better to witness a contest end in failure than to see a failure begin by contest. We prefer the grime of the field than the griping in the stands."
View Comments (1)