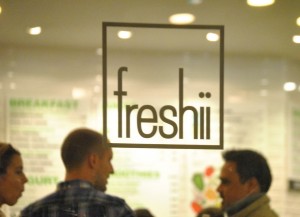 The Loop
Freshii
854 W. Armitage Ave.
Freshii is perfect for a quick and healthy meal that's also environmentally friendly. It offers a variety of basic options to choose from, including salads, wraps, salad wraps, bowls, burritos, soup, frozen yogurt, juices and smoothies and breakfast.
Though its menu has a few set options to pick from, you can always build your own model, too. Freshii's also lives by its "Mission Green" philosophy by eliminating traditional industry staples, which reduces excess packaging, decreases heavy energy consumption, and avoids processed ingredients. One of my favorite meals is the Pangoa Bowl, a delicious combination of avocado, black beans, corn, cheddar cheese, tomatoes, cilantro lime and hot sauce!
Vapiano
44 S. Wabash Ave.
If you're looking to dine on some delicious Italian food with a modern vibe, Vapiano is the place to be. Vapiano has antipasti and insalate, pizza, pasta and delightful dolci. When you walk in, you will see three different stations: pizza, pasta, and antipasti and insalate. Meals are prepared in the open, right in front of customers.
One of my personal favorites is the Margherita Pizza; thin pizza with tomato sauce and big slices of fresh mozzarella that can easily be shared between two people. The Wild Mushroom Beef Filet pasta is also impeccable, with pieces of beef filet, sliced wild mushrooms, Gorgonzola cheese and bits of radicchio, covered in a cream sauce.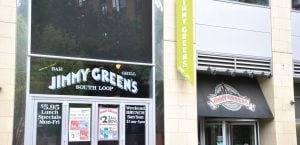 825 S. State St.
Who doesn't enjoy a deal or discount? Jimmy Green's, a sports bar and grill located just a few blocks south of the Loop campus, offers a different drink and food special every day of the week. With a wide variety of pub options to choose from—including pizza, burgers, salads, wings and more—this place can absolutely fill your craving. The restaurant also offers brunch on Saturdays and Sunday from 11 a.m. to 2 p.m., offering bottomless mimosas and bloody marys with a mini hot dog.
Miller's Pub
134 S. Wabash Ave.
The minute you walk into Miller's Pub, you're immediately taken back in time. It has an old-school feel with black and white pictures hung up all over the walls. Known for its seafood, steaks and famous barbecue ribs, this place is any meat lover's heaven. Miller's Pub also has a wide variety of beers on tap, with many being from the Midwest. Miller's Pub also offers a handful of daily specials.
Lincoln Park
The Bourgeois Pig Cafe
738 W. Fullerton Ave.
The Bourgeois Pig Cafe on Fullerton is another DePaul favorite food spot.
"It's a wonderful atmosphere paired with excellent food," senior Jenna Feld said. "I recommend trying the Great Gatsby sandwich, Old Sport."
The old-fashioned-era theme is carried throughout its entire menu. Sandwich options under The Classics section of its menu are titled, "Pilgrim's Progress," "The Great Gatsby," "The Catcher in the Rye," "Henry VIII" and "The Tale of Two Turkeys." Its relaxed coffee shop atmosphere is perfect for a quick lunch between classes.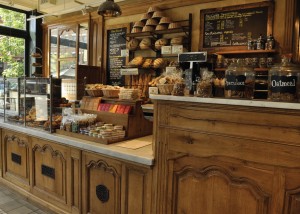 Le Pain Quotidien
1000 W. Armitage Ave.
Many students have taken a liking to the newest addition to the Armitage stretch, French café Le Pain Quotidien. The fresh, organic bakery items visible through the front glass windows of the cafe lure customers. Le Pain displays a wide selection of breads, pastries and desserts in the front bakery section. And while you may be satisfied with the treats offered in the bakery, the café has an even larger menu full of organic, French options for breakfast, lunch and dinner.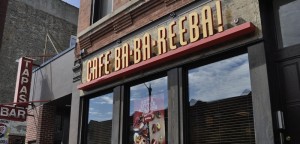 Cafe Ba-Ba-Reeba
2024 N. Halsted St.
Many locals say Café Ba-Ba-Reeba and its famous tapas, or "small plates," are to die for. Most tapas are as cheap as $5, with options under sections Vegetables & Cheese, Seafood, Beef & Lamb, and Chicken & Pork. Its sangria and wines by the glass are also very popular, and make for a great night out with friends. This Spanish-themed restaurant is always bustling, and is a must-see.
Blue Door Farm Stand
843 W. Armitage Ave.
If you're looking for a more healthy lunch option, check out Blue Door Farm Stand on Halsted, junior and fitness instructor Connie Weissmuller said.
"They have a great kale salad and juices for a fun lunch with friends," she said. The café offers locally sourced soups, salads and sandwiches, in addition to juices and coffee.