Nation and World Briefs: April 9, 2018
Alleged chemical attack strikes Syria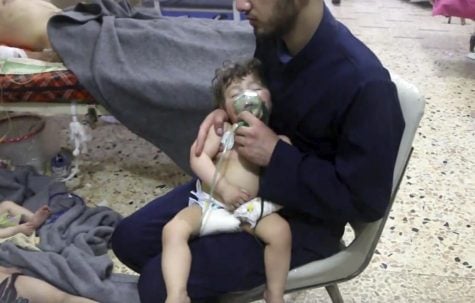 An alleged gas attack killed at least 40 people in the eastern suburbs of Damascus, local responders said on Sunday. Syrian state media, meanwhile, reported that rebels there have agreed to give up their last foothold in the area.
First responders and a relief organization said they found families suffocated in their homes and shelters in the besieged town of Douma, with foam on their mouths.
They did not identify the substance used, but the Syrian Civil Defense and the Syrian American Medical Society said survivors treated at clinics smelled strongly of chlorine.
The reports, which started circulating late Saturday, could not be independently verified, and the government denied allegations it had used chemical weapon in its assault on the town.
Meanwhile, state news agency SANA said the Army of Islam group agreed to leave Douma on Sunday, after three days of intensive government shelling and bombardment.
SANA said buses had been sent to the town to pick up prisoners released by the militants and to transport rebel fighters to opposition-held territory in northern Syria.
The Army of Islam could not be immediately reached for comment.
In recent weeks, government forces have recaptured villages and towns in the eastern Ghouta suburbs of the capital. Douma is the only town left holding out.
A joint statement by the Civil Defense and the Syrian American Medical Society, a relief organization, said that more than 500 people, mostly women and children, were brought to medical centers with difficulty breathing, foaming at the mouth, and burning sensations in the eyes. It said patients gave off a chlorine-like smell. Some had bluish skin, a sign of oxygen deprivation.
It said the symptoms were consistent with chemical exposure. One patient, a woman, had convulsions and pinpoint pupils, suggesting exposure to a nerve agent.
---
Gaza border protest brings deaths and injuries to protestors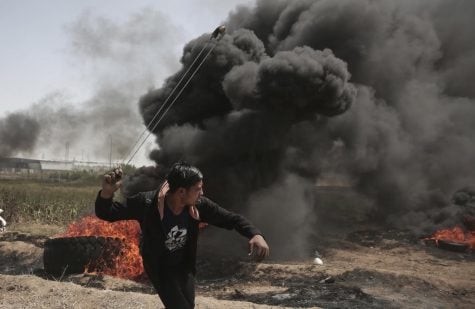 Israeli troops killed four men Friday in the second mass protest in a week along Gaza's volatile border, as Palestinians torched piles of tires to create a smoke screen to block the view of snipers.
Friday's deaths brought to 26 the number of Palestinians killed by Israeli fire over the past week, including 20 protesters. Gaza's Health Ministry said 922 people were taken to hospitals and field clinics but did not provide a breakdown of those injured by live fire, rubber-coated steel pellets or overcome by tear gas. It said 19 people were in serious condition. Among those hurt were eight women and 40 minors, the ministry said.
Friday's march was the second in what Gaza's Hamas rulers said would be several weeks of protests against a decade-old border blockade of the territory. Israel has accused the Islamic militant group of using the protests as a cover for attacking Israel's border, and has warned that those approaching the fence put their lives at risk.
On Friday, thousands of Palestinians streamed to five tent encampments that organizers had set up, each about several hundred meters from the border fence.
In one camp near the border community of Khuzaa, smaller groups of activists moved closer to the fence after Friday's noon prayers.
Associated Press video showed demonstrators torching large piles of tires, engulfing the area in black smoke meant to shield them from Israeli snipers; the faces of some of the activists were covered in black soot.
Israeli troops on the other side of the fence responded with live fire, tear gas, rubber-coated steel pellets and water cannons.
The Israeli military said protesters on Friday hurled several explosive devices and firebombs under cover of smoke, and that several attempts to cross the fence were thwarted. The military said it brought in a huge fan to disperse the tire smoke.
After the first tires started burning, several young men with gunshot wounds began arriving at a field clinic at the camp.
An Israeli military spokesman, Lt. Col. Jonathan Conricus, described the protests as "riots," and said Hamas organizers are trying to use them to "insert terrorists into Israel."
"If they are actively attacking the fence, if they are throwing a molotov cocktail that is within striking distance of Israeli troops or similar activities, then those persons, those rioters, become, may become, a target," he said.
Israel has drawn sharp criticism for its open-fire orders along the border, including its warnings that those approaching or trying to damage the fence would be targeted.
Rights groups have branded orders permitting the use of lethal force against unarmed protesters as unlawful. A leading Israeli rights group, B'Tselem, issued a rare appeal to Israeli soldiers this week to refuse the "grossly illegal" open-fire orders.
In all, 25 Palestinians were killed in Gaza over the past week, including 19 protesters, according to Gaza health officials.
The six other deaths included three gunmen killed in what Israel said were attempts to attack the border fence and three men who were struck by Israeli tank fire.
The turnout has apparently been driven by the organizational prowess of Hamas as well as the growing desperation of Gaza residents who live in what has been described as the world's largest open-air prison.
The crowd size was seen as a test for Hamas, which seized the territory in 2007 from its political rival, Palestinian President Mahmoud Abbas, after winning legislative elections the previous year.
---
U.S. sanctions attack Putin's allies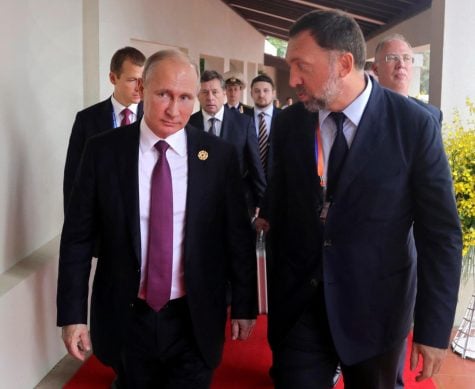 The United States punished dozens of Russian oligarchs and government officials on Friday with sanctions that took direct aim at President Vladimir Putin's inner circle, as President Donald Trump's administration tried to show he's not afraid to take tough action against Moscow.
Seven Russian tycoons were targeted, along with 17 officials and a dozen Russian companies, the Treasury Department said. Senior Trump administration officials cast it as part of a concerted, ongoing effort to push back on Putin.
Rather than punishing Russia for one specific action, the new sanctions hit back at the Kremlin for its "ongoing and increasingly brazen pattern" of bad behavior, said the officials, who weren't authorized to comment by name and briefed reporters on condition of anonymity.
Above all else, Russia's attempts to subvert Western democracy prompted the U.S. sanctions, officials said, in a direct nod to concerns that the U.S. president has failed to challenge Putin for alleged interference in the 2016 election that brought Trump to power.
To the dismay of Trump's critics and of Russia hawks, the president has continued to avoid directly criticizing Putin himself. Yet in recent weeks Trump's administration has rolled out a series of actions to increase pressure on Putin and those presumed to benefit from his power.
"Nobody has been tougher on Russia than I have," Trump said at a news conference on Tuesday.
Those punished aren't necessarily involved in the Russian actions in Syria, Ukraine or elsewhere that have drawn consternation from the west. But officials said the goal was to put pressure on Putin by showing that those who have benefited financially from his position of power are fair game
"Russian oligarchs and elites who profit from this corrupt system will no longer be insulated from the consequences of their government's destabilizing activities," said Treasury Secretary Steven Mnuchin.