Softball's young team continues to dominate the Big East
After a tough road schedule to open the year that featured matchups against No. 1 Washington and No. 5 Oklahoma, the Blue Demons have got off to a hot start in conference play against Seton Hall and Villanova.
The Blue Demons are currently 11 games over .500 and won six games in a row to open conference play. DePaul head coach Eugene Lenti said the team is playing at a high level in all facets during this recent hot streak.
"We always say there is a formula to being successful: You have to have good pitching, play solid defense and have to have timely hitting. That's really what it's been all about," Lenti said. "Our hitting has been really, really solid and we've been able to throw a different pitcher every game, so not every team we play in the Big East has the luxury of throwing three different starters against us."
During DePaul's six-game winning streak, the Blue Demons won four in a row via the run rule, including all three games against Villanova.
"We were able to get into the bullpens pretty early in (both) series," Lenti said. "So by the time the second and third game came around, we had seen pretty much the whole staff, whereas vice versa they had only seen one of our pitchers each game, so they really didn't have the opportunity to see a pitcher more than one time."
Pitching has been one of the keys to the win streak as they hadn't allowed more than four runs in a game prior to their series against Georgetown since March 16  against Cal State Fullerton. Led by freshman Pat Moore, sophomore Missy Zoch and senior Kennedy Garcia, all have attacked teams in different ways. Zoch said having such a deep staff has relieved the pressure on all of them.
"I think it just boosts all of our confidence," Zoch said. "Say I have a bad day. I know that there is someone there to back me up and go pick me up when I need to, or (if) someone else is having a bad day I could be there to help them. I think it just brings a whole bunch of confidence to all of us."
Zoch, who's lowered her ERA from 2.98 to 1.63, attributed her sophomore jump to the experience she's gained over the last year and a half.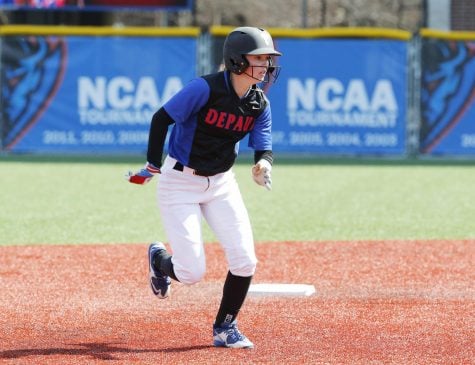 "I think I'm just more confident in myself, as well as my team," Zoch said. "Being a freshman (I) was new to the team, just being one of the youngest ones out there, (but) just being older and more mature."
Lenti cited Zoch's outing against Seton Hall where she gave up two early runs before settling down the rest of the game as an example of where she's improved in her sophomore year.
"I think it's just maturity. You're just a year older, you've been through it one time already, so there are no surprises at this point," Lenti said. "She's commanding multiple pitches, she can throw at different speeds, she's not rattled if things don't go her way."
Behind improved plate discipline and timely hitting, DePaul has been scoring over nine runs per game to begin conference play. One of the key figures in this recent offensive surge has been sophomore outfielder Angela Scalzitti, who said that, after missing last season with a torn ACL, she is playing every game like it's her last.
"I was actually injured all last year, so I'm coming out (the) first week of conference play so excited to be on the field," Scalzitti said. "I know that injuries happen so fast, so I'm playing every game like it's my last, every at bat, so I'm coming out guns blazing."
Scalzitti was named Big East Player of the Week after driving in six runs and finishing with three doubles in DePaul's sweep of Villanova. The sophomore outfielder was excited to be recognized by the conference.
"That's incredible, I was very excited. Anytime you get recognized by the conference it is a big deal," Scalzitti said. "I was very happy, it was exciting and cool to hear."
While offense and defense have been clicking in recent weeks, the team chemistry has been strong all season after a 10-day trip to Europe and fewer newcomers – there were just four freshmen this year as opposed to seven a year ago.
"I think everyone is so confident, really knows each other," Scalzitti said. "The four freshmen really mixed in well with us. We went to Europe this summer which was incredible — all of us. The thing with traveling across the country for 10 days, you really get to know people and I think that really built our team chemistry to what it is now."
As the DePaul team gets ready to defend its Big East Tournament title in just under a month, Lenti says the team is constantly trying to improve their pitching and hitting, but hopes the defense stays right where it is.
"You never really want to stop improving at anything you're doing," Lenti said. "The biggest aspects of the game are hitting, hitting with power, running, catching, throwing, the pitching, the defense (and) the base running, so there really is a lot of stuff to focus on a daily basis to get better."
Zoch said this year's mindset will be different as they try to win the Big East tournament knowing they already got over the hump a season ago.
"I think now we know that we are easily capable of doing it," Zoch said. "So I think we have more confidence as a team going in there, not like we have to win to beat last (place), but we're just saying that we need to claim what we want and keep the tradition going now."
Lenti also added that staying in the moment, as they have much of the season, will also be important.
"It's really about having a one pitch at a time focus, you really have to have that. You can't play this game looking ahead," Lenti said. "The most important thing to us is this Georgetown series, and it's the first game of that series and when we get to gameday of that series it's the first pitch of that series."
The Blue Demons dropped a 2-1 series against Georgetown this weekend, the final game ending 8-6 for the Hoyas in extra innings.
View Comments(1)