One step at a time: walking for wellness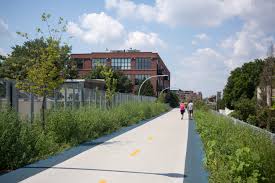 Only seven 'L' stops separate DePaul's Lincoln Park campus from its Loop campus. With bus stops and 'L' stations so close to students, not many people think about walking from one campus to the other. Plus, with U-Passes that grant students unlimited CTA rides throughout the academic year, walking, for many, is almost always the less desirable option.
Attempting to walk to the Loop campus from Lincoln park is probably not the best idea when you only have an hour between classes. But, as spring arrives and warmer weather allows for more outdoor activity, walking may be a form of exercise to consider for several reasons.
Chicago temperatures are on the rise and the weather is becoming more pleasant. After spending months indoors binge-watching the latest Netflix series and finding comfort by indulging in unhealthy comfort foods, it's time to get outdoors and get active again. Walking is a relatively simple way to kickstart outdoor physical activity and exercise. But because many people often walk throughout their daily lives without even thinking about it, it's sometimes overlooked as a form of exercise.
While running is a more popular form of outdoor exercise, it is not the only way to reap the benefits of outdoor physical activity. For many reasons, walking is an effective yet simple way to get outdoors and engage with nature while also promoting fitness.
"Research on walking has found many benefits in at least five dimensions of wellness: physical, mental, emotional, environmental, and spiritual; walking with others may contribute to social being as well," said Sarah Hardin, Associate Director DePaul Campus Recreation.
Walking, along with other physical activity,  can have a positive effect on one's emotional and mental state. In fact, emotional wellness is one of the five dimensions of wellness impacted by walking.
For some, running is not always a feasible goal, which makes walking an ideal outdoor physical activity.
Anthony Moore, 59, is a South Loop resident who has been an avid walker for most of his life.
Moore prefers walking for exercise rather than running. He has been walking as his main form of exercise now for the past 10 years.
"I ran a little bit in high school, but I've never really been into running. Walking just feels more natural to me," Moore said. "I love to walk. Now that I'm older walking makes more sense too."
After suffering a hip injury that has also minimally impacted Moore's ability to run, walking has become an essential part of his life, fitness and daily routine.
As early as 8 a.m., on weekdays Moore walks along with senior citizens in the community, usually walking near the Chinatown area. Walking alone, Moore explores Chicago one step at a time. He particularly enjoys walking in the South Loop, Bridgeport, Lincoln Park and Bronzeville areas.
"One of the reasons I walk so much is because it helps me clear my head. When I walk I think about whatever is bothering me and try to figure things out. One time I even walked all the way to Navy Pier from Chinatown," he said.
Walking is not just physical activity for those who are unable to run.
"It may be a better exercise choice for some people including those with knee, ankle, and back problems or who are overweight or obese," Hardin said.
According to Hardin, there have also been psychological findings that reveal that walking can help improve memory and slow the breakdown of brain tissue.
"Psychologists studying how exercise relieves anxiety and depression also suggest that a 10-minute walk may be just as good as a 45-minute workout when it comes to relieving the symptoms of anxiety and boosting mood," Hardin said.
Walking does not have to be a solitary activity. Contributing to the social aspect, walking with a partner, a close friend or even a peer can help generate ideas and promote productivity.
Walking benefits include improved fitness, improving or maintaining cardiac health, alleviating depression and fatigue, improved mood, preventing weight gain and improving circulation and endurance.
Former Lincoln Park resident and CTA rider Teresa Curry shared some of her thoughts about walking the distance between the two campuses.
"I think it would be interesting. Walking that far is something I just don't think I would do. It might be ok for someone that's used to walking long distances like that, but definitely not for me – especially not if I were a student," she said.
But, for those who are interested in walking from one campus to another, there are walking routes from DePaul's Lincoln Park campus to the Loop (4 miles) which include Clark Street, Sheffield Avenue, Clybourn Avenue and Orleans Street.
---
Want to go for a walk elsewhere in the city?
Here are a few Chicago walking routes to explore this spring:
Lakefront
The lakefront is a spacious path along the city and has calming views of the lake. It is often occupied by runners and bikers, but also makes a great walk for those looking to walk or speed walk along the city's edge, and enjoy the view.
606 Trail
Located on 120 South LaSalle St., the 606 Trail borders Chicago's Wicker Park, Logan Square, Humboldt Park and Bucktown neighborhoods. It is a 2.7 mile trail above ground level that stretches across the Northwest Side of the city, making it an ideal place for a peacefully scenic walk.
Northerly Island
Located on the museum campus of the city, Northerly island is a charming piece of Chicago's lakefront. It is 91 acres and is near the Adler Planetarium. Walking along the island there are several historical attractions and places to rest and enjoy the green scenery.
Palmisano Park
Located on 2700 S. Halsted, Palmisano Park is in the Bridgeport area. It is 27 acres of open prairie-like scenery and a walking path that stretches around the border of the park.