'Humans of MUB' at DePaul highlights residents and their stories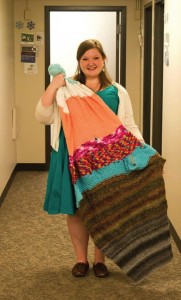 "Everyone has a story," reads the Humans of MUB Facebook page. Modeled after the popular art project Humans of New York, Humans of MUB attempts to unify and document the diverse inhabitants of the conjoined Munroe and Belden-Racine Residence Halls. Resident adviser Jennifer Himes works alongside several other RAs to photograph students and conduct short interviews. She then transcribes an illuminating quote and the student's social networking information alongside the image, published on the Humans of MUB Facebook page.
Despite their size and lack of physical unity, RAs want students to feel a sense of community in the Munroe and Belden-Racine Halls, affectionately nicknamed "MUB."
"The goal of Humans of MUB, ultimately, is to help people find each other and allow them to connect in a meaningful way," Himes said. Most subjects provide their Twitter handles, encouraging others to reach out to them.
Chicago native Brandon Stanton's Humans of New York inspired this unconventional method of community building. Stanton told Glasschord magazine that the project's mass appeal is owed to the fact that it allows "people to connect with strangers on a deeply personal level, in the safety of their own home." Similarly, Humans of MUB allows potentially overwhelmed students to remotely explore the unknown. "It all feels very natural to me, which makes it even more profound," Himes said of Humans of New York. Virtual distance can relieve some of the anxiety associated with being in a new place.
It is often argued that preoccupation with the Internet severs real-world connections; Humans of MUB is a quiet counter-argument, using technology to bypass awkward social formalities and create a more intimate space. Perhaps this rather "backward" method of human connection— following our neighbors on Twitter—can allow us to establish a certain empathy.
Day-to-day interaction often fails to create deep connections. "If you ask someone how their weekend was, you might get a one-word answer," Himes said. "But if you ask them what their favorite thing in the world is, you get a lot more out of them." The most meaningful connections come from "digging below the surface and trying to understand where people are coming from and what drives them." She went on, "Surprisingly, most people really want to open up to us. I think a lot of people want to be heard—maybe because they feel like there aren't a lot of outlets for them to share the important parts of themselves with others." Humans of MUB attempts to uncover the "important parts" of students, their rich interior lives.
Himes recalled one of her most memorable encounters with a student last year. "Our conversation was so interesting because we were able to be very real with each other. He spoke a lot about learning to be confident, and hearing about his journey to becoming comfortable in his own skin was really encouraging."
One of the subjects, Leyla Duymazlar, is pictured beaming and holding up a bright swath of knit fabric. Her quote, about her need to express herself, reads: "I don't feel free when I wear pants." The image has dozens of likes and a thread of encouraging comments. "My experience was really good," Duymazlar said. "I think that the project is a really great addition to the MUB community. It helps bring us all together even more." She received some attention after she was featured on the page. "Last year I lived and worked a lot in Munroe as a desk receptionist for Housing Services," she said. "If someone recognized me from the picture they definitely complimented me or mentioned it, which I found a little embarrassing at first, but I really liked it after people would start a conversation with me."
Students seem to agree that the Munroe and Belden-Racine residence halls provide a sense of community that DePaul as a whole sometimes lacks.
"DePaul students seem to be very independent people," Himes said. "I think this is partially based on the location. The student body is made up of more mature people who are looking for something different from their college experience." However, Himes argued DePaul students share a similar set of ideals.
"DePaul's mission-focused mentality and urban location bring the student body together in a very unique way. That might sound like something out of a college brochure, but I really do think that DePaul has a place for everyone to belong."
Humans of MUB's Facebook page allows a voyeuristic examination of classmates: what they think about, what they want others to understand about them, and how they see themselves. The combined effect provides a unique, if incomplete, picture of DePaul's student body.