Cuba's historic change in power
For the first time since 1961, a Castro is not in control of Cuba
Cuba has new leadership, marking the first time in 60 years the nation is not being led by a member of the Castro family. The new Cuban President Miguel Díaz-Canel, who came through the ranks of the Communist Party, has been largely unknown to the Cuban public and foreign politicians. The 58-year-old politician became the new president  after Raúl Castro stepped down on April 19, 2018.
In the U.S., however, there is doubt that relations with Cuba will improve, even with a new president.
Tomás Bilbao, managing director of Avila Strategies and an expert on relations between the United States and Cuba, said this change in power is more than symbolic and represents a generational change.
"Now how different he'll be than Raúl, we'll have to wait and see," Bilbao said.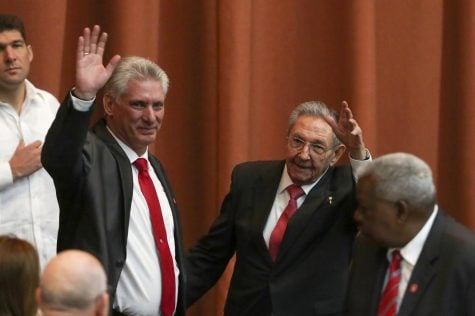 Castro took over as head of the Cuban government from his older brother, Fidel, in 2008, and he will still remain the head of the Cuban Communist Party. Bilbao said the government's policies and reforms will continue to be influenced by Castro and older members of the party.
"I think principally what (Díaz-Canel) will be focusing on is maintaining political control while trying to jumpstart the economy," Bilbao said.
Paul Johnson, founder of Chicago Foods International and co-chair of United States Agriculture Coalition for Cuba, said he is also skeptical of the United States building a better relationship with Cuba and their new president.
"I think what is going to deter this relationship more than this new president is the tone, the rhetoric coming out of Washington D.C. right now," Johnson said.
President Donald Trump's administration has rolled back many of the previous administration's initiatives to improve relations with Cuba. Back in November, the president reinstated travel restrictions and released a new list of entities, like bars and hotels, that Americans are barred from doing business with.
"It's the wrong message across the board. It appeals to the nationalist sentiment within Cuba," Johnson said.
Under Castro's reign, some enterprise businesses were freed from absolute state control. According to the Cuban Ministry of Labor and Social Security, 578,421 people were registered as self-employed as of October 2017. A majority of those self-employed people are working in activities supervised by Labor Ministry authorities.
"It is a certain amount of retreat on their part to allow some level of capitalism operate in Cuba, but they think the benefits outweigh the disadvantages," said Steve Eckhardt, co-coordinator of the Chicago Cuba Coalition and a self-identified socialist.
The Cuban economy has long suffered from stagnancy. Analysis by the Brookings Institute released in February shows the average gross domestic product growth rate was 2.4 percent during Raúl Castro's presidency.
"(Cuba is) behind where they should have been in 1980 let alone 2018," Bilbao said.
According to the Brookings Institute, Cuban government officials have recognized growth is less than half of the minimum annual growth necessary for Cuba to attain a sustainable future.
Bilbao said increased foreign investment could assist the Cuban economy, and there is interest abroad in increasing investment on the island. Bilbao said the Cuban government has courted international businesses, but there has been little follow through.
"Once again, it's this fear from the Cuban government that is slowing down the progress of things they say were a priority," Bilbao said.
America has been at at a disadvantage with the decades-long embargo set in place, Bilbao said, compared to other countries that have an easier time doing business in Cuba. States like Illinois, though, have been able to participate in limited trade under the Trade Sanctions Reform and Export Enhancement Act of 2000. Under the act, agricultural commodities, medicine and medical supplies can be exported to Cuba.
Johnson has been working to improve trade relations with Cuba, especially in agricultural exports,for more than 20 years. Johnson said Illinois has historically been instrumental in opening up relations, and the state has many economic opportunities for Cuba's future.
"If you look at how they want to evolve economically, soybeans and corn have a part of that," Johnson said. "It aligns with Cuba's interests because they can't grow soybeans."
According to the Illinois Soybean Association, $50 million of American soybeans were exported to Cuba in 2017. In a statement, Illinois Soybean Growers President Lynn Rohrscheib said,"We are looking forward to working with the new administration in Cuba to foster better relationships that help both our farmers and the Cuban peo
The Chicago Cuba Coalition works to end the embargo and travel restrictions between the United States and Cuba, and the organization leads educational trips to the island. Travel to Cuba from the United States is restricted to 12 authorized categories, like educational trips, religious activities and humanitarian aid trips.
According to the National Bureau of Statistics for Cuba (ONEI), travel by Americans to Cuba increased by more than 74 percent between 2015 and 2016. In March, the U.S. Department of Transportation proposed new flight routes to Cuba to reallocate routes that were awarded but given up. Both the United States and Cuba can operate up to 20 flights roundtrip daily.
However, the State Department is warning Americans not to travel to Cuba since embassy workers in Havana succumbed to mysterious health issues that were at first suspected to be the result of a sonic attack; the cause is currently unknown. Last year, the staff at the United States Embassy was cut by more than half, and members of the Cuban embassy staff in Washington were also evicted. Canada has also cut the number of staff at their embassy in Havana.
For Johnson, increased travel restrictions and trust in Cuba could have an impact on Illinois exporting crops.
"Cuba needs that food, not only to feed the 11 million people of Cuba, which is the same population of illinois, but they have 3 million tourists coming into the country who need to be fed," Johnson said.
Johnson said he remains optimistic about opening trade relations. He added that he has been working with farmers in the United States who are interested in trading their crops for Cuban commodities like winter vegetables or exotic fruit, which can't be grown in Illinois.
If trust is rebuilt between the two countries, "there's a lot of synergy that could happen," Johnson said.