Nation & World Briefs: May 7, 2018
Arizona schools reopen after funding deal reached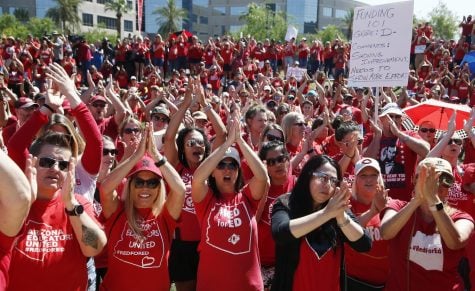 Hundreds of thousands of Arizona schoolchildren returned to classes Friday a day after state lawmakers approved 20 percent raises for teachers and they ended a six-day walkout that shuttered most classrooms around the state.
Teachers at a high school in the Phoenix suburb of Mesa lined up to greet students with cheers and handshakes. An elementary school principal greeted students with high-fives on the other side of metro Phoenix.
Strike organizers called for an end to the walkout Thursday after an all-night legislative session resulted in a 20 percent pay raise by 2020. Most districts planned to reopen Friday but Tucson's largest district said it would resume classes next week.
The education funding plan approved by lawmakers shortly before dawn was immediately signed by Gov. Doug Ducey, awarding teachers a 9 percent raise in the fall and 5 percent in each of the next two years. Those increases, which are in addition to a 1 percent raise granted last year, will cost about $300 million for the coming year alone.
The Arizona walkout was part of a bubbling national uprising over low teacher pay and funding. The movement started in West Virginia, where a strike resulted in a raise, and spread to Oklahoma, Kentucky and, most recently, Colorado.
Thomas said educators should now focus on a campaign for a November ballot measure that would seek more education funding from an income tax increase on the wealthiest taxpayers.
Education cuts over the past decade have sliced deeply into Arizona's public schools. Teachers wanted a return to pre-recession funding levels, regular raises, competitive pay for support staff and a pledge not to adopt any tax cuts until per-pupil funding reaches the national average.
The new funding package provides schools with a partial restoration of nearly $400 million in recession-era cuts, with a promise to restore the rest in five years. Other cuts remain in place.
---
Hawaii volcano erupts, residents flee homes nearby
Nearly 1,500 people fled from their mountain-side homes after Hawaii's Kilauea volcano sent molten lava chewing through forests and bubbling up on paved streets in an eruption that one resident described as "a curtain of fire."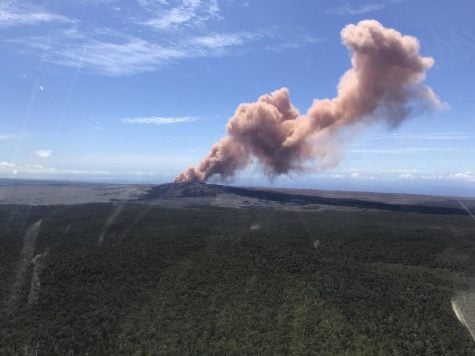 After a week of earthquakes and warnings that an eruption could be imminent, steam and lava poured out of a crack Thursday in the community of Leilani Estates near the town of Pahoa on the Big Island, officials said.
Television footage showed lava spurting into the sky from a crack in a road. Video from an aerial drone showed a line of lava snaking through a forest. The activity continued early Friday, with reports of eruptions from volcanic vents on two streets.
"It sounded like if you were to put a bunch of rocks into a dryer and turn it on as high as you could. You could just smell sulfur and burning trees and underbrush and stuff," Resident Jeremiah Osuna, who captured the drone footage, told Honolulu television station KHON.
There were no immediate reports of injuries, but at least 100 people were in staying in shelters Friday, with many more evacuees believed to be with relatives and friends.
The Hawaii governor activated the National Guard to help with evacuations and provide security to about 770 structures left empty when residents sought shelter.
Scientists have no way of predicting how long the eruption will continue, said Asta Miklius, a geophysicist with the U.S. Geological Survey's Hawaiian Volcano Observatory.
A key factor will be whether magma reservoir at the summit starts to drain in response to the eruption, which has not happened yet, Miklius said.
County, state and federal officials had been warning residents all week that they should be prepared to evacuate because an eruption would give little warning.
The geological survey on Thursday raised the volcano's alert level to warning status, the highest possible, meaning a hazardous eruption was imminent, underway or expected.
Geologists said new ground cracks were reported Thursday afternoon. Hot vapor emerged from a crack and spattering lava began to erupt.
Areas downslope of the erupting vents were at risk of being covered by lava. Leilani Estates appeared to be at greatest risk, but scientists said new vents and outbreaks could occur, and it's impossible to say where.
The eruption came after days of earthquakes rattled the area's Puna district. A nearby school was closed due to the seismic activity, and several roadways cracked under the strain of the constant temblors. A magnitude 5.0 earthquake was recorded Thursday, hours before the eruption began.
Kilauea's Puu Oo crater floor began to collapse Monday, triggering a series of earthquakes and pushing the lava into new underground chambers. The collapse caused magma to push more than 10 miles (16 kilometers) downslope toward the populated southeast coastline of the island.
Civil defense authorities closed the area to visitors Tuesday and ordered private tour companies to stop taking people into the region.
Kilauea has erupted periodically for decades. Most of its activity has been nonexplosive, but a 1924 eruption spewed ash and 10-ton (9-metric ton) rocks into the sky, leaving one man dead.
Puu Oo's 1983 eruption resulted in lava fountains soaring over 1,500 feet (457 meters) high.
---
Palestinian president apologizes over anti-Semitic remarks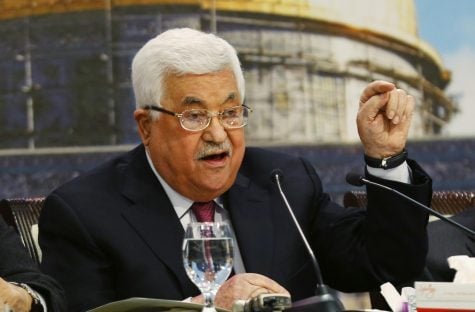 Palestinian President Mahmoud Abbas issued an apology Friday following uproar over a speech he made this week that was condemned as anti-Semitic and dismissive of Jewish historical connections to the Holy Land.
Palestinian officials said Abbas was under "tremendous" pressure from numerous diplomats and foreign ministers to apologize.
Abbas, in remarks that were part of a lengthy speech to the Palestine Liberation Organization parliament on Monday, said it was the Jews' "social function," including money lending, which caused animosity toward them in Europe. He also described the creation of Israel as a European colonial project, saying "history tells us there is no basis for the Jewish homeland."
The Palestinian president's remarks were sharply condemned by the United Nations, European Union, United States, Israel and others as perpetuating anti-Semitic stereotypes and falsifying history.
The official Palestinian news agency quoted Abbas as saying on Friday that "if people were offended by my statement … especially people of the Jewish faith, I apologize to them." He condemned anti-Semitism "in all its forms" and said he remains committed "to the two-state solution, and to live side by side in peace and security."
Abbas also said "I would also like to reiterate our long held condemnation of the Holocaust, as the most heinous crime in history, and express our sympathy with its victims."
In his doctoral thesis in the 1970s, Abbas questioned the extent of the Nazi genocide of Jews during WWII, drawing accusations that he was a Holocaust denier. He has since distanced himself from the claims.
Israel's Defense Minister later lashed out at Abbas on Twitter, rejecting his apology.
"Abu Mazen is a wretched Holocaust denier who wrote his doctorate on Holocaust denial and later also published a book about Holocaust denial," Avigdor Lieberman tweeted, referring to Abbas by his nickname.