DePaul secures NCAA Tournament berth with title game win over Creighton
In a battle between the conference's top two teams during the regular season, DePaul rallied from a 2-0 first inning deficit to beat Creighton 6-2 and punch their ticket to the NCAA Tournament for the second straight season.
After falling behind 2-0, the Blue Demons responded with two runs of their own in the bottom of the first inning, before taking the lead an inning later. Senior Megan Leyva, who was named the Tournaments Most Outstanding player with a home run and three RBIs on Saturday, said she was ready for the swings of momentum and pressure that comes with a tournament appearance being on the line.
"At least for me, we've been here last year so it was very similar experience," she said. "But just to get that last out and know that we reached our goal to go to the NCAA Tournament again is just great."
Head coach Eugene Lenti, said he was happy his players were rewarded for their hard work, overcoming a variety of challenges including injuries and a spring filled with poor weather.
"I'm just really so proud of this team," Lenti said. "It's never about me I've been through this more than I ever need to, but you love going and love being a part of it but it's always about them, this team works so hard, they endured so much this year they stayed together, really they worked so hard this is what they deserve."
The weather was again a storyline with the game being delayed close to two hours midway through the third inning due to lightning. This came after the Blue Demons had just taken a 3-2 lead in the bottom of the second inning on a sacrifice fly by Kate Polucha. The inning opened with Alysia Rodriguez, Haydn Christensen and Skylor Hilger all reaching base base setting the table for the top of the order. Lenti praised the bottom of the order for getting the job done.
"Really the biggest thing was when we got that third run," Lenti said. "That was because of the bottom of the order so anytime you get runs because the bottom of the order is doing their job, that makes it easier."
Similar to Friday when DePaul also trailed 2-1 early, Lenti said he wasn't concerned about his offense getting going after the Bluejays grabbed the early lead.
"I was never worried about our offense, and I was never worried when we were down," Lenti said. "I wasn't worried yesterday, wasn't worried today because I just don't see panic ever in this groups face. We have one through nine kids who can hurt you one way or another and that's what really happened again today."
DePaul extended their lead with a two-run home run from Leyva before adding another run in the sixth inning from Jessica Cothern to open up a 6-2 lead. Lenti said adding a couple insurance runs was big to give freshman Pat Moore, who picked up her third save of the season in relief of starter Missy Zoch who went the first four innings, margin for error.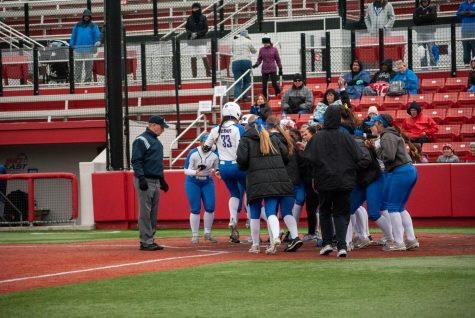 "Everybody loves a cushion, everybody loves breathing room especially with the cardiac kid out there on the mound, it just makes it a lot easier," Lenti said. "Pat's going to get her little bumps and bruises, give up her walks and hits there, but it's going to be hard for somebody to get four runs on her late in the game with three outs to go, so that was big from Megan. That's why she was MVP this weekend, she was MVP for us last weekend in conference play and she was the MVP this weekend."
Moore, appearing in her first tournament game, finished with five strikeouts including three in the sixth inning to strand the bases loaded. She said it was exciting to close out the game and now they are just ready for regionals.
"I'm super excited just because we have been working for this all season," Moore said. "I think it was really awesome for our team. We're just ready for regionals."
For many players last year, the NCAA Regional was a new experience. Heading back this season, Leyva said the focus will now be on building on last year and advancing in the tournament.
"I think just taking what we learned from last year and moving off of that," Leyva said. "Last year was our first time there in a while, especially for everyone on the team except the seniors so just getting back there and showing what we can do as a team, especially since we have such strong pitching and everyone in our lineup can get it done when we need it, so I think just showing everyone that we can do it too."
Joining Leyva on the All-Tournament team were Zoch, Angela Scalzitti and Kate Polucha.
As DePaul waits to find out Sunday night who they will play, Lenti said the players will have a couple of days off, before some fine tuning in advance of the first round.
"We'll spend a couple days going back to fundamentals," Lenti said. "Just go over some things here and there. The basics and reiterate our philosophies and things like that and prepare for whoever our opponents are going to be."
This marks the first times since 2011 and 2012 that the Blue Demons have been to consecutive NCAA Tournaments.