Softball eliminated from regionals
The weekend began with optimism and excitement as DePaul appeared in their 20th NCAA Tournament appearance after riding a four-game winning streak capped off by a win on Sunday over Creighton to clinch a spot in the NCAA Tournament. For the second straight year, however, the season ended in familiar fashion, with back-to-back losses to No. 15 Arkansas and Oklahoma State.
The Blue Demons entered the NCAA Tournament as an efficient offensive team batting .280 with a batting average close to five runs per game.  The Blue Demons could not match that productivity and were limited to just two hits both days and failed to score a run in each, losing 2-0 to Arkansas and 6-0 to Oklahoma State.
In their opening game loss to host Arkansas, sophomore pitcher Missy Zoch held Arkansas scoreless for the opening two innings before the Razorbacks broke through in the third with RBI hits from Haydi Bugarin and Autumn Buczek that gave the Razorbacks a 2-0 lead. The Razorbacks' Mary Haff, who entered with a 1.38 ERA, did not surrender a hit until the fifth inning and improved her record to 27-6.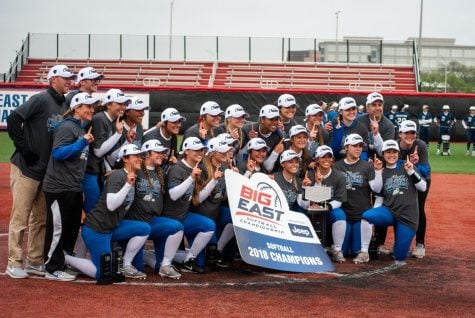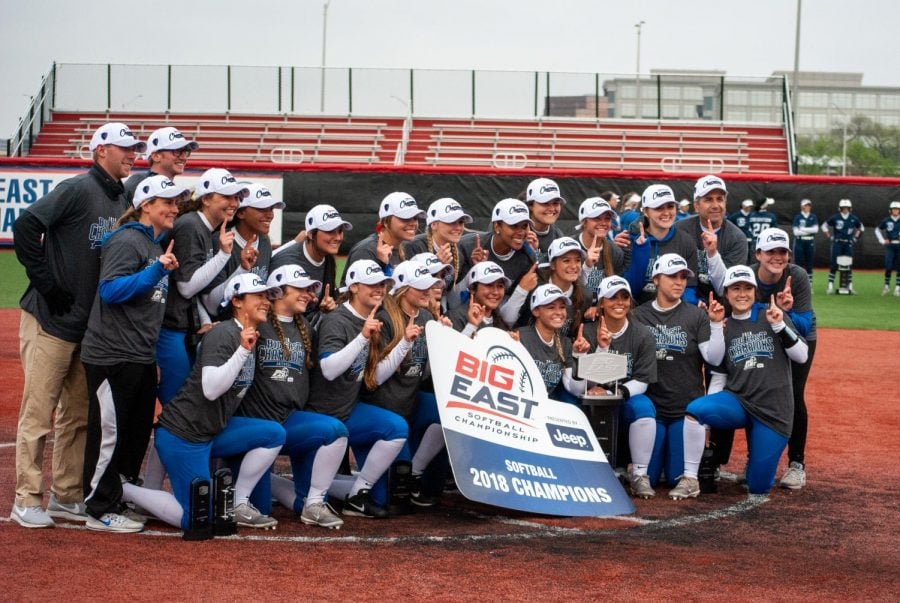 The Blue Demons had some late opportunities with lead-off hits from Megan Leyva and Haydn Christensen in the fifth and sixth.
Despite the lack of run support, Zoch kept DePaul in the game by pitching into the fourth inning and only allowing four hits, while striking out five batters. Freshman Pat Moore pitched well in relief, surrendering just one hit while striking out three batters. Both pitchers had to deal with an energized crowd of close to 2,000 people in attendance at Bogle Park. With the loss the Blue Demons fell to 12-15 against the host school in the NCAA Postseason.   
In a win-or-go-home game on Saturday afternoon, Oklahoma State quickly jumped out a 5-0 lead after two innings as starter Moore struggled,
surrendering eight hits and five runs before senior Kennedy Garcia replaced her in the third inning. In her final game with DePaul, Garcia surrendered only one run over five innings of work. Moore entered the game with a 1.83 ERA, and despite the tough outing still finished with a 2.11 ERA for the year.
The Cowgirls jumped on Moore early with back-to-back hits from their first two batters before Maddie Sue Montgomery gave Oklahoma State a 2-0 lead on a double to center field. Oklahoma State added three more in the second, with run scoring hits by Maddi Holcomb, Vanessa Shippy and Whitney Whitehorn to chase Moore from the game.
Similar to Friday, DePaul had opportunities to start a rally in the third and fourth innings with lead-off hits from Maranda Gutierrez and Morgan Greenwood; both were stranded by Emmie Robertson.
The Blue Demons finished the year 35-17 with a Big East regular season and tournament championship in hand. This marks the second straight year DePaul has been eliminated in the first two games of the tournament, but it also marked the first time they had been in consecutive years since 2011 and 2012.
Despite the loss, DePaul returns eight of their 10 starters next season with six of those starters in the lineup being underclassmen this year, and optimism remains high for a third straight tournament berth. DePaul will still have to replace a couple of key pieces with Christensen, Leyva and Garcia all graduating.
View Comments (1)