Superior skills masked by sexual orientation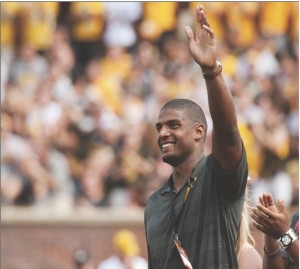 When Michael Sam was drafted by the St. Louis Rams in the seventh round of the 2014 NFL draft, he did what most other draftees do. He kissed his significant other.
Normally, nobody would pay attention to what a seventh round draft pick does after being drafted, but this became an unprecedented situation when Sam explained, "I am an openly, proud gay man before he was drafted, making him the first openly gay player to be drafted into the NFL."
It would be great if Sam's sexual orientation was irrelevant. But social media reactions regarding Sam kissing his boyfriend and ESPN's report about Sam's locker room shower habits and everyday life make it painfully obvious that Sam's sexual orientation will affect his NFL career.
Unfortunately, as expressed by Super Bowl-winning coach Tony Dungy, many teams are hesitant to sign Sam because of the media attention that a gay player will bring. "I wouldn't have taken him," Dungy said. "Not because I don't believe Michael Sam should have a chance to play, but I wouldn't want to deal with all of it."
If teams don't want media distraction, they shouldn't sign players who accidentally kill teammates while driving drunk, like Josh Brent, of the Dallas Cowboys, or who involve themselves in dog fighting scandals, like Michael Vick formerly, of the Philadelphia Eagles and currently of the New York Jets, or who punch their fiancees in the face, such as Ray Rice, formerly of the Baltimore Ravens. The sexual orientation of their players has no reason to be associated with negative behavior or unwanted media distraction.
The unfortunate thing for Sam is he isn't as good as Jadeveon Clowney, the first pick of the 2014 NFL draft, because if he were, teams wouldn't be able to afford to marginalize Sam as they have currently done. It can be debated whether Sam is a bubble player, although his collegiate career and performance in the NFL preseason have certainly warranted him a spot on a 53-man NFL roster. But it cannot be debated that Sam's sexual orientation is negatively impacting his ability to play in the NFL.
Sam recorded 11.5 sacks and 19 tackles for loss as a senior at the University of Missouri, and was the Co-Defensive Player of the Year in the SEC, arguably the best conference in college football. According to NFL. com, only 12 players, which included Sam, had 2.5 sacks or more throughout the preseason. And of those 12 players, 10 are now on active rosters while the other two are on practice squads, where Sam is now stationed after being recently added to the Dallas Cowboys' practice squad. It's extremely disappointing to see teams, such as the Atlanta Falcons, who desperately need help on their defensive line, find a benefit in allowing an HBO documentary crew to film them during training camp to outweigh the negative effect of added distractions. Yet they can't see Sam as a positive addition.
Sam shouldn't bring any added attention or distraction to teams because of his sexual orientation, but the unfortunate truth is it does matter and teams have taken note. More than anything, the truly unfortunate matter of this situation is teams are able to mask their cowardice and close-mindedness by marginalizing a legitimate NFL prospect.