Creative crowdfunding: Artwork by Marek Hubáček links Czech Republic to Chicago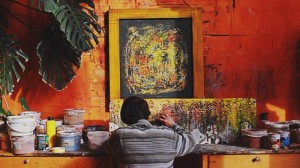 Bombings, shootings, destruction and chaos; it's all that seems to be frequently presented in the world of international news these days, but what about the brighter side of this global community we've all constructed, that light in the dark, the good that is boldly hidden underneath all the wreckage, the positivity that artist Marek Hubáček has pledged to expose.
In a world where much of what is focused on in the media tries to push us apart, there remains one constant that shows no face, holds no prejudices and strives for unity. The arts were brought into this world as a unifier from the beginning. With no words to create an imaginary border, no clothing to easily identify an enemy, art has situated itself as a mediator for the ones left conflicted due to the society that surrounds them. Hubáček, a native of Zlín, a small city on the Eastern half of the Czech Republic, has made unity the centerfold for his newly started Kickstarter campaign aimed at bringing his artwork to the city of Chicago.
Hailing from a background of artistic individuals and intellectuals, it was no surprise that painting and sculpting quickly transformed into a fiery passion for Hubáček. With his father finding a love for painting and sculpting and his mother working tirelessly as an English and American Literature professor at Palacký University in Olomouc, a highly prestigious university, hard work and determination soon emerged as core values for the family.
"I really enjoyed watching my parents create and work on projects as a kid, I think that's why I've always had this sensation with art that I never got with school," Hubáček said.
After struggling throughout high school to remain engaged and dedicated to his school work, Hubáček saw himself devoting more and more of his time to the art he was creating and decided to enroll in fine arts classes at Brno University of Technology in Brno, Czech Republic, one of the top universities in Europe for engineering and technological studies. However, schooling seemed to persist on the backburner like it previously had.
"I studied architecture and fine arts while I was enrolled," Hubáček said. "It just became too much for me. Art had always given me this great sense of freedom, an absolute freedom, and I couldn't find that in my schooling."
Despite several bumps in the road and being forced to leave the university after not being able to balance his drive for his art and the demands of higher education, Hubáček set his eyes on a bigger goal, a global dream that involved expanding his creativity to the streets of Chicago. With the help of longtime friend and DePaul student, Martin Vitek, Hubáček and Vitek have teamed up together to launch a Kickstarter campaign focused on bringing Marek's art and the culture of the Czech Republic to Chicago.
Vitek's self-started company, Fundchaser, was designed with the goal of helping entrepreneurs realize their own creative ideas and aid in the fundraising process with the hopes of developing something potentially life changing. As a result, Hubáček and Vitek have just recently launched their project at the beginning of this month titled, "From Czech to Chicago, Creativity Transcends Borders," with expectations of reaching their target goal of raising $3,450 in funds. Thus far, the pair has seen over $500 backed by more than 20 different contributors with well over three weeks left to reach their goal.
"This project has been the biggest challenge I have ever been exposed to," Hubáček said. "I've never had such determination to be apart of something that really is bigger than just art, it's an attempt to connect the world."
From a small village on the outskirts of Zlín, Chicago might seem like a long shot to most viewers observing the project for the first time, however, after some research it's easy to see that the city of Chicago is quite a logical option. According to the Chicagoland Czech-American Community Center, the state of Illinois, specifically the Chicago area, has the largest concentration of Czech immigrants living in the United States with roughly 200,000 residents of Czech heritage residing within the metropolitan area.
"Choosing a city that was manageable and that provided me with the most options was very important," Hubáček said. "In Chicago I have the ability to contact and reach out to other Czech natives to help spread the word about my art and the message I am trying to circulate."
With any Kickstarter campaign there comes a great deal of skepticism, that moment of reflection where one starts to wonder if they'll ever even see any appreciation or actual fulfillment from the money they just pledged. Luckily, Hubáček has ensured that a relationship with his backers will persevere long after the campaign is completed through a series of gifts that are provided with certain donations. From a handcrafted thank you note for all backers of $5 to a personalized painting of the supporter's choice for contributions of $200, everybody involved with the project will be valued and respected.
"With every donation I want to give people a part of me, I want them to know what it means to have them join me on this journey to unify the global community we all live in," Hubáček said.
Having art travel overseas to make it to a foreign country is an admirable thing, but there has to be something else driving the cause than just global unity, right? Indeed there is, the U.S. Department of State's Bureau of Educational and Cultural Affairs is an organization that constructs exchange programs to expose U.S. citizens with foreign cultures and non-U.S. citizens with American culture. Through these programs the group has attempted to promote a mutual understanding between Americans and citizens of other countries, as well as provide and foster educational opportunities and artistic collaborations. Such exchanges are the light at the end of the tunnel for Hubáček's campaign.
"This project is the starting point for one day being able to do artistic exchanges, maybe even hosting artists in different parts of the world," Hubáček said.
Granted this is only a small step towards a more interconnected creative community between not only Europe and the United States, but the entire globe, the presence of crowfunding platforms such as Kickstarter have given young, aspiring artists like Hubáček the opportunity to see their dreams fulfilled, and in the process, might even deconstruct the barriers that are carelessly being placed around us.
"Art has the power to transcend any border, whether constructed physically or mentally, and I want to be apart of that," Hubáček said.