Fundraising staff lodges complaints with HR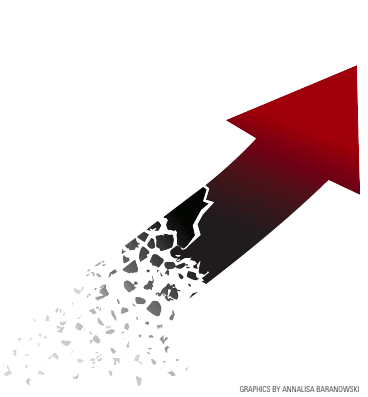 DePaul's Office of Advancement, the department responsible for fundraising and alumni relations, is facing accusations by current employees of improper hiring and firing practices and being tasked with unattainable goals by President A. Gabriel Esteban, according to employees.
Several employees in the Office of Advancement, speaking to The DePaulia under the condition of anonymity out of the fear they would lose their jobs, said there has been a string of departures within the office after university-wide restructuring, mainly women and people of color. Hired in their place were mostly white men. 
"There are people who have to sign off on this stuff, and people are signing off on this," an employee said. "It's not being done in a vacuum. Bit it's surprising that in 2018, this has become the new norm and the new standard."
To accompany the restructuring that began with Esteban's presidency, Esteban commissioned a six-year plan to set short-term goals and directions for the university.
Among the key points are bolstering student engagement with athletics, growing the endowment to $1 billion and improving student career readiness.
The six-year plan, which was approved by the Board of Trustees in May 2018 after considering community input from a series of town halls, also sets forth goals regarding increasing diversity all levels of the university, including staff, faculty and students.
"Create an inclusive and engaging experience for all students,"
one goal reads in Section 2, the section that focuses on diversity.
"Commit to a respectful and inclusive workplace environment, welcoming of all staff and supportive of their career development, retention, and success,"
reads another.
"Increase diversity within the ranks of administrative and management leadership," a subsection of that goal reads.
"You can come out with a strategic plan and you can work on it for a year, but if you're not living it and you don't mean it, and people are signing off on this activity, it doesn't count for anything." an employee said.
One new hire is Dan Allen, the vice president for advancement. Allen was promoted from within the department in April by Esteban without conducting a national search, as is customary for executive and management positions. For example, Esteban was hired after a months-long search to replace former DePaul president Rev. Dennis Holtschneider.
Allen has been with the Office of Advancement for about three years, employees familiar with the matter said. When the former vice president left the position for personal reasons, Allen was promoted from within the department without a search.
"I've seen colleges with 2,000 students and they do a national search for a vice president position," one employee said. "DePaul didn't do that. Obviously, [human resources] was okay with it."
"You have a vacancy at the highest-level position and there was no search – not to say that this person wasn't already in the club – but [DePaul] didn't go out and see if there was anybody else," the employee continued. "If you're not going to have a search for the highest position in the cabinet for development, you set the precedent that is how you're going to do your hiring and you're not going to make an effort to try to attract diversity."
"As is the case with hiring throughout the university, the Office of Advancement takes steps to consider a diverse slate of candidates whenever open positions are filled," a university spokesperson said.
In June 2018, Esteban made his first appearance in the Office of Advancement of his tenure at DePaul. During a discussion in which he took questions from the staff, he talked about how DePaul should be looking at a $1 billion fundraising goal, sources said. Sources said DePaul's most recent fundraising campaign raised between $250 million and $300 million. After Esteban tasked them with that monumental goal, that was the last time they said they heard from him.
"There were no follow-ups, there was no, 'Let's talk about this some more,'" a source said.
The six-year plan further seeks to diversify and increase the number of classes and programs the university offers, which all require monetary investment. As enrollment continues to steadily decline, goals the university has set forth in the plan could be at risk if the they are contingent on the uncharacteristically high fundraising goals.
Esteban cited Villanova University's recent fundraising campaign when justifying the ambition of the goal, which just surpassed $750 million in March.
Northwestern University, a school with a much more robust fundraising operation and a more motivated donor base, recently surpassed its 2014 campaign goal on its way to raise more than $4 billion, made possible by donations from 149,094 Northwestern alumni, according to a press release.
The DePaulia confirmed an employee in the office raised their concerns about the
department in an email sent to President Esteban and human resources, requesting employees have a chance to bring their complaints to human resources. A university spokesperson said the university has nothing to share because our questions involved "confidential personnel matters."
The tension boiling up within the department is creating a difficult work environment, sources said. Employees are uncertain about the future of their positions, working with little direction from management and
"DePaul is not a public institution, but we should be better than that," a source said. "We are a Vincentian institution, which is the foundation of DePaul. We are going so far away from that as a culture."
View Comments (7)