CVS Health smokes safety, clears the air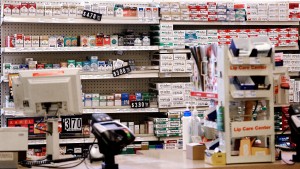 CVS Health locations nationwide have recently pledged to stop selling tobacco products, to send a message to customers and competitors regarding the company's transformation from a largely retail business to a health care provider. And, frankly, it makes sense.

Facts are hard to argue, and the realities surrounding tobacco use are no different. Each year in the United States, cigarette smoking is responsible for the deaths of more than 480,000 Americans. This includes an estimated 41,000 people who are killed from exposure to secondhand smoke, according to the Centers for Disease Control and Prevention. This makes tobacco use the leading preventable cause of death worldwide.
Aside from death, tobacco use also leads to a long list of ailments and health problems that range from heart disease and stroke to lung cancer and diabetes. These health concerns force the United States to spend more than $280 billion on direct care for adults affected by these conditions.
It sounds crazy that the second-largest pharmacy chain in the United States would want to do something that would decrease profits to curtail these numbers. But it's nice to see things moving in that direction.
From a financial standpoint, there is little aftershock with this decision.
According to CVS Health's annual report from 2013, the company saw its net revenues for the year settle in at $126 billion.
By cutting out the sale of tobacco products to promote a more health- conscious environment, the company has estimated a loss of about $2 billion, a mere fraction of its total revenues, which is hardly a financial sacrifice.
If anything, this move exemplifies how serious the company is at establishing itself as a health care destination for people by accepting a short-term revenue cut to see healthier advancements in the future. In a world where high blood pressure, obesity and substance abuse have continued to cripple the population year after year, the efforts of CVS Health have laid the steppingstones toward a healthier society.
It's no secret that the health care industry is growing at a rapid rate, causing the whole landscape of the system to change simultaneously as pharmacies attempt to acquire as much of the industry as possible.
Amid the competition, consumers are left to decide which pharmacies provide the best care for their needs. By banning tobacco sales, CVS Health has made a conscious effort to appeal to the well-being of its consumers and exemplify a genuine concern for their overall health.
Not only has CVS Health eliminated a significantly unhealthy industry from its stores, the company has placed a greater emphasis on services and clinics designed to help people addicted to tobacco use kick the habit.
Despite scrutiny for continuing to sell harmful products such as electronic cigarettes and alcohol, CVS Health has acknowledged the unhealthy factions of some of its products and has actively started the process of rebuilding the company's identity. Needless to say, bearing through a transition process is hardly enough to discredit the positive direction the company has led valued customers.
CVS Health has successfully exposed the scrutiny that many health-related businesses, including the company itself, deserve for not accurately reflecting the missions and strategies developed.
Undoubtedly, CVS Health has made an admirable step in renovating the anti- smoking landscape with a commitment to facilitating growth through actively helping Americans get healthier. As its newly reclaimed company identity reflects, CVS Health truly thinks health is everything.