Picture-perfect partnership: DePaul film students, pros connect at Cinespace Chicago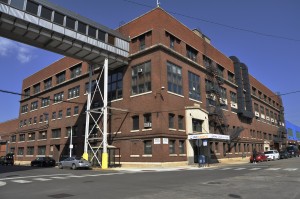 DePaul students sometimes forget that some programs once took place in small buildings and used outdated equipment. The DePaul School of Cinema in the College of Computing and Digital Media started in a 20-foot-15-inch room in SAC (room 266), and students produced their work with half-inch VHS cameras.
Resources and equipment don't just make a Cinema program excellent, according to Matt Irvine, director at Cinespace and DePaul professor. But it's the passion of the students and faculty that mold it. Students have been making quality films using whatever resources offered in previous years, but since DePaul's partnership with Cinespace Chicago, the program has come a long way.
CDM students have a lot to look forward to this term and for the future. Irvine, along with John Corba, assistant director at Cinespace, and Joe Lyons, staff member at Cinespace, are positive about the program's direction and future.
"DePaul Cinespace gives students the opportunity to work on an actual stage," Kateleya Equina, DePaul CDM student, said. "Getting to work on an actual stage makes all the difference for the learning experience. Another awesome feature is being right next door to the television series, 'Chicago Fire,' and seeing all the fire trucks they use for the show right outside their stage."
Students have had opportunities to work with big-time production equipment, and Equina said some of the equipment was a lot harder to use then she initially thought.
"My favorite thing about the program is being able to use production equipment that we would not normally get to use if we were in a regular classroom," Equina said. "We were able to use a Chapman dolly, which moves side to side, forward and backward, and has an arm that the camera sits on to move up and down. It's definitely a lot harder to use than it looks!
Since April 2013, DePaul's partnership with Cinespace Chicago has made the School of Cinema in CDM program one of the top programs in the country. Most recently, DePaul was ranked 17th by The Hollywood Reporter in its 25 Best Drama Schools in the World.
"We're a very good program," Corba said. "The cinema program at DePaul is maybe 10 years old, and we're already in the top 20."
According to Irvine, it's a big accomplishment for DePaul.
"That's unheard of, and it speaks to our students and administration," Irvine said.
And Corba said students and staff alike are the reason for its success.
"We've climbed the ranks fast, and I think a lot of that is a testament to the Director Matt Irvine and Dean Miller, but it's also the faculty and the level of work students are doing," Corba said. "From the writing side to the production side, there is some quality work that is getting noticed on the national level."
According to Irvine, graduate and undergraduate students and faculty are producing all kinds of films in the Cinespace facility, such as drama, comedy, sci-fi, animated and action. The DePaul professor references "Speed Dating" by Meghann Artes, assistant professor at DePaul, as a film shot at the facility. The film is a short animated movie about a girl looking for love, so she tries speed dating.
Some students have already gotten the opportunity to work on big network TV shows.
"I got one student worker working in the utility sound on 'Chicago Fire,'" Corba said. "I got three recent alumni working in electric on 'Chicago PD' and 'Empire,' and then another student doing construction on 'Empire.'"
Although a lot of the credit goes to the students for producing great work, it's because they have the right tools at their disposal, similar to the pros in Hollywood.
"Our facility is great, and working on it is a once-in-a-lifetime opportunity," Irvine said. "Students can work on a soundstage that is one of the nicest sound stages you can work on."
And the perks of the program don't stop there.
"We have a purpose built 3-ton group and electric truck, which can also be filled with cameras, table chairs and other stuff for a small on-location production shot," Lyons said. "It's got all the grip and electric anyone would need to get a nice easy set done, lit and shot professionally."
Corba said a lot of the equipment is stuff you'd find on a professional stage.
"We've got a 8,500-square-foot stage and a seminar room that is immediately connected to our shooting facility," Corba said. "There's all the equipment that you would find on all the professional stages that are working next to us."
According to Corba, NBC shows like "Chicago Fire" are being shot right next to areas where students are learning how to master their crafts. He says Cinespace Chicago is a professional environment within an academic setting.
"There's no other program in the country that I know of that has a 20,000-square-foot production facility nestled in a professional production studio," Corba said. "Our students are rubbing elbows with the likes of the crews from 'Chicago Fire,' 'Chicago P.D.,' 'Transformers 4,' and 'Sirens.'"
The tools, TV shows and movies that DePaul students have access to may be an integral part about the program. But Equina said the work that the DePaul instructors do also rank the program among the elites.
"The professors are great at Cinespace," Equina said. "They emphasize to their students to utilize the space given to us, and to be creative when it comes to working on the different set designs that are offered."
Corba said it is testament to the hands-on work that many faculty members have done in the past.
"A lot of our faculty and staff have careers outside of academia," Corba said. "So they're very relevant, being taught by professionals who have an expertise in these fields."
Lyons has worked in the business for 15 years, working on films crews, and found his experiences rewarding because now he is taking what he has learned and sharing it with students.
"My biggest purpose here is to serve as a conduit for the students to get access to, whether it's being part of a crew or a TV show, or bettering their work so they can be the future filmmakers and storytellers of tomorrow," Corba said. "I've worked in the industry for over 20 years, both New York and LA, and it's nice to see this growth happening in Chicago."
Movie maker and writer Mark Sells ranked Chicago as the No. 1 city to live and work as a movie maker at the beginning of this year. In 2012, the city had 235 film projects filmed and an incredible $184 million in budgetary spending. Titles like "Jupiter Ascending," "Divergent," "Jack Ryan" and "Transformers 4" are just some of the big productions that have been shot in the Windy City.
In relationship to Cinespace Chicago and DePaul, Lyons, Corba and Irvine said the program is continuously growing.
"Things are constantly changing. We're going to have more filmmaking classes this year where students can direct stuff. That's what we're trying to offer more now," Irvine said.