Congress approves arming of Syrian rebels
Measure marks increasing US re-involvment in Middle East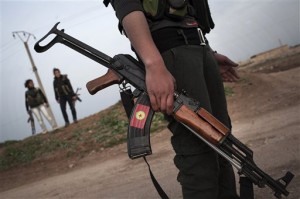 With the escalating reign of chaos conducted by extremist militant group Islamic State of Iraq and Syria (ISIS) — also known as the Islamic State of Iraq and the Levant (ISIL) — Congress approved a measure on Sept. 18 to arm and train other rebel groups in Syria to combat ISIS, signaling another aspect of the United States' growing re-involvement in the troubled region.

Preceding the Congressional measure, President Obama had already been utilizing executive action to order a series of actions in the region. Aug. 9 marked the beginning of a series of airstrikes in northwest Iraq designed to stem militants' territorial advances into the lands of the Yazidis, a Kurdish minority threatened with genocide at the hands of ISIS. The United States had also sent military advisers to Baghdad to help train Iraqi security forces.
In addition to these actions meant to protect minorities in Iraq, the United States had previously conducted a failed rescue attempt of captured American journalist James Foley, who was later beheaded.
"Our objective is clear: We will degrade, and ultimately destroy, ISIL through a comprehensive and sustained counter terrorism strategy," Obama stated on Sept. 10 in a speech addressing U.S. involvement in the region.
While addressing the topic of American ground troops, Obama said, "I want the American people to understand … (that efforts) will not involve American combat troops fighting on foreign soil."
ISIS functioned as a cell of Al- Qaeda from October 2004 until February 2014. The Washington Post cited al-Qaida's distaste for ISIS's "unpredictability" and "lack of consultation" as a factor in the split.
Since then, they have rapidly expanded their territorial control over northwestern Iraq, as well as consolidating their control over many of the rebel groups in eastern Syria that have been combating the regime of Bashar al-Assad. In addition to the execution of Foley, they have also been responsible for circulating high-profile videos of their executions of U.S. journalist Steven Sotloff and British aid worker David Haines across the Internet.Currently, the group is holding British aid worker Alan Henning hostage, and at least 20 other journalists from around the globe have been reported missing in Syria.
ISIS is currently characterized as the wealthiest terror group in history, possibly raking in more than $3 million daily through activities such as oil smuggling, extortion, ransom and human trafficking, according to The Independent, a U.K. publication. This has allowed the group to fund large-scale weapons purchases, and recently many observers of the region have characterized the group as more of a regional army rather than comparing them to terror groups such as al-Qaida.
Jason Tsu, a graduate student of international studies at Purdue University, said, "(ISIS's) ability to dominate territory is much more similar to militias like Joseph Kony's Lord's Resistance Army, rather than using the tactics that Americans traditionally perceive with terrorism."
Despite the brutality of the group, however, some question whether the United States' intervention will lead to any long- term stability in the region.
"Really, the problem with Western interventionism is that it often ignores the cultural or structural factors underlying conflict," Khaled Keshk, a DePaul professor of Islamic Studies and Middle Eastern societies, said. "For instance, ISIS in Iraq is 'legitimized' in part by sectarian divide in Iraq. The Shia Muslim majority dominates society in areas like Baghdad, and Sunni frustration may sometimes get channeled through support for ISIS. But what easy economic or political incentives are there to get the Shia dominated government or Shia business leaders to become more inclusive? … This is a problem largely outside of outsiders' influence."
"With the (Syrian rebels), there's also a practical question over whether their influence has diminished over the past years beyond the point of being able to combat both ISIS and the Assad regime, even with U.S. help," Keshk said. "They have already been pleading to the West for help for awhile now, after all.
And the U.S. may only be adding fuel to the regional fire, without the guarantee they will end ISIS."
FBI Director James Comey also warned that U.S. military actions may boost the militants' cause in some ways, acknowledging that ISIL had stepped up its global social media recruiting efforts after the
United States began its air strike campaign earlier this year.
"(ISIL) may also continue to try to capture American hostages in an attempt to force the U.S. government and people into making concessions that would only strengthen ISIL and further its terrorist operations," Comey said in a Congressional testimony.
Currently, the escalation of U.S. involvement is already written in stone. On Sept. 14, the United States conducted the first of a series of "offensive airstrikes," and with bipartisan support of interventionism in Congress, other forms of U.S. regional military presence will undoubtedly arise.
"With such a complex situation, one must wonder what the correct path is — if it even exists — to combat such an unusual threat," Tsu said.