Think outside the gourd: students take a knife to pumpkin carving conventions
Hang on for a minute...we're trying to find some more stories you might like.
Jai Dufton and Trey Rendon are adamant that Halloween is the best holiday of the year.
Seated on Dufton's living room floor, the pair is in the middle of marking up and carving out large orange pumpkins. But these aren't your regular jack-o'-lanterns with leftover sharpie marks and triangle eyes gouged out with a steak knife. As Dufton turns his pumpkin around and flips on his iPhone light to illuminate it from the bottom, a detailed carving of Michael Myers holding a knife, inspired by the new Halloween movie, glows through the orange globe.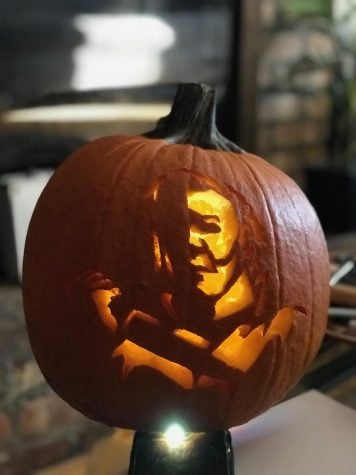 "I'm not really an artist," claims the DePaul film major. "My dad used to carve pumpkins, and it became a staple of the street we lived on. As I got older, I tried to continue on his legacy as he got too busy to keep carving."
Pumpkin carving has been an essential part of Halloween for both Dufton and Rendon, who started carving pumpkins when they were young and have since moved on to intricate, jaw-dropping designs that would give most carving enthusiasts a run for their money. Now next-door neighbors, frat brother and friends, the duo is putting their carving skills to work as Halloween approaches. Dufton is touching up his carving of Michael Myers while Rendon is free-handing an outline of C-3PO and R2-D2 from Star Wars onto the pumpkin in his lap.
"Once you start drawing into the pumpkin, you can't really go back," advises Dufton as he scrapes out some of the pumpkin skin in a small section of Myers' arm. "It's really important that by the time you start to cut, you already know exactly what you're going to do."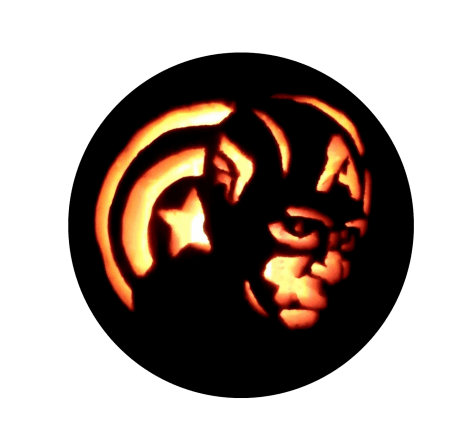 While Dufton usually sketches up a stencil on Photoshop before he starts marking up the pumpkin, Rendon prefers to free-hand his designs. The pair contemplated carving Ruth Bader Ginsburg this year, which Dufton says he would have needed to draw up a stencil for.
"There are no stencils of RBG at this point," laughs Dufton. "So I would have had to make that one myself." Dufton also takes advantage of living in an apartment with four other roommates and usually brainstorms with the house for design ideas. But he and Rendon are the only ones who take on the task of carving.
"The level of skill here is intimi- dating," says Sean Thomas, DePaul junior and one of Dufton's roommates. "I'm just here for support."
Strategy-wise, the pair has a different approach to taking out the pumpkin's insides. Dufton cuts into the bottom of the pumpkin for a cleaner look, which Rendon insists isn't the normal approach.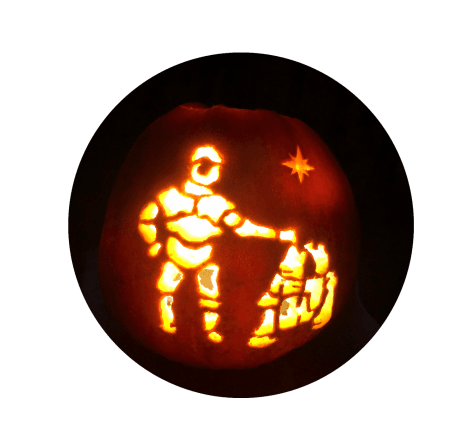 "I've literally never of heard of that technique until today," says Rendon, a biological sciences major who has cut open his pumpkin at the top. "It's easier to get the insides out this way."
For the best carving tools, Dufton recommends using a superfine knife with ridges, which can usually be found in a cheap pumpkin carving kit.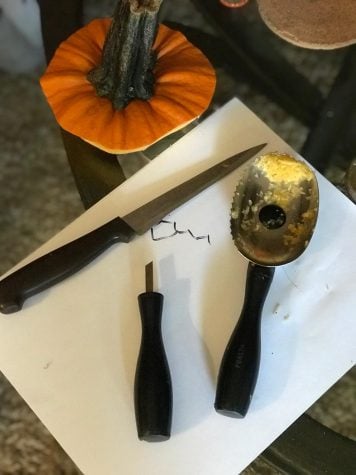 "I don't think mechanical knives help in any way," says Dufton, who thinks smaller knives are easier to control and cut out those tiny sections.
"It's not cheating, but you start to lose some of the aspects of carving the pumpkin," says Rendon on using mechanical knives. "There's something about having to struggle through it and scrape it out with your hands that's reminiscent."
As for accidents, the duo hasn't yet been seriously injured. "These tools are pretty hard to hurt yourself with," says Rendon. While pumpkin-related accidents do happen, they usually just involve the pumpkin — like cutting out an eye or carving too much off a design. Dufton recommends having some super glue on hand at all times as a backup plan.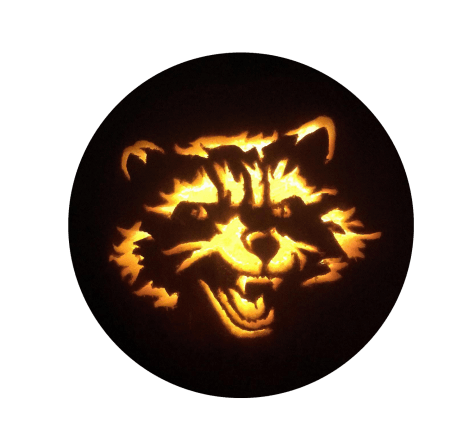 The pair estimates they usually get around to carving about three to five pumpkins each Halloween, but the pumpkins never actually make it outdoors.
"I've seen so many pumpkins destroyed on the streets," says Rendon. "If you put out a pumpkin on Sheffield, someone is going to walk down and drunkenly destroy it."
"We live next door to McGee's," adds Dufton. "So these will probably be going in the living room window."