Zozosuit ushers in custom-fit fashion
Ordered clothes online lately that didn't fit? Start Today Co. Ltd., a company based in Japan, wants to help you change that with a futuristic bodysuit.
Claiming that the rigid sizing system in the fashion industry is on the way out, Start Today is hoping to revolutionize the way we buy clothes with the Zozosuit, a skin tight, black-and-white polka dot bodysuit consisting of form-fitting leggings and a long-sleeve top.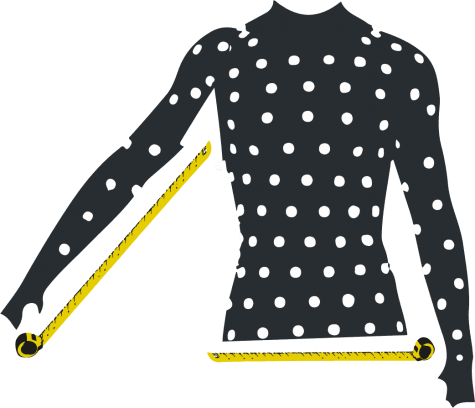 The Zozosuit is covered in about 350 sensors that connect to the wearer's smartphone through an app. Once dressed in the Zozosuit, the sensors detect the wearer's exact measurements through a series of 12 photos taken from different angles, which are then used to create measurements for perfectly tailored, affordable clothes shipped directly to the customer's door. At this point, the Zozosuit itself is free, and Start Today only charges customers for shipping based on location. Shipping to an address in downtown Chicago costs about $4.
The company's clothing options consist mostly of affordable staple pieces, including denim, t-shirts, and coats, putting them in competition with popular basics-focused brands like Uniqlo. The major difference: shoppers don't have to leave the house and can be sure that the clothes they order will actually fit.
Yusaku Maezawa, one of Japan's youngest billionaires and founder of Start Today, said in a July press conference that he believes "The time where people adapt to clothing is over. This is a new era where clothes adapt to people."
With the hype around the Zozosuit and its potential to change the way we buy clothes, will we soon be slipping into these body suits and avoiding fitting rooms when we need something new to wear?
Behice Ilhan, professor of marketing in the Driehaus College of Business with an expertise in retail, brand management and consumer behavior, is skeptical.
"I see this company as more of an ingredient to existing retail rather than stand-alone retail," said Ilhan. "Can it work for something like Rent the Runway? Yes," she said, adding that it could assist primarily online brands that often have to ship multiple sizes to their customers so they can see what fits. With the Zozosuit, or something like it, a clothing company could have access to accurate measurements that can be incorporated into the ordering process, essentially saving them money.
The Zozosuit could also have a major advantage when it comes to pieces that customers buy again and again — like t-shirts or those hard-to-find jeans that actually fit. Ilhan believes that smart-textile technology like the Zozosuit could benefit shoppers when the clothing choices are too plentiful.
"Consumers have a lot of options and are struggling to go through all those options," said Ilhan, claiming the Zozosuit would work for "Things they buy over and over and don't want to spend a lot of time in a store looking at."
Aside from convenience, the Zozosuit is pushing boundaries in fashion and retail by eliminating the need for traditional clothing sizes. With the fashion industry already under pressure over body image and the size of models, the Zozosuit has the potential to deliver custom-fit clothing that will shake up conventional sizing categories.
"The sizing of clothing is already extremely inconsistent from store to store and from country to country," said Stacey Sheridan, who has worked in retail at both Nordstrom and J.Crew and currently works at Tom James Company, one of the many local Chicago retailers who have placed an emphasis on custom-fit clothing.
"There are no standard set of sizes, and this can often lead to vanity sizing," added Sheridan on industry inconsistencies. Vanity sizing, a practice many clothing companies have adopted, is when brands assign smaller sizes to articles of clothing than what they really measure. In an effort to boost shopper confidence by staying away from larger-numbered sizes, vanity sizing has actually made finding the right size a nearly impossible task and resulted in enormous amounts of returned clothing, costing retailers billions of dollars.
"If everyone had clothes cut and measured exactly for their bodies, I think people would be a lot happier," said Sheridan.
After the Zozosuit launched in Japan in November of last year, more than a million orders have been placed and the company has expanded into 72 countries. They've established an automated, ready-to-order production line using data collected through body measurements, and by keeping the right amount of stock on hand for each body size, the company is able to quickly ship clothing to customers after they order through the app.
Still, as retailers adopt tech to enhance customization and convenience, whether or not we're really ready to completely ditch brick and motor stores and move into an era of only online shopping remains to be seen.
"For the most part, I only shop in-store," said DePaul student Emma Gresser. "I like to touch the clothes and try them on."
Even then, Gresser admits the Zozosuit does have some appeal.
"I'm a former athlete, and I feel like a lot of athletes have a harder time finding clothes that fit them because of their body shapes," she said. "If the clothes were perfectly tailored to me and they were affordable, I might never go to the store again."