Outcry: Women scream for art and strength
The women arrive at Whitney Bradshaw's studio in Logan Square. They usually don't know one another, but they mingle and chat over food and drinks. After about an hour or so, Bradshaw explains her project and what the women are there to do, followed by a few examples and a couple rounds of practice. And then, they scream.
Bradshaw has photographed more than 160 women for her project called "Outcry," which now lines the walls of the DePaul Art Museum and captures the frustration, anger and strength of women from around the country as they scream while being photographed.
"I wanted to deal with the silencing that women have experienced over the course of their lifetimes," Bradshaw said. "Not only in regards to sexual harassment and rape, but also just living in a world that is underpinned by sexism everywhere you go."
"Outcry" started in 2016, when Bradshaw decided to take on a project that would not only empower women but would be fun to put together. After discarding a few ideas that seemed too dark and difficult, Bradshaw was inspired by Grace Jones screaming on the album cover of "Slave to the Rhythm" and asked a couple of her neighbors if they'd be willing to try out a project idea she had. On the night of the 2018 Women's March, Bradshaw, her neighbors and a few more women who had heard about the project gathered in Bradshaw's studio to trial the first round of "Outcry."
One hundred sixty photographs later, the project has become a space for women to discuss feelings that have been silenced and dismissed, and also provides women with a place to connect with one another and expand their communities. Citing the divisive atmosphere of the country, Bradshaw places an emphasis on getting women who don't know each other into the same room to gather, talk and support one another.
"In my group, everyone wanted to scream with everyone else, so we all screamed together," "Outcry" participant Carla Bruni said. "It was really supportive and you feel bonded to those people as the night goes on."
"It's easy to feel self-conscious because you don't know how your face is going to contort when you are photographed," Bruni added. "But I didn't want to hold back during the photos and I don't think anyone else did. You just don't care at that point. You just want to scream."
The act of screaming itself is empowering and expressive, but is also a fundamental mechanism of self-defense that women don't often practice but should.
"Screaming can save you if someone is trying to rape you or accost you," Bradshaw said. "It has saved me on a number of occasions in my life."
"It's hard when you are socialized to always be nice and friendly and always be pretty and smiling," Bradshaw added. "Those are the things that women are celebrated for, so it's hard to embrace this idea of changing that and feeling comfortable with it."
Women of all ages, races and backgrounds line the walls of the exhibition, and women from around the country and across the world have reached out to Bradshaw to get involved in the project. Whether they come to talk about traumatic experiences, share their feelings on political and social events or just scream, the "Outcry" photography sessions offer a place where women can support and listen to one another in an era marked by the #MeToo movement and heated political rhetoric.
"I want people to walk into the space and see someone who looks like them," Bradshaw said of the exhibition. "I want everyone, men included, to walk in and be able to see their sisters and daughters and mothers and hopefully, in that moment, make a connection and take the time to think about what they have gone through."
Art focused on women's expression, sexual harassment and sexual assault have been around for centuries, but Joanna Gardner-Huggett, associate professor and chair of the department of history of art and architecture at DePaul, believes more attention has been focused on this kind of art in recent years.
"It has escalated and also brought more attention to what is already being done," Gardner-Huggett said. "The history of feminist art is always there and always being addressed but not always visible."
Attention has certainly been drawn to the culture of rape along with sexual harassment and assault in the art industry as a result of the #MeToo movement. In 2017, female artists penned a letter titled "We Are Not Surprised," speaking out about sexual assault in the art industry that had long been kept quiet. The Shiva Gallery in New York is currently featuring the "Un- Heroic Act" exhibition, which graphically examines the historical representation and current culture of rape through the work of 25 artists. And here in Chicago, the Awakenings gallery in Ravenswood will open its "Our Bodies Remember" exhibit in November, featuring art from sexual assault survivors that is focused on reclaiming the body.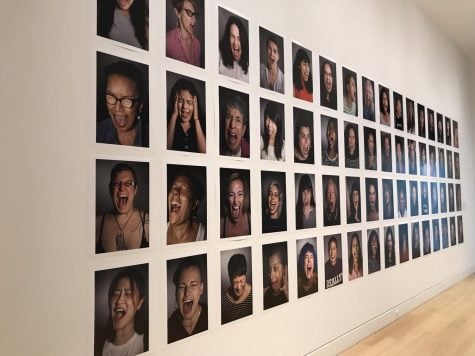 Mackenzie Borns | The DePaulia
"It gets at the place where words no longer can help us," Awakenings program director Jeri Frederickson said of the upcoming Our Bodies Remember exhibit. "There is a reclaiming of trust in your own self that I think art really gets at, while allowing someone on the outside to have compassion and see what the unseeable is."
As Bradshaw prepares for upcoming "Outcry" photography sessions on the night of the election, Nov. 6, and on Nov. 10, she notes that while many women are angry and upset about the current political situation, they are also interested in becoming more active because of it.
"There is a lot to be said about the fact that women are recently speaking out in larger numbers, and there is actual change that we are seeing with men having to deal with the ramifications of their actions," Bradshaw said. "I think knowing that you aren't alone and there are people out there that support you makes a difference."
The Awakenings "Our Bodies Remember" exhibit will open in Ravenswood on Nov. 8. More information can be found at awakeningsart.org
You can see "Outcry" at the DePaul Art Museum Wednesday-Thursday 11 a.m. to 7 p.m. and Friday to Sunday 11 a.m. to 5 p.m.