DePaul knocks down 18 threes in win over Temple on Field Trip Day
After scoring a season-low 63 points against then No. 2/2 Connecticut last Wednesday, No. 20/14 DePaul (5-3) bounced back in a big way Monday afternoon with a 102-88 victory over Temple. It was an early 11 a.m. tip-off as DePaul welcomed nearly 1,700 energetic and rowdy Chicago Public School children to McGrath-Phillips Arena for DePaul's annual "Field Trip Day".
Senior guard Ashton Millender tied her career-high in 3-point field goals made in a single game with seven of them en route to scoring a game-high 23 points. Rebekah Dahlman, a sixth-year senior, posted 16 points, all of which came in the second half. Both players also pulled down five rebounds and four assists apiece.
"This is probably the first time since she's been here at DePaul that we got to see the real Rebekah Dahlman, so I'm thrilled for what happened in the second half," DePaul head coach Doug Bruno said. "We need our veteran players playing well for us to have a good season."
Freshman guard Lexi Held, who was named as the Big East freshman of the week on Monday, had an efficient day dropping 13 points on five-of-six shooting and she also made all three of her 3-point attempts. Kelly Campbell nearly had a triple double scoring nine points, while dishing out nine assists and getting eight rebounds.
As a team, DePaul shot 46.3 percent from the field and knocked down 18 total 3-pointers, good for just under 41 percent from deep.
"It's just about focusing and knocking the shots down, but apparently I couldn't do it without my teammates assisting it to me," Millender said regarding her effort on the court. "(Bruno) gives us the greenest green light in America, so when I'm open I just focus to shoot it and knock it down."
DePaul opened the game with back to back 3-point field goals from Millender and Chante Stonewall in the first 1:18 of the game to open up on an 8-0 run. However, Temple climbed back into the game after shooting five-of-six from the field which kept the game close with DePaul leading by just three points at 16-13 with just under four minutes left in the first quarter.
Once halftime rolled around, the Blue Demons led 49-36 on a crisp 40.9 percent shooting mark. Out of DePaul's 18 first half field goals made, 11 of them came from behind the arc. With a tight man-to-man defensive strategy, DePaul forced Temple into committing 13 turnovers during that time period. As a result, DePaul scored 18 points off those turnovers to make up for inconsistent ball movement against Temple's length. Not to mention, Dahlman's game elevated to a different level.
"Obviously the first half was slow, but I decided to attack, be more aggressive," Dahlman said when asked about her play in the second half. "Coach (Bruno) always says 'your offense is gonna come to you, play defense,' and I tried to focus on my defense a little more and it came. I attacked more, but my teammates obviously got me open."
It wasn't just about Millender and Dahlman however, as Stonewall also put up 15 points. Mart'e Grays finished with 10 points and six rebounds while Tanita Allen scored 13 points and got seven rebounds off the bench.
Despite some early struggles with moving the ball, DePaul started sharing the ball more often in the third quarter and had eight assists in total during that period in comparison to 12 assists in the entire first half. Consequently, DePaul blew the game open in the third quarter opening up an 81-65 lead heading into the fourth quarter when they put up 32 points while converting 57.1 percent of its field goal attempts and knocking down four 3-point baskets.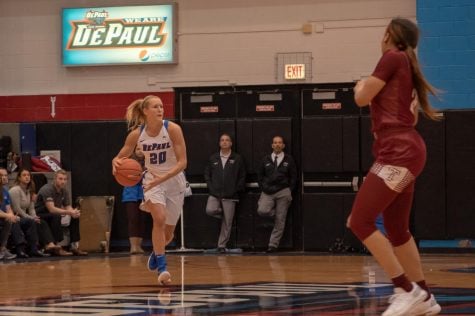 Even with DePaul's offensive spurt, Temple did not back down and opened the fourth quarter on a 17-12 run to cut DePaul's lead down to 93-82 in the quarter's opening minutes. That run was made possible by Temple shooting six-of-ten from the field.
Temple continued its hot shooting streak in the final period and got numerous open mid-range scoring opportunities off screens. Because of this, Temple even cut the lead to single digits, 95-88, with under five minutes left.
Nevertheless, DePaul's defense came in handy at just the right time, forcing Temple into a scoring drought over the final 5:03 to ensure that the victory stayed with the home team.
"We went back to half court defense," Bruno said. "I just thought they were exposing us too much in the open court running away from us (…), so I wanted to tighten that up some."
Dahlman found Monday's game to be not only a confidence booster for herself, but for her team as well.
"I've been struggling since Green Bay, to be honest, and this was a good win for all of us," she said. "The veterans really stepped up and made some huge stops on rebounding especially."
Though DePaul edged Temple in total rebounding 46-33, a figure that included the team grabbing 19 offensive boards, Bruno vocalized that his team needs to focus on limiting opponents' second-chance opportunities. Temple scored 11 second-chance points.
"We outrebounded them big time on the stat sheet, but we also gave up second (chance) shots in crunch time of the game," Bruno said. "Every one of Temple's comebacks came as a result of us not rebounding. And so even though the numbers look really good at the end of the day, they weren't always good from possession-to-possession."
Field Trip Day was initiated in 2008 by DePaul Athletics Director Jean Lenti Ponsetto, DePaul's Athletic Director, as a means to introduce the opportunity of a college education of students with limited resources at home. After the game, both Dahlman and Millender mentioned that the roaring energy in the building also gave them and their teammates a revitalized sense of energy.
DePaul's home stand continues on Wednesday night against local rival Northwestern at 7 p.m. CT.