DePaul wins fourth straight as Doug Bruno coaches following surgery
After undergoing back surgery last Tuesday, DePaul head coach Doug Bruno returned to the sidelines Monday night as No. 20/18 DePaul won their fourth straight game with a 95-73 victory over Tennessee State at McGrath-Phillips Arena.
Eight different players scored for DePaul, while 11 players saw meaningful time for DePaul, something Bruno was happy to accomplish.
"We came out and did some good things and did some things that have to get done better," Bruno said. "I'm pleased that we were able to play everybody, let everybody get some minutes and get some experience. When you don't play a softer schedule every game and every possession can have meaning and it makes it harder to play people so I was just thrilled that everybody got to contribute, everybody did some good things, some things that have to get fixed."
The Blue Demons finished with four players in double figures including sophomore Dee Bekelja who had a career-high 18 points on a perfect 6-of-6 mark from the field. Bekelja credited her teammates, while also pointing out one of the strengths of this team is the ability for any player to set a career-high on any given night, like Mart'e Grays did in their previous game against Oklahoma.
"My teammates were just finding me," Bekelja said. "I felt confident shooting the ball, I just think confidence was key in this game, like Kelly said, but my shots were falling so it was a good night."
Coming off that week off, DePaul opened the game on a fast 13-0 run over the first 4 minutes and 45 seconds before redshirt sophomore forward Cebria Outlow got the Lady Tigers on the board with two free throws. Tennessee State did also make an 11-2 run of their own to close out the first quarter and cut DePaul's lead to 11 after the opening 10 minutes.
The Blue Demons, however, regained control in the second quarter with a 19-10 run over the final seven minutes of the half after Tennessee State had cut the lead back down to 12 on a Tia Wooten layup.
Junior guard Kelly Campbell did a little bit of everything with 18 points, eight rebounds, two assists and also tied a career-high with six steals, which Campbell attributed partly to press DePaul frequently employs that allows her to roam free on the back end of the defense.
"I think it's definitely a function of the pressure that we put on the other team," Campbell said. "So from the back of the press just reading where the ball is going."
As for what needed to get fixed, Bruno pointed out there are still things on both sides of the ball DePaul has already gotten better at but still needs to improve on.
"Defensively we have to defend better possession-by-possession," Bruno said. "Just straight man-to-man defense has gotten better, we still have to rebound better, offensive execution still isn't close to where it needs to be in the half court so that's three really important areas right there."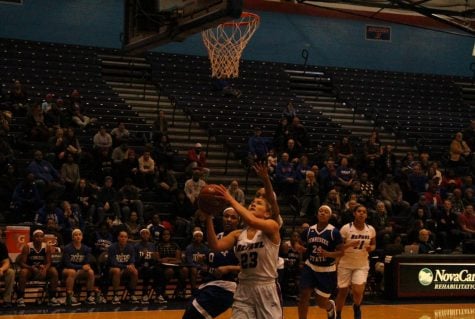 Up until Monday, the question still remained as to whether Bruno, who has missed two games that he can remember over the course of his career, was going to be able to coach Monday night less than a week removed from surgery.
While Bruno was not at practice the past week aside from Sunday where he briefly addressed the team but otherwise sat quietly in the same spot he did for the game, he has still been involved much of the past week talking with his coaching staff and watching every practice via videotape.
The decision to coach, however, was only made after he woke up with what he said was the most energy he has had since the surgery last Tuesday.
"I didn't know if I was going to coach tonight as recently as last night," Bruno said. "I came to practice yesterday sat down, just watched practice I didn't speak and it wore me out badly yesterday and going to bed last night I was thinking I don't think I'm going to coach tomorrow. I didn't say nothing to anybody and then this morning when I woke up my right leg felt the best it's felt since I had surgery. That's where they entered my body through the back, there's a big incision on the right side so since I started to feel better on the right side for the first time that's what got me to decide I wanted to come and do this…"
When the players showed up to play Monday night, Bekelja admitted she was surprised Bruno was able to be back on the sidelines just six days after back surgery, while Campbell, also smiling added a counterpoint.
"If you know coach Bruno, I don't think you'd be surprised," Campbell said.
Bruno added he followed doctors orders by remaining in a chair near the court during the game, but also learned about how much energy even doing that is expended coaching a game.
"What it taught me is how much energy and effort goes into coaching," Bruno said. "Sometimes you take it for granted as a coach, but I know I'm exhausted after I coach every game in full health but this really shows you how much goes into actually coaching and just sitting there not getting up and down you can't separate the emotion of what's going on every possession because I'm asking them to win every possession by being better defensively, by taking care of the ball better and yet you live and die with every possession also as a coach."
While Bruno watched tape of every practice, and ran through the game plan for every practice with his staff of Jill Pizzotti, Candis Blankson and Lisa Ryckbosch he credited them and his players with focusing on what they needed to, while lamenting having to use the team's off week to undergo surgery.
"The players were in really good hands," Bruno said. "I think the players made a really good effort to work to get better every day in practice. What kind of stunk about the week, back to giving and taking what you got as coach you are looking forward to this week because it was the one week we are finally able to get back on the practice floor. Ee played so many games we had no time to get our kids better at anything because they are playing games so week No. 6 was a week with no games and that's the week I chose for this because it was a week that I could have surgery, so I missed being here but I think our coaches did a great job, our players did a great job."
DePaul is back in action on Thursday against Loyola at 7 p.m CT.