Parlor Pizza Bar caters to all different tastes
The newest restaurant addition to the West Loop is Parlor Pizza Bar. This restaurant gives a lofty urban feel with a neighborhood vibe. With an open interior of the kitchen and huge pizza oven, you can see and smell your pizza being made. The restaurant also features a large patio with a pingpong table and a rooftop deck.
Located at 108 N. Green St., this restaurant offers a wide variety of options to meet everyone's needs. With about a dozen different thin-bread, Neapolitan-style pizzas, the menu also features burgers, fish and chicken dishes. The drink menu offers 14 different beers on tap on a rotating series. Many come from local brewery companies, as well as a number of cocktails. Parlor Pizza Bar also offers "mocktails" for the under 21 crowd. The service was extremely friendly, and workers can help with any question you have on the menu.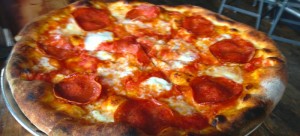 Sgt. Pepper Pizza
One of the more popular pizzas, this dish features house marinara, pepperoni, fresh buffalo mozzarella and white truffle oil. The marinara sauce is just enough, and the buffalo mozzarella and white truffle combination is amazing. All pizzas can be shared between two people — perfect for date night.
Buffalo Bacon Wings
Six lightly breaded crispy wings with a buffalo sauce that has just the right amount of kick to it, with a side of bleu cheese dressing and small fresh chucks of bleu cheese, as well. Perfect for all the wing lovers and football fans out there who love to dine on wings while watching their favorite game.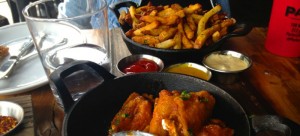 Frites
Fresh and seasoned french fries that come with a side of ketchup or Sriracha honey mustard, and the perfect combination of sweet and sour and jalapeno cream cheese. Those with a spicy palate will adore this dish!
Mother Punch
One of the sweeter rum drinks on the menu, the Mother Punch, with a mix of Bacardi, strawberry, lime, pineapple, and angostura, packs enough punch to satisfy your sweet tooth in a refreshing beverage.