Bad Bunny
The well-earned rise of one of today's biggest Latin stars
Benito Antonio Martinez Ocasio: The mysterious figure that goes by the alias of Bad Bunny. Growing up in Vega Baja, Puerto Rico, his rise to stardom has expanded to the areas that he parties in: from a tiny neighborhood called Almirante Sur to worldwide.
Born on March 10, 1994, Bad Bunny's humble upbringings working as a bag boy at ECONO supermarket fuel some of his lyrical sensations. Discovered on SoundCloud while attending the University of Puerto Rico, the 24-year-old is often referred to as the pioneer of the Latin trap explosion.
The genres he has adapted to produce his unique sounds are credited from the influence of his parents and the environment which he grew up in. Salsa, merengue, pop and hip-hop altogether, but with a flare that has come from the wave of SoundCloud success fueled by certain beats that make his productions trap. It has been months that Bad Bunny's melodic Latin music has exploded not only for Central America but North America, too.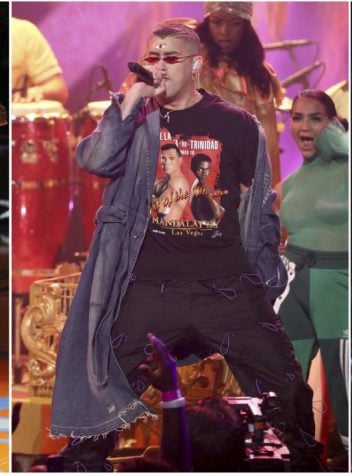 "I was born and raised in the suburbs, so I am as white as you can get," sophomore Molly Francis said. "I have been listening to Bad Bunny since [his song] 'Ahora Me Llama' when I was a senior in high school. He has remained one of my favorite artists because I feel like I pick up some Spanish when I listen to his music."
The wave of American fans following Bad Bunny's music is surprising and can possibly be explained by his collaborations with Cardi B, Enrique Iglesias, Becky G, Nicki Minaj, Ozuna, J Balvin and upcoming works with Drake. He has been topping the charts with the Titans of the pop industry.
Beginning his career on SoundCloud, Bad Bunny's claim to fame was engineered independently. Changing demographics are said to be a reason Bad Bunny's lingo and style has been so popular among younger generations.
According to the Census Bureau, there are 57.5 million Hispanics in the United States as of July, 2016, making people of Hispanic origin the nation's largest ethnic or racial minority. Hispanics constituted 17.8 percent of the nation's total population.
"Growing up in Spain, it is really interesting to me that Americans have such a recent interest in this Latin-infused music," sophomore Isabel Helin said. " I feel like everywhere I go, I can speak to more than one person in Spanish and have conversations surrounding the idea of Hispanic culture in this country."
Bad Bunny's ascendancy is surely going to continue this upcoming year. Keep an eye out for his upcoming concert at the Allstate Arena in Rosemont, Illinois on Sunday, March 24.