Hacking incidents raise questions of tech security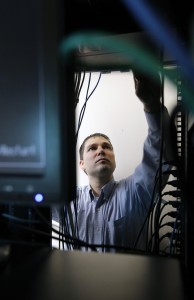 On Wednesday, Sept. 24, sandwich chain Jimmy John's joined the long list of restaurants and retailers that have recently been hacked by unknown parties. According to the Huffington Post, "Hackers stole customer debit and credit card data from 216 of its stores."
In addition to Jimmy John's security breach, another new bug known as Shellshock has emerged on the technological scene. The New York Times reported that a piece of software known either as Bash or the Bourne-Again Shell "is now built into more than 70 percent of the machines that connect to the Internet. That includes servers, computers, routers, some mobile phones and even everyday items like refrigerators and cameras."
Shellshock is contained in Bash and "is a particularly alarming software bug that could be used to take control of hundreds of millions of machines around the world, potentially including Macintosh computers and smartphones that use the Android operating system."
Shellshock has been deemed even more dangerous than the Heartbleed bug that was rampant last spring. The Financial Times reported that "even the most sophisticated government and military systems have been rendered exploitable by Shellshock."
"On Wednesday evening, the U.S. Department of Homeland Security acknowledged the bug and issued a warning to public and private sector organizations across the U.S.," the Financial Times reported. This issue is causing businesses, governments and other institutions to quickly go on the defensive by armoring their cyber securities with even heavier protection.
The Shellshock bug combined with the multiple restaurant and retailer breaches have brought up many interesting questions in regard to safety in the technological realm. Hackers and viruses pose major problems that can affect mass amounts of people around the world, leading society to ask how they can keep themselves safe.
On Sept. 18, Home Depot announced that a security breach put an estimated 56 million payment cards at risk. Bigger than the Target breach that occurred during the 2013 holiday season, the Home Depot crisis is "the largest compromise of debit and credit cards in the string of cyber attacks that have hit retailers over the past year."
Successful hacking incidents of businesses such as Target, Home Depot and Jimmy John's, combined with the continued vulnerability that Shellshock has created, shows that hacking will continue to be a lucrative business.
Trey Ford, a global security strategist at cyber security firm Rapid7, commented on the theory that organized gangs of cybercriminals are responsible for the breaches.
"They do their diligence in researching their targets and find a way into the network," Ford said. "Based on the information available, it's a sophisticated, well-planned attack designed for a very significant payday."
Ford highlighted an inherent danger in cyber security: The motives to engage in hacking are significant. Unfortunately, there is a lot of money to be found through breaking firewalls of security, and the ability to track technological footprints will likely remain a difficult game.
With a lack of paper trails, hackers can be virtually anywhere in the world, and security breaches are likely to remain a problem in the future.