National Briefs: Sept. 29
US Attorney General Eric Holder resigns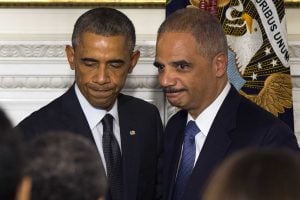 Washington, DC — Eric Holder, America's first black attorney general and an unflinching champion of civil rights in enforcing the nation's laws, announced his resignation Thursday after leading the Justice Department since the first days of President Barack Obama's term. He is the fourth-longest-serving attorney general in U.S. history.
Holder, the administration's point man on the civil rights investigation into the police shooting of an unarmed 18-year-old in Ferguson, Missouri, won't leave until a replacement is confirmed, which means he could remain in office for months.
Senate Republicans signaled they were preparing for a confirmation fight after years of battles with Holder. Said Senate GOP leader Mitch McConnell: "I will be scrutinizing the president's replacement nominee to ensure the Justice Department finally returns to prioritizing law enforcement over partisan concerns."
In an emotional ceremony at the White House, Obama called Holder "the people's lawyer" and credited him with driving down both the nation's crime and incarceration rate — the first time they have declined together in more than 40 years.
In a speech earlier this week, Holder described the dual perspective he brought to the job and how it applied to the Ferguson shooting, in which a young black man was shot and killed by a white policeman. He said he had the utmost respect for police as a former prosecutor and the brother of an officer. But, he added, "As an African-American man who has been stopped and searched by police in situations where such actions were not warranted, I also carry with me an understanding of the mistrust that some citizens harbor."
Holder told The Associated Press in an interview that he's not sure whether the Justice Department will finish its investigation into the shooting before he leaves. "I don't want to rush them," Holder said. He said once out of office, he will direct attention to "issues that have animated me" during his tenure, including criminal justice and civil rights.
"If you asked me what my biggest regret was, I would say that it was the failure to pass any responsible and reasonable gun safety legislation after the shootings in Newtown," Holder said. He said he thought in the aftermath of the school shootings in Connecticut that the nation would embrace change that was "not radical but really reasonable" on gun ownership.
Holder aggressively enforced the Voting Rights Act, addressed drug-sentencing guidelines that led to disparities between white and black convicts, extended legal benefits to same-sex couples and refused to defend a law that allowed states to disregard gay marriages. He oversaw the decision to prosecute terror suspects in U.S. civilian courts instead of at Guantanamo Bay and helped establish a legal rationale for lethal drone strikes on suspects overseas.
He was a lightning rod for conservative critics and faced a succession of controversies over, among other things, an ultimately abandoned plan to try terrorism suspects in New York City, a botched gun-running probe along the Southwest border that prompted Republican calls for his resignation, and what was seen as a failure to hold banks accountable for the financial system's near-meltdown.
The Republican-controlled House voted two years ago to make Holder the first sitting Cabinet member to be held in contempt of Congress — for refusing to turn over documents in the gun-running operation known as Operation Fast and Furious. The administration is still fighting in court to keep the documents confidential.
White House officials said Obama had not made a final decision on a replacement for Holder, who was one of the most liberal voices in his Cabinet. White House press secretary Josh Earnest said naming a new attorney general would be a high priority for the president.
Police, protesters clash after police chief's apology
Ferguson, MO — Police and protesters clashed briefly in Ferguson just hours after the St. Louis suburb's police chief issued an apology to the family of Michael Brown, a black 18-year-old who was fatally shot by a white police officer last month.
Ferguson Police Chief Tom Jackson appeared outside the police department in civilian clothes late Thursday to assure protesters that there would be changes in the wake of Brown's killing.
"All those things that are causing mistrust are being evaluated and we are going to be making changes," Jackson said.
The police chief started to march with protesters around 11 p.m. Soon after, a scuffle broke out about 20 feet behind the chief and one protester was arrested. The Post-Dispatch said at least three other protesters were arrested after another confrontation.
Earlier Thursday, Jackson released a video apology to Brown's family and the community in which he acknowledged that Brown's body should have been removed from the street much sooner after he was killed. Brown's body remained on Canfield Drive, a residential street, for more than four hours while police collected evidence.
"It was just too long and I'm truly sorry for that," Jackson, dressed casually in a red polo shirt instead of his police uniform, said on the video. "Please know that the investigating officers meant no disrespect to the Brown family, to the African-American community or the people of Canfield (Drive). They were simply trying to do their jobs."
To the Brown family, Jackson said: "I'm truly sorry for the loss of your son."
Brown's parents declined comment when told about Jackson's video during a news conference with civil rights leaders at the National Press Club. Their attorney later said they hadn't heard about the video but would review it.