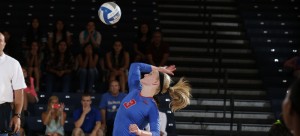 It's often rare to see freshmen in the starting line up of a division one athletic program, although, the dynamic duo of Myah Reed and Rachel Breault have put a charge into DePaul's women's volleyball team. Whether it's setting career highs in kills or nabbing the Big East Freshman of the Week award, this pair of freshmen is making their presence known. With a current record of 2-10 overall, the early struggles have only fueled their hunger for success.
A native of Bad Axe, Michigan, Breault had an exceptional volleyball career at Bad Axe High School where she was named First-Team All-State in her junior and senior seasons to go along with being awarded the Team MVP. Reed hails from South Holland, Illinois where she attended Gwendolyn Brooks
Prep and played her club volleyball with First Alliance. Both players have high expectations for the volleyball team as they prepare to enter into conference play.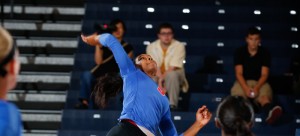 "I for sure want to see us in the top four of the Big East Conference, [but] even if we don't make it, I still want us to do well in [the overall season]," Myah Reed, first-year outside hitter, said.
While the Blue Demons entered into several tournaments to prepare for the conference schedule, the Evansville Invitational proved to be a coming out party for Reed and Breault as they showcased their talent with Reed wrapping up a career high 14 kills and Breault totaling career highs as well with 12 kills and 31 attacks despite the team falling to host Evansville in the second game of the invitational. With eight kills in the first frame of the game for Reed and a well-balanced attack from Berault, there was no stopping them.
"I try to keep us focused on the next play [after a lost point], so that [the team doesn't] dwell on the mistakes they made," Reed said. "I'm like, 'You're fine, you've got the next ball, I know you're going to put it away.'"
With a natural passion and appreciation for the game, these two have demonstrated admirable leadership skills and sportsmanship throughout their young careers. Amidst all of the early accolades and praise, humbleness has remained as a top priority.
"I didn't expect to get as many kills as I did, and I didn't even know how many it was until after the game," Reed said of her career high. "But it felt pretty good that I was able to set a goal and achieve [it]."
As for Breault, she too was surprised with her success in landing the Big East Freshman of the Week award. After leading the team to a third-place finish at the DePaul Invitational, she was able to display a .405 hitting percentage throughout the three matches. Breault is only the second player in the program's history to achieve such title alongside previous 2007 recipient, Charla Drabant.
"It's a pretty big deal here, [and] I didn't even know until the coaches told me," Breault said. "I'm proud to represent DePaul in that way."
Head Coach Nadia Edwards had nothing but kind words to say about her star freshman in a statement she released regarding the award.
"Receiving Freshman of the Week honors on opening weekend is a true testament to how hard she's been working in practice since preseason has started," she said. "Rachel is certainly deserving of this award."
While the demand of a volleyball season does everything it can to test the endurance and mental strength of the players, sometimes the motivation to reach these individual and team goals is found right on your home court.
"I compete with Saige a lot, as freshmen, we kind of clash on some things [with the upperclassmen], but it's all for a good reason," Reed said.
It's hard to doubt the fact that, when adjusting to a new team, various difficulties and obstacles are bound to surface as the team attempts to find their identity and get to know their newly added players while adjusting to the departure of old members. The early troubles simply act as building blocks towards creating the strong foundation that lies ahead for the team.
"They're always looking out for us and telling us what to do because they don't want us to make the same mistakes they have made in the past."