'Kill the Messenger': A fantastic, slow-burning political thriller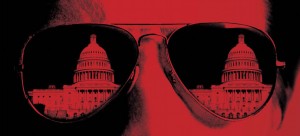 Political thrillers have been something of a staple in Hollywood. From "All The President's Men", to "The Insider", and "Shattered Glass", they take scandals or true events in politics and make them exciting for the viewers. That's exactly what Michael Cuesta's new film "Kill The Messenger" does. It's a taught, paranoid thriller that throws the audience deep into the Nicaraguan cocaine scandal of the mid 90's.
The film, based on a true story, follows Gary Webb (Jeremy Renner), a reporter for the San Jose Mercury News. Webb's recent trend of writing stories about the drug war in California is brought to the attention of a woman claiming to hold documents that could prove the CIA has harbored drugs into the US. Webb is also a family man, with a wife (Rosemary DeWitt), three kids, and a dark past that caused them to switch towns once before. Soon, all these aspects of Gary's life collide. Once the most celebrated journalist in the country, Webb soon becomes a discredited paranoid wreck.
Cuesta is no stranger to political thrillers, having worked as a director and executive producer on the first two seasons of "Homeland". With "Kill The Messenger," he takes his experience and creates something very good, a political thriller that is none too showy, and incredibly tense. He gets deep into the paranoid mindset that Gary has, never revealing too much, and creates the feeling that someone is watching. It's a great effect, and when Cuesta focuses solely on Gary, he gets his best results. He also deftly handles Webb's family life, and while at times it may seem a bit too cookie cutter, the emotional resonance is always on point. The way he handles both areas of Webb's life so carefully, and how he ties them together with precise skill is admirable and a great accomplishment. It is one of the best political thrillers in recent memory.
But perhaps what's most impressive is what Cuesta gets out of his cast. Jeremy Renner has not been this good in years, playing a man who's so driven to uncover the truth, that he loses hindsight of what is important. Renner plays on Webb's paranoia as well, slowly stripping his character down until he is a battered and bruised man who has lost nearly everything. It's painful to watch, but Renner gives such a nuanced and emotional performance that it is near impossible to look away. The supporting roles are equally fantastic, from Oliver Platt as Webb's executive editor, to Michael Sheen as a nervous politician who has been down Webb's road before. And Tim Blake Nelson makes a welcomed appearance as a lawyer going way over his head with a CIA case. The list of star power in this film is endless, and each cast member gets his or her time to shine, but it is Renner who takes home the gold, giving his best performance since 2010's "The Town."
"Kill The Messenger" is an absolute treat: it's a lean, taut political thriller with fantastic performances and spot on direction. It's a film not to be missed.
"Kill The Messenger" opens Oct. 10.