Influence cannot mask the truth
In the wake of Hollywood's #MeToo movement, coupled with #TimesUp, the number of actors, singers, and performers exposed has become exhausting to keep up with. From Bill Cosby to Kevin Spacey, actors blackballed and singers let free, it seems everyone is living in fear that their favorite may be next up for a nationwide public exposure. Along with the emotional "Surviving R Kelly" documentary that changes public opinion on the R&B legend, documentaries have paved the way for exposing illegal and unethical activity of celebrities. The latest explosive reveal may seem a bit repetitive to those that experienced the 2003-2004 criminal investigation into the pop star Michael Jackson.
Wait, wait. Did you just say Michael Jackson? As in, the late Michael Jackson? That can't be!
That's right. Newest accused star is none other than the late Michael Jackson who was put on blast in an HBO documentary called "Leaving Neverland." The documentary details the alleged sexual abuse of two boys, now grown men, Wade Robson and James Safechuck, who claim to have been taken advantage of by Jackson at the ages of seven and 10.
So, why now? Is it ethically okay for these people to bring this story to light after Jackson has died? And why now, some are asking. However, as said by DePaul journalism professor Chris Bury, "Journalism doesn't end just because someone died; if there is a worthwhile story to be told, it's the job of reporters to tell it."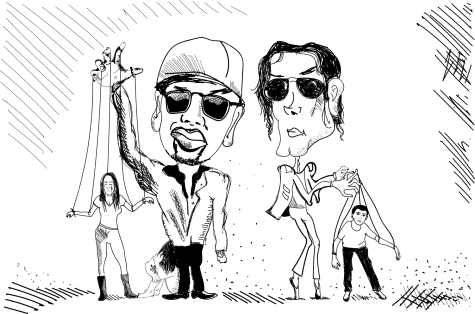 Obviously, friends and family are not going to enjoy disparaging pieces made about one of their own loved ones, but the point of contention being that the person has died is not a valid fight against the truth. The Jackson Estate didn't give up fighting however, first imploring HBO to not run the film because of a disparaging contract from 1992. The network released a letter saying this accusal would not hinder the running of the documentary.
Next, the family went for Channel 4, the British network airing "Leaving Neverland." In a letter, the estate said the film should not be allowed because guidelines required a timely opportunity for the accused to provide a defense to "significant allegations," according to the Guardian. The network, however, replied that defense given by Jackson during his life and showed in the film was enough of a rebuttal to allow the film to air. You cannot libel the dead, but this has not stopped the family from suing HBO for $100 million in damages. Because there are not many other legal actions the estate can take, they have also begun airing rare concert footage of Jackson as an attempt to distract from the brewing scandal.
Tulsa independent filmmaker Tyler MacAuliffe has directed several short films, his most recent of which was called "Academic Misconduct." MacAuliffe said when presenting anything to an audience, the main concern is being factual."
"While it may seem unfair to 'expose' the late as they are unable to defend themselves, this is often when the most compelling information is revealed," MacAuliffe said. "You can't ignore it just because they're gone."
"Some stories are inspirational and others present the ugly side of human nature, but all stories have acts and deeds that we can learn from," said Fred Wainwright, vice president and general manager at Delta Risk LLC and corporate ethics expert. "When public figures pass, it is normal to want to understand their life and what they achieved and how they behaved."
Wainwright went on to explain that an individual's behavior will expose them positively and negatively, meaning that it is not the storyteller's job to decide how someone acts. The storyteller must only report the facts.
The ethics of storytelling remain unchanged when the focus of the story is deceased; however, they may be emphasized. While the dead may not be here to defend themselves, it is still the job of journalists, storytellers and filmmakers to present the truth. Anyone arguing that they lose that right at any point simply does not understand the process. In the words of documentary filmmaker and DePaul professor Judith McCray, "This isn't an issue of fairness […] It is an issue of truth-finding and justice-seeking." The ethical value of an exposing documentary does not lie within its fairness, but rather its truth.