Censorship on the agenda for Banned Books Week at DePaul's Richardson Library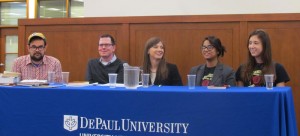 The university hosted a panel discussion Wednesday night on the issue of censorship in celebration of Banned Books Week.
Held in the Richardson Library, two published authors sat alongside two Chicago Public Schools students to discuss the issue. Moderated by Carolyn Rudinsky, the discussion drew a crowd of varying ages and prompted reflective dialogue about the matter.
James Klise, a high school librarian from the North Side and author of the book "Love Drugged," told an anecdote of how he faced censorship after a librarian from Kansas sent Klise an email a few years ago inviting him to speak at a school there for Banned Books Week. Klise received a follow-up email informing him he was no longer invited  after the subject of the book, about a gay teenager, became aware to her and her principal.
Klise was told that because it was a conservative town, the librarian feared there might be "parental backlash."
"It was the biggest irony that I had been invited to speak about the topic of freedom to read but then disinvited because of the subject of the book," Klise said. "Not even the content of the book – there's no sex in it, there really isn't even any swearing in it."
"The notion of the book that had a character who was a closeted gay teen just made them uncomfortable."
Aaron Renier, a comic artist and lecturer in the College of Digital Media, authored a graphic novel about his middle school experience. He spoke about it at a school event in Maine, for which students were required to get permission slips signed to attend.
"I didn't set out to make some sort of controversial story," Renier said. "I was just telling an honest story about attention deficit disorder and connecting with friends."
"We didn't all set out to do these controversial stories, people just lived lives and they told the stories from their middle school lives, and they happen to involve sex. They weren't supposed to take that out of their story," Renier said. "We weren't told to censor ourselves."
Also speaking on the panel were sophomore Karolina Rak and senior Samrudhi Vaghmare, from Lane Tech College Prep High School. The two students are members of the high school's banned book club 451 Degrees, and spoke about protesting the removal of the autobiographical graphic novel, "Persepolis," from their classrooms and libraries in 2013 after a CPS directive order.
"[Persepolis] is an autobiography, so censoring somebody's life …that's basically saying 'no, you're wrong in the society,' banishing them, hiding them, slipping them under the covers," Vaghmare said.
The Internet age poses new questions regarding intellectual freedom. With today's accessibility, Klise noted that while some parents are still fighting fights, they might not know what they're up against.
Renier offered a positive note at the end of the discussion when recounting his research that showed him the most influential, and by contrast and most challenged books of the 20th century look "remarkably similar."
"It speaks for the book's popularity and the amount of truth inside the book," Renier said. "It's almost like a badge of honor."
The event was sponsored by the DePaul University Library, The University Center for Writing-based Learning, and Freedom to Read Foundation's Judith F. Krug Memorial Fund.