DePaul falls short in CBI championship game
Going for a CBI Title and first 20-win season since 2006-07 , DePaul fell behind by as many as 17 points midway through the first half and never recovered losing to South Florida 77-65 in the deciding game of the CBI finals at McGrath-Phillips Arena Friday night.
"It's a bitter pill to swallow when you don't win," Leitao said after the game. "Particularly when the stakes are so high, and so that hurts and it should hurt if you are a competitor, so everybody in the locker room and myself really took one on the chin today and it doesn't feel good, but that's part of what this sport and the cruelty of it can bring to you."
The night started with a three from USF sophomore Justin Brown and they never relinquished the lead the rest of the evening despite DePaul closing within one point at various points in the game. With six minutes to go in the first half, the Bulls had already built a 37-20 lead.
DePaul began to work its way back into the game, however, primarily due to its effort on the defensive end with a quick 14-2 run spanning the final 6:12 of the half as USF missed 12 of its last 13 shots that had a crowd of 1,876 mostly DePaul fans right back in the game as well.
That first-half rally was also led by redshirt-sophomore Devin Gage, who returned from a three-game absence, to finish with a team-high 19 points, 13 of which came in the first half.
"He was spry, he was excited and he played that way," Leitao said. "He hit his first two jump shots which had them hesitate about doing what other teams had done previous to this. He was energetic on offense and kind of moved the ball for us. We didn't play very well in the halfcourt today but it was a difficult position for a while and then coming off a concussion and then trying be in all phases defensively, offensively and just managing the team and moment but I thought he did a much more than admirable job of doing all that for us today."
After cutting the deficit to one with back-to-back baskets by senior forward Femi Olujobi early in the second half, the Bulls quickly responded with a 9-2 run to take back control of the game and continue to give the crowd little to cheer about in the second half as USF led by as many as 14 late in the half. Despite a late rally that cut the margin to seven, that was as close as the Blue Demons could get inside the last two minutes.
Less than 48 hours after senior guard Max Strus scored 32 points while playing 45 minutes in overtime win in game two, he struggled in this one finishing with just 16 points on 2-of-16 shooting. While disappointed in the result and falling short in a championship game, Strus said he was optimistic about where the program is heading in the future.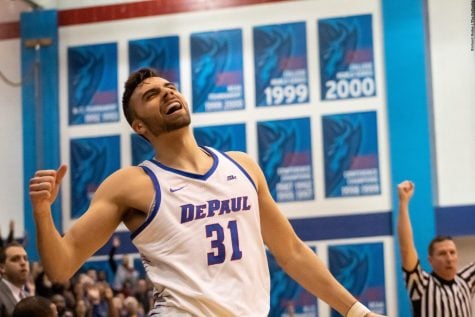 "It's unfortunate the way tonight ended," Strus said. "I think the program and our team is moving in the right direction and I think people can start to realize that, so you should be excited for the future and excited for the new guys coming in and the guys that are coming back to lead this school and keep winning and keep playing in postseason games and be excited for that."
The senior guard finished the season with 705 points to rank third on the all-time single season scoring list joining Mark Aguirre as the only other player to score more than 700 points in a single season.
As DePaul begins to look to the future, Leitao added the next step for the program is to learn from the experience of postseason play and being able to reflect on not only what you did, but what you could have done to be better.
"I think when you come up short you could easily say it's for this reason, that reason, the truth of the matter is it's for a lot of reasons," Leitao said. "It might be something that you decided that you didn't do as well Dec. 4 or Jan. 12 and it becomes a culmination of things that require you to be good every day. I've said this many occasion if I asked you to be your best tomorrow and it was a monetary gift are you going to make the NBA for that 24 hours would you be your best if I told you 'I guarantee you day after tomorrow I'm going to get you to the NBA or whatever the case may be'" if for those 24 hours [you gave your best] and they could do it."
Leitao added the good players and programs are able to repeat this every day and is something the players need to understand with more expected of them in the future.
DePaul played this game without senior guard Eli Cain, who missed his first game as a DePaul player after suffering a dislocated wrist and elbow in game two of the series.
The Blue Demons finished the season 19-17, which was still good enough to secure its first winning season since 2006-07.