Women in the ring
World Wrestling Entertainment continues to expand and increase the value of women's wrestling—after a long period in WWE where the women were neglected and mistreated—by featuring a women's main event at WrestleMania 35 on April 7 at MetLife Stadium in East Rutherford, New Jersey.
WWE wrestlers Ronda Rousey, Charlotte Flair and Becky Lynch wrestled in a triple threat for both the Raw and Smackdown women's championships. Lynch won the match, with a winner-takes-all stipulation, countering Rousey's Samoan drop with a crucifix pin to win.
The match was the first time a women's match main evented a WrestleMania, since its inception at Madison Square Garden on March 31, 1985.  Women's wrestling in the company had been around for decades in the WWE, a popular division in the early years. Throughout company history, however, there had been some black marks in the division that made it impossible for such a feat to have happened until recent times.
"There was a popularity boom when Cyndi Lauper was involved in the lead up to the first WrestleMania when the company was positioning Wendi Richter as their top female star," said Jon Pollock, owner of wrestling news site POSTWrestling, in an email interview.
As WWE took an edgier approach in the late '90s, for what would be one of its most successful periods with Stone Cold and The Rock, the treatment of women shifted less toward wrestling-centric roles and became more sexualized.
"The women back then were more known for their looks than their wrestling ability," said Alex Guerrero, a WWE fan since 1993, in an email interview. "They'd hardly ever have matches, just lingerie contests or bikini contests.
From the late '90s onward, many questionable moments would occur, including CEO Vince McMahon ordering one of its female talents to get on her knees and bark like a dog in front of the audience, two instances of a miscarriage storyline taking place, and Eric Bischoff featuring segments titled "Hot Lesbian Action."
"At the time I can honestly say I didn't take it as serious wrestling; I perceived it more so as a sexual sideshow," Guerrero said.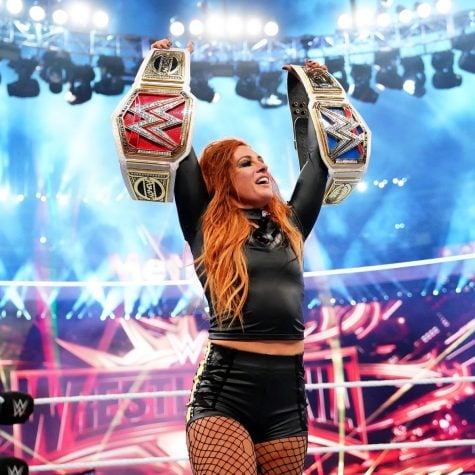 Despite many creative decisions in the late '90s and early 2000s, in the mid-2000s women's wrestling would have more wrestling-centric stories.
"The second-best period would be 2002-2006, and that coincides with the in-ring quality of the female performers going through massive improvements," Pollock said. "This was when Trish Stratus, Jazz, Molly Holly, Victoria, Gail Kim and others took a lot of pride in their match quality."
The division would take a drastic change on July 20, 2008, when the WWE debuted the Diva's Championship for the first time on Smackdown, a secondary WWE TV program.
The primary women's championship, established in 1956, was retired on Sep. 19, 2010. Afterward, the Diva's Championship would be the primary title for the women's division.
Although some sexual undertones would continue, the women became less a sexual sideshow and more just a sideshow.
By 2014, however, the landscape of women's wrestling had begun to make some drastic changes.
"I knew they had to update the product because it was already happening in NXT and it was proof-of-concept that the women could be a big part of the show and [be] taken seriously by the audience," Pollock said.
NXT was WWE's new developmental territory run by McMahon's son-in-law and former WWE Champion Paul Levesque, famously known as Triple H.  The WWE Network is a streaming service, hosting a library of older WWE content and ongoing wrestling programming like NXT, launched on Feb. 24, 2014.
Women's wrestling began gaining popularity in the fanbase as a result of more emphasis and a new head of talent relations in Triple H.
"These are great athletes who can perform at a high level not seen before in WWE on the female side," said Jason Solomon, podcast host of the award-winning Solomonster Sounds Off, on the factors that led to the rise of women's wrestling at the time, in an email interview. "That, coupled with fan outrage at the lack of time being given to these women and social media pressure, caused WWE to look at things in a different way."
The fan outrage on social media was a different matter, that affected the main programming of WWE programming, still run by Vince McMahon.
On a Raw in Feb. 23, 2015, a Diva's match went about 30 seconds before the match quickly ended, angering the fans by hashtagging  #GiveDivasAChance. Shortly afterward, the WWE began to feature the hashtag on their own show, doubling down on pushing women's wrestling.
On July 13, 2015, Becky Lynch, Charlotte and Sasha Banks were promoted from the NXT developmental program to Raw, beginning the company's dubbed "Diva's Revolution."
By the following years in WrestleMania, in AT&T Stadium, all three women wrestled for the debuting WWE Women's Championship, retiring the diva championship and name.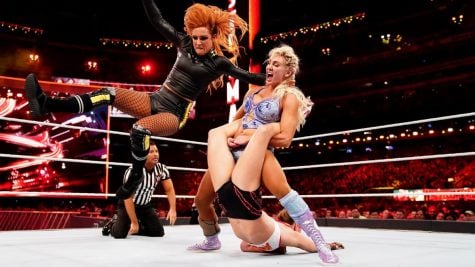 Afterward, the company would refer to its efforts as the "women's revolution" rather than diva's from 2016 until recent times. From that time period, the women made their first PPV a main event and eventually hosted a women's-only PPV.
WWE fans have welcomed the move.
"I think the WWE presents Women as capable of the same physical duress as men," said Brandon Thompson, graduate student at DePaul. "They are viewed as powerful, strong and independent."
Although the WWE has been open about its promotion of women's wrestling both to the fans and as a public relations tactic, the move particularly to have a women's main event WrestleMania has been viewed as a momentous and significant move.
"It's a big statement because it's more than just the order of the matches. It's the degree to which the company promotes that match as the selling feature of the show and believing the women are the biggest catalysts to attract new subscribers to the WWE Network and drive the promotion of the show," Pollock said. "More importantly, this isn't a PR stunt or an empty gesture. This year, the women had the hottest program going into WrestleMania. They deserved the slot and that's what is notable."
On both Raw and Smackdown, Becky Lynch made it clear she will be doing double duty, appearing on both shows as a defending champion. Lynch's first challenger is being set up to be Lacey Evans.