OPINIONS: DePaul students share thoughts, reflections on Notre Dame Cathedral fire
On April 15, a fire started at the Notre Dame de Paris Cathedral, built in the 12th century, and quickly captured international headlines. Students from the largest Catholic university in the nation share their thoughts and reflections here.
Why I'm not mourning with Paris
By Farouk Kannout
While most people are currently mourning Notre Dame, I can't help but feel aggravated and cynical at all the coverage. As a Muslim, I think about all of the nonwhite, nonwestern monuments, mosques, libraries and museums that have been burned down or bombed in recent years without receiving the same worldwide coverage or concern.
Jerusalem's Al-Aqsa Mosque, one of the oldest and holiest sites in Islam, caught fire the same day as Notre Dame. The majority of coverage only references Al-Aqsa in the context of the Paris cathedral—as if it were merely an add-on to the more important story of Notre Dame. Over 600 million dollars were pledged to Notre Dame in less than a day. Where is this support and funding for Al-Aqsa? President Trump has offered money to aid France in rebuilding Notre Dame; meanwhile, our government has yet to send ample money and resources to Flint, or to Puerto Rico after Hurricane Maria.
The fact of the matter is that the history of colonialism has conditioned us all to care more about white and Western losses than the losses of countries in Africa, Asia and the Middle East. This is especially egregious when considering the fact that these places historically have lost so much at the hands of Western nations through war, sanctions and the stripping of resources.
Because of all this, I personally just can't feel sad about Notre Dame. There is just so much of a focus on the West that many folks likely haven't even heard of the losses in other places. Plenty are mourning Notre Dame, but if I don't mourn for Al-Aqsa, who will? On top of it all, there are now wild conspiracy theories suggesting that Muslims are to blame for the fire. How can I be expected to mourn a historical site while at the same time being blamed for its injury?
To be clear, I'm not trying to make this a competition of which community has suffered more, I am trying to do the exact opposite. I'm hoping that after the Notre Dame fire, we can begin to value all of these cultural and human losses equally.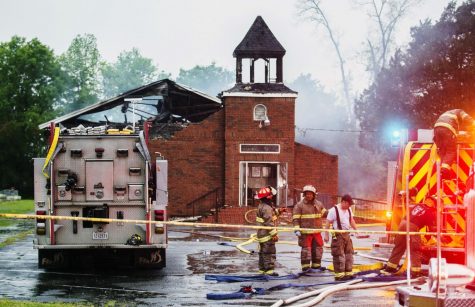 In the past month, three historically black churches in Louisiana were destroyed by a racist arsonist. After the Notre Dame fire, the GoFundMe pages for these churches went viral and have now reached their goal. As sad as this fire is for many, I hope this leads to a change in the way we view each other. I hope it pushes all of us to appreciate all cultural histories and arts, not just the white ones.
The importance of protecting sacred spaces
By Christopher Silber
Watching Notre Dame burn stirred a number of emotions within me. Having grown up in the Catholic faith, attending a St. Mary Parish—Notre Dame translates to "Our Lady," referring to St. Mary—I knew the cultural significance of the building, and its place in European and Catholic history. But I was conflicted because, like many young people, I had stopped practicing religion—a decision based on my general lack of religious belief and trust in the institution. And yet, watching Parisians gather to mourn in prayer and song, a tremendous sense of loss came over me. I may not believe in the prayers anymore, but they still hold a deep meaning inside.
France is one of the most nonreligious, secular countries in the world. While most citizens consider themselves Christian, only about 5 percent of Christians practice their faith, and about a quarter of citizens claim no religion at all. Notre Dame maintains an important status in the country as a symbol of its cultural tradition and its people's collective memory. Whether one is religious or not, the building is irreplaceable, and religious and nonreligious people worldwide have since rallied to address the urgent crisis of its structural damage.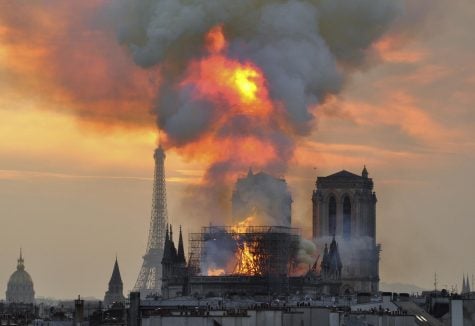 This is an important time to consider the role that sacred spaces play in our lives and culture. Religious and spiritual spaces worldwide face threats of demolition and destruction. Terrorism, such as the recent burning of black churches in Louisiana, presents a serious threat to religious minorities. State-sanctioned destruction, such as the bulldozing of a Uighur mosque in China's Xinjiang province, exemplifies government repression of a religious minority. The placing of leaking oil pipelines through indigenous burial grounds shows a lack of empathy for people's religious cultural traditions from the institutions we trust to protect our way of life. Whether through violence, government action or the degradation of the environment, sacred spaces and the traditions they carry are being threatened.
Religion has a place in our world, even if many people like me choose to stop practicing. When sacred spaces are threatened, the pain it brings is real and inhumane. No matter what religion, we should all, religious or not, fight to protect these sacred spaces and the meanings and memories they carry.
Illumination through tragedy: An opportunity for the Church to grow
By Michael Koss
I was privileged to attend Mass at Notre Dame a month ago.
I touched the columns inside Notre Dame, which many Catholics throughout the centuries have also touched and invariably leaned on during Mass.
I saw the vaulted ceiling, which amplified the Gregorian chants that were once exclusively sung in Notre Dame, and which was partly ruined during last week's fire.
I stood in the cascades of light from the stained glass windows—some with hues of blue that are not replicable today—and I particularly marveled at the Rose windows, which display a medieval perception of the Beatific Vision.
And I smelled the incense, whose smoke has set into Notre Dame like a marinade into meat after centuries of Masses.
In the aftermath of the fire at Notre Dame, I have been thinking about how I view the Catholic Church, how others view the Catholic Church and how the Catholic Church views itself.
Many, like myself, view the institution of the Church as morally compromised by the current sexual abuse scandal. And we know that the Church's message and legacy are marred by its roles in colonialism and the slave trade and by its tendency to ally with the rich and powerful instead of the poor.  Even so, we are still inspired by Jesus Christ, the source of our Church, who redefined leadership as service, mercy and self-sacrifice.
This brings us to how the Church views itself, and brings us back to the fire at Notre Dame.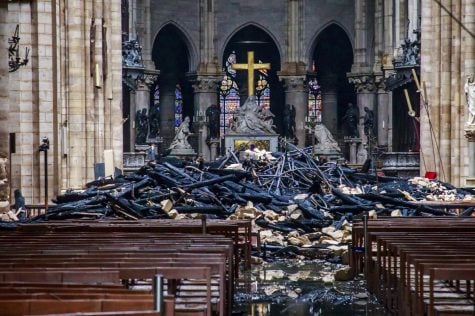 The cathedral will be rebuilt, and its reconstruction will be an opportunity to emphasize what the Church truly means: that it is more than a building able to burn down. It is humanity dancing with God, being inspired by Him to produce edifices like Notre-Dame and to work at living by the Great Commandment.
As I think about that truth, my favorite hymn, "Christ, Be Our Light," comes to mind, and particularly these parts of it:
"Make us Your bread, broken for others. / Shared until all are fed … Make us Your building, sheltering others. / Walls made of living stone … Let us be servants to one another / Making Your kingdom come … Christ, be our light! / Shine in your church, gathered today."
That unity and service is what the Church truly is and can be. That is what we are invited to remember through the fire at Notre Dame.