Spanish elections: Socialists gain seats, still short of majority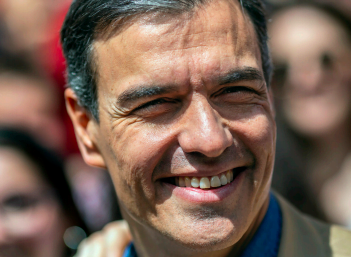 As predicted by a number of pre-election pollsters, Spain's center-left Socialist Party, PSOE, emerged on Sunday, April 28 with 29 percent of the vote, failing to gain a majority,  and the nationalist Vox Party scored seats in the Spanish parliament — the first far-right party to do so since 1982.
The Socialists greatly increased their seats to 123 in the 350-seat parliament, a large improvement from the 85 seats they held in 2016.
However, for an absolute majority, PSOE would need the support of smaller parties like Unidas Podemos and regional parties like the Basque nationalists or Catalan separatists.
Pedro Sánchez, Spain's 47-year-old prime minister and Socialist Party leader, must now combine forces with other parties to form a coalition government. Left-wing Podemos is the most willing to form a coalition, while the right-wing parties have ruled out cooperating with Sánchez.
But even with the alliance of PSOE and Podemos, they would not reach a majority of their own — so they have to rely on at least one other party's support to pass legislation.
The national elections are Spain's third since 2015.
They came in the wake of a sudden change of government last June, when former Prime Minister and center-right Partido Popular (PP) leader Mariano Rajoy was ousted in a no-confidence vote amid a series of corruption allegations. Sánchez, who introduced the motion to unseat him, became the new PM.
"People are tired of Partido Popular because they are just so corrupt and they robbed a lot of money from the Spanish people," said Manuel Alva, who lives in Malaga in southern Spain and supports Ciudadanos.
"I am relieved that the far-right wing party didn't do better, because a lot of us were afraid that they would gain more seats," said Glen Carman, Spanish program director at DePaul. "It's bad to see them entering into the fray, but most of the seats they got were also among the other right-wing parties — so they didn't gain too much ground."
But others are upset to see Sánchez and the Socialists strengthen their hold on government.
"The results of the election are truly sad. I think all we can do now is wait to see what happens," said José Luis Sánchez Pando, sports editor at Chicago Tribune's Spanish-language newspaper Hoy, who hails from Seville in the southwest of the country. "Pedro Sánchez is a liar. One day he says something and the next day he says the opposite. The only thing that matters to him is gaining power at any cost."
Unlike the United States, Spain has a multiparty system at the national and regional levels. Its five dominant political parties are PSOE, center-right Ciudadanos (Citizens), center-right PP and right-wing Vox.
Because of its structure, it is difficult for a coalition to achieve an electoral majority because the regional parties are strong within the autonomous communities of Spain, such as the Basque Country and Catalonia, which wants independence from Spain. Talks about forming a coalition could last for weeks because of the local and European Parliament elections in late May; the government might not be formed until June or July.
"The results didn't really surprise me," said DePaul environmental science student Andres Carrera, who is from Madrid. "We've had enough elections in the last couple years, and the Spanish people were so disappointed in the previous government, so this time they just wanted a clear government that could put an end to the corruption that we had. The truth is that I blame Partido Popular for these election results."
Sanchez Pando, the sports editor, said he believes it will be tough to create a coalition.
"The coalition we're talking about is an authentic bomb — because you have a guy whose only desire is power," he said. "If he forms together with these people, they're not going to give him their support for free. They're going to want something in return."