DePaul defeats Villanova 11-10 in the Big East Tournament title game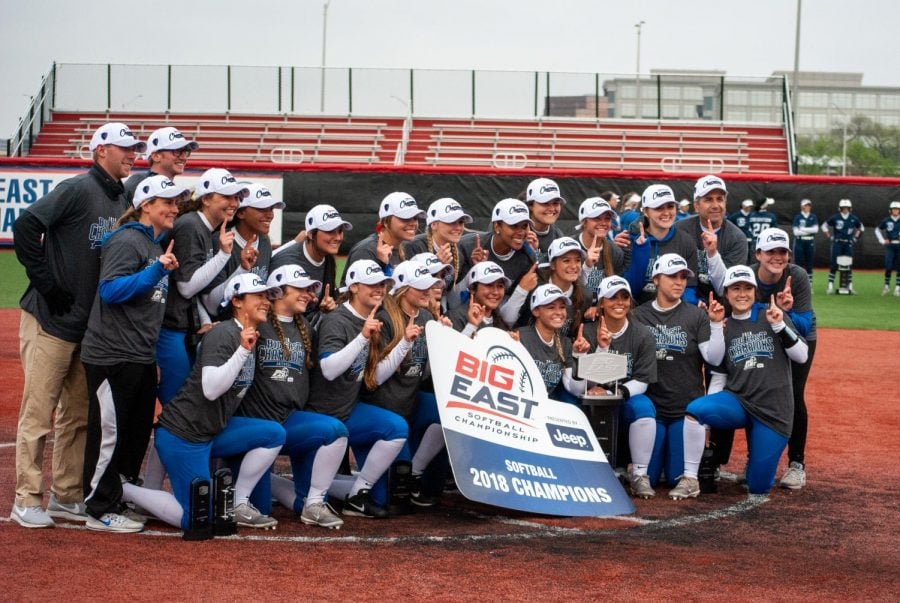 DePaul had to use every bit of magic they had in order to beat Villanova, and under first-year head coach Tracie Adix-Zins the Blue Demons came back from trailing 9-3 to win 11-10 and capture their third straight Big East Tournament title on Saturday in Rosemont, Illinois. 
"I think the fact that we have done it multiple times before this season, they were never going to give up and that's what we have done all year long," Adix-Zins said. "We did not say much to them, we let it roll, we do have a lot of kids returning, it really helped all of them pick up our new kids and roll with it."
DePaul entered the bottom of the sixth inning getting outplayed through the first five innings and were six outs away from losing the Big East Tournament title game. Instead, the Blue Demons offense came to life and put up eight runs in the inning to take the lead and eventually win the game.
After getting two runs to cut the lead to 9-5, senior Morgan Greenwood stepped up to the plate with two players on base and blasted a three-run home run and getting DePaul within one run of Villanova.
"When I came up to bat, I looked at the scoreboard and was like wow, one swing could put us just one run away," Greenwood said. "I was thinking just to pass the bat to my teammates and find a way to just get on base, I was just so excited and it's amazing to energize your team and find a way to get back and get this win."
Greenwood, who is graduating in June, knew that this could be her last at-bat in a DePaul uniform and made sure to make it special.
"When I hit that home run, I was rounding second and tears came to my eyes, I knew that could have possibly been my last at-bat in my college career, so I wanted to make the most out of it," Greenwood said.
The Blue Demons eventually tied the game at nine in the inning off a RBI single from freshman Gabby O'Riley. Then with two more players on base, senior Brianna Viles came up to the plate with two outs and a chance to drive in the go-ahead run. Viles hit a rocket into the outfield and drove in the game winning run.
"Honestly it was hard to come back from that, we were down by a lot , we've done it so many times so we all had a lot of confidence in our team that we could do it so it was so exciting to see us pull it off this time," Viles said.
Viles spoke on how this is probably the greatest moment of her career and one that she will cherish forever.
"I think this tops it off, being able to help my team and contribute like that meant a lot," Viles said.
Even in victory, Villanova put up a tough test for the Blue Demons and made sure to push them to the brink. The Wildcats came in with the utmost confidence after beating DePaul 10-2 last weekend and defeating No. 1 seed St John's 6-4 in the semifinals of the tournament on Friday.
Sophomore pitcher Natalie Haloverson came into pitch for DePaul after junior pitcher Krista Dalgarn struggled for most of the game, but Dalgarn came back in the seventh inning to close out the game.
Dalgarn and her DePaul team struggled early on, going down 2-0 to Villanova in the first inning and had trouble stopping the Wildcats offense for the first five innings.
In the bottom of the first inning, Jessica Cothern was able to reach on a double to left field and Greenwood made it to first safely on a slow infield dribbler that went to the shortstop.
The Blue Demons were unable to capitalize and left both players on base via a flyout and a strikeout. 
The only inning the Wildcats didn't score in the game was the second inning and they left one player stranded on base. But besides that they had a balanced offesnive production as they scored one or two runs in six of the seven innings. Their pitching also did a stout job of containing the high-powered Blue Demons offense for the first five innings, limiting them to only six hits and three runs.
In the top of the third Hanna was hit by a pitch and advanced to second on a groundout, adding another run for the Wildcats.
In the bottom of the third inning, DePaul was able to tie the game at three with a two-run home run from Madison Fisher and an RBI single from O'Riley.
Villanova, however, responded in the fourth inning and they managed to take back their lead with a two-run home run. The Wildcats scored another two runs in the fifth and sixth inning, extending their lead to 9-3. After Villanova seemingly done enough to win the game, the Blue Demons dashed the Wildcats hopes by scoring eight runs in the bottom of the sixth inning. 
Adix-Zins spoke about the legacy of the softball program at DePaul and what she has experienced as a player and now as a coach, and that the feeling does not sink in right away after playing in and winning such an exhilarating game.
"It is very overwhelming but it shows a lot about how hard they have worked, it is a testament to what we have done," Adix-Zins said. "No, not at all [sunk in], tomorrow, either that or probably it won't sink in until you are in a plane or on a bus, that's usually when it sinks in."
Halvorson earned the win as well as being crowned as the most outstanding player in the tournament after a dominant performance against Providence in the semifinal.
She also spoke on the tradition of the university and how everyone has helped her.
"It feels awesome that we can keep the tradition here at DePaul and be the three-time reigning Big East champs," Halvorson said. "This is definitely a bigger stage than what I have been on before, it is not just me today, those wins are everyone; Krista [Dalgarn] closed the game today, she did great, the hitters hit, so the credit is to them."
The Blue Demons are headed to the NCAA Tournament and will wait to see who they will face and where they will travel for the first round matchup on May 17.