"Line of Duty" 5th season provides thrilling window into police corruption
Are police officers secretly engaging in complicity with organized crime?
In "Line of Duty," you can bet they are. And in the unnamed U.K. city where the show is set, it's up to Anticorruption Unit 12 to bring in the "bent coppers" who are committing criminal acts while betraying the public they've sworn to protect.
What started out as a sleeper hit in 2012 has now grown into the UK's most-watched drama series, bolstered in part by the British Broadcasting Corporation's decision to move it from BBC Two to its flagship BBC One channel upon the show's fourth-season premiere in 2017. The newest season, along with all previous episodes, premieres in the U.S. on streaming service Acorn TV on Monday, May 13.
The show is known for its rich, complex plots, which chart the main cast's investigation into one central, allegedly corrupt police officer over the course of five or six episodes; its unique lexicon, filled with acronyms like OCG ("organized crime group"), UCO ("undercover officer") and SIO ("senior investigating officer"); and a consistent slate of fantastic guest performers — usually playing the cop being investigated — from "Westworld's" Thandie Newton to "The Walking Dead's" Lennie James and Keeley Hawes of "The Durrells."
This season the central figure is Stephen Graham's Detective Superintendent John Corbett, a fiery undercover police officer with a Scouse accent who at first appears to be the calculating gang leader of an organized criminal group; his number two is Lisa McQueen — (a standout performance by the previously little-known Rochenda Sandoval). It's AC-12's job to investigate whether he's become more criminal than cop; he hasn't been in contact with his Covert Operations Manager in months, and his recent activities include raiding a number of police convoys and evidence depots for cash, drugs and guns. Is there a mole within the force feeding him intel?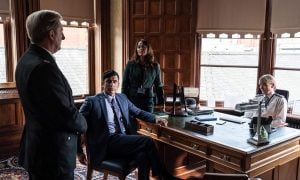 As the central duo of DS Steve Arnott (former footballer Martin Compston) and DI Kate Fleming (Vicky McClure) look into Corbett's background and activities, they also have to grapple with whether or not their boss, Superintendent Ted Hastings — the show's breakout character, played ferociously by Northern Irish actor Adrian Dunbar — is bent himself. Previous seasons have established a shadowy conspiracy in the upper echelons of the police force, with whispers of a mysterious puppetmaster going by the codename "H." Is it Hastings, known from previous seasons to be a strict, rule-abiding disciplinarian?
"I don't care whether it's one rotten apple or the whole bloody barrel," he bellows at police lawyer Gill Biggeloe (Polly Walker) in season three. "There's a line: It's called 'right and wrong,' and I know what side my duty lies." She's back in season five, at times defending Hastings from suspicion and at times seeming to torment him.
As events reach a fever pitch in the Corbett investigation, a criminal probe is also launched into Hastings's own conduct. As fans of the show know, a policeman apparently has the right to be questioned by an officer who is at least one rank superior — a role fulfilled in a powerful performance by Anna Maxwell Martin, portraying the supremely confident DCS Carmichael in the final two episodes.
While the show loses a bit of steam by plot's end, leaving a number of unanswered questions for a sixth season, season five is still an action-packed, narratively rich thriller from start to finish. From nail-biting cop-versus-cop interview scenes — which blow any dimly lit interrogation in an American cop show out of the water — to cinema-quality heist sequences, to revealing conversations and gun-drawn standoffs, Line of Duty remains a show that trims away all the fat and gets right to the good stuff.
It's the best police procedural on television.