Hong Kong legislature brawl shows deep divisions over extradition law
Legislators on the floor of Hong Kong's parliament engaged in a violent brawl last week over proposed legislation that would allow China to extradite persons who have broken Chinese law — yet reside in Hong Kong — to the Chinese mainland. The fighting, which resulted in a few hospitalizations and arrests, was fought over a bill introduced by pro-Beijing members of the legislature, including Carrie Lam, the city's pro-Beijing chief executive — a role roughly translating to governor.
The debate underscores divisions between pro-China and pro-Democracy camps in the city, one of the most important business and financial hubs in the world. Though most of the 24-member pro-democracy group supports China's claim to control Hong Kong, they claim the bill will erode Hong Kong's right of autonomy in civil affairs. To them, the bill is another tumble in the long slide toward political and economic dominance from Beijing. And if the autonomy of Hong Kong is eroded, it could scare off international investors, including large banking and financial companies upon which the economy heavily relies.
"Hong Kong has always been valuable to Westerners", said Tyler Hausen, a former Salesforce marketing and sales manager who has had significant years of experience working out of Hong Kong in the Chinese market. "China, as a whole, is very intimidating for new companies. But the presence of a sort of 'Western-esque' city, with Western business practice and ethics, means it's attractive to newcomers."
Some of the conflict between Hong Kong and the mainland stems from differing interpretations of the original treaty of return for Hong Kong in 1997. "[To the West], the treaty of return gave Hong Kong a great deal of autonomy in matters of business and governance, with laws which were almost identical to U.S. laws," said Dali Yang, senior fellow on Asia at the Chicago Council on Global Affairs. "Many in the U.S. saw [China and Hong Kong] as separate, when in reality, China has always had this degree of control over Hong Kong… now, China is enforcing their desires."
In pushing for the new legislation, authorities specifically cited the case of Chan Tong-kai, who police said killed his pregnant girlfriend in Taipei before traveling back to Hong Kong. Taiwan is concerned Chan's extradition would put the rights of Taiwanese citizens in jeopardy, as it could be used as a precedent to further erode the rights of their nation, which shares a similar limbo to that of Hong Kong. China's judicial system is notoriously opaque, and it is routinely accused of silencing and arresting political opponents as well as zealously using the death penalty.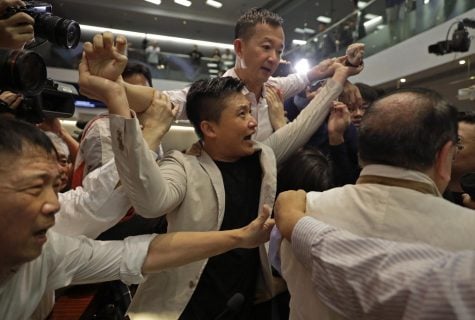 According to Ben Whitimer, a former expat who lived in Hong Kong for three years, the Chinese government has been cracking down on supporters of autonomy.  The police "work behind the scenes — get people arrested on trumped up ticket charges; or simply have the city council increase rent in a certain area so the original residents can't stay, and subsidize the costs for residents who vote more in line with Beijing's wishes… I've heard rumors about corrupt cops who routinely beat up pro-democracy supporters in broad daylight," he said. "The one country-two policies era is at an end."
Proponents of the bill argue it is needed to put firmer penalties on criminals in Hong Kong, whom, they say, use the lack of a current extradition law to remain at large. China also wants to tighten what it sees as a porous border between Hong Kong and the city of Shenzhen to the north — one of the largest staging grounds of illicit narcotics in China. Almost all the drugs flowing out of Shenzhen go through Hong Kong, then to other parts of Europe. And once the drugs are in Hong Kong, there is little Chinese law enforcement can do.
Regardless of reasons, Hong Kong and Taiwan may need aid from Western nations to maintain sovereignty. An American fleet protects the Taiwanese straight, though the U.S. does not recognize Taiwan itself. Taiwan recently legalized gay marriage, an act many pundits claim is an attempt to curry favor with more liberal Western nations, pointing to the fact that support for the gay marriage bill within Taiwan is not very strong.  
And the American government has offered no actionable support to Hong Kong. According to the state department, the U.S. desires to 'uphold the one country, two policies' mission of China. Western governments simply do not think Hong Kong and Macau are important to their ends. In 1997, Hong Kong and Macau comprised 19 percent of China's GDP; today, they comprise barely 4 percent.
"Unless Hong Kong and Taiwan can make themselves valuable again to western powers, their days are numbered," Hausen said. More and more everyday, Hong Kong is no longer the business hub of China, and the city does not competitively distinguish itself from other Chinese cities. According to Yang, the situation's momentum favors China.
"Historically, the PRC [People's Republic of China] has controlled the flow of people from the mainland into Hong Kong," he said. "It is obvious the government of China would be closely interested in the demographics of the city in regards to support for the pro-Chinese parties."