Ink: the accessory that never comes off
Fashion is who someone is – their spirit, personality, vibe. Accessorizing that spirit can change a look to fit any situation, no matter what the occasion calls for. Tattoos are one accessory that add to any look and can go with you everywhere. 
Tattoos have been around for thousands of years. These permanent designs stand for plain or elaborate things, love, personal things – they stain your skin with memories. Going back to about 2000 B.C, tattoos have been a part of life. While there is no exact date on when ink began needling its way into skin, it's been around long enough and made its way into something even more mainstream today. 
It doesn't matter whether you have one, none or many. There's something about a tattoo peeking out of a long sleeve shirt on the wrist or the flip of someone's hair revealing a shoulder tattoo of flowers, with the perfect amount of shading to give that rose a three-dimensional effect. They are a form of art and an accessory that you never have to worry about losing.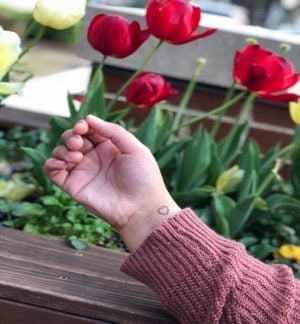 "When it comes to accessorizing, I am a bit of a minimalist," said Angelina Mcadory, a freshman at DePaul. "I like dainty, thin, simple and neutral-colored accessories. Same with tattoos. So, I feel like they add to my aesthetic rather than making a statement."
They can be meaningful, or they can just simply be a rad piece of art that would look too incredible on a forearm to pass up – even if it doesn't mean something personal. Tattoos are expressive, creative and permanent. Permanent accessories that will add an element to any casual, white Fruit of the Loom T-shirt or that pink, glittery crop top picked up from Forever 21.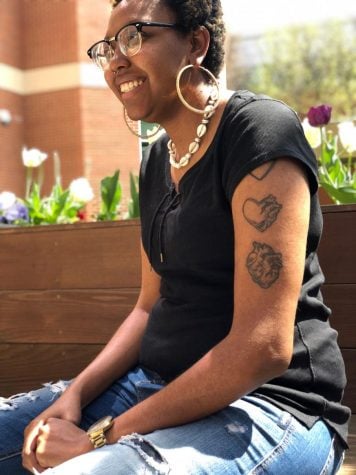 "Getting tattoos has made my confidence in my body soar," said Alexis Fletcher, a freshman at DePaul. "Why hide my arms when they're covered with great tattoos? I use every excuse now to wear tank tops so I can show my tattoos off. I feel like I look better in any outfit I put on now that I have tattoos."
Clothes are sewn, buttoned, zipped and dyed. It can take hours and hours to put a piece together that really grabs someone's attention. Tattoos do the same thing. They are designed for a specific person and a specific area. Just how that specific striped shirt brings out confidence in someone, that tattoo on the back of a calf brings out confidence in someone else.
"I want more tattoos because I'm not done expressing myself," Fletcher said. "I have so many ideas; I'll keep getting tattoos until those ideas run out. My body is my canvas, and I choose to keep decorating that canvas with beautiful tattoos."
As everyone has heard, beauty is pain. Embrace the beauty behind the ink that'll forever bring meaning and memories to life.