Emma Watson misses mark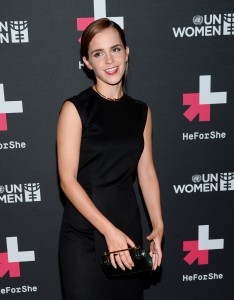 From 'He for She' to 'All for All'
More than a week has passed since Emma Watson gave her speech on feminism at the United Nations Conference, but it continues to spark conversations globally. As the new U.N. Women Goodwill Ambassador, Watson delivered a lesson in feminism to her worldwide audience and encouraged men to jump on board with her new campaign titled HeForShe. In her effort to create a non-threatening version of feminism, she missed the mark in quite a few ways. She focused too much on the inequalities that males face, barely touched on the issue of gender identification, and her celebrity status made her message a little less relatable.
Watson started out by clarifying that feminism is "the belief that men and women should have equal rights and opportunities … the theory of the political, economic, and social equality of the sexes." Throughout her speech, she made sure to address the issues of gender inequality that exist in the lives of both females and males.
Later, she said gender inequality exists in every country in the world. Every society has certain expectations for each gender that turn into stereotypes about their behavior and abilities. Watson's message is that this needs to stop. By assuming someone is a certain way, you are putting them into a box and are limiting them only to what you think they are.
It's alarming that Watson had to "invite" men to join the fight for gender inequality. This formal invitation assumes men haven't known or haven't felt like they were able to take action against the inequality. While this may be true,  it seems more likely that men haven't joined because they've had no reason to.
Historically and currently, they almost always benefit from gender inequality politically, socially or economically. Maybe instead of extending an invitation and justifying the fight for gender equality by saying men face sexism too, we should be ensuring men that they do in fact have significantly more advantages than women, and that they should be concerned by those advantages.
In the pursuit of making feminism relevant to everyone, we need to make sure we are careful with our word choice.
After mentioning gender over and over again, Watson failed to mention that gender isn't binary. Finally, six minutes in, Watson said "it is time that we all perceive gender on a spectrum, not as two opposing sets of ideals." The title of the campaign is problematic because it implies that it is now the role of men to fight for the rights of women, which is not the point of feminism or this speech. Perhaps a more accurate name for this campaign would be We for We or All for All.
Though some websites like Vanity Fair describe Watson's speech as a "game changer" in the feminist movement, there are an increasing amount of opinion articles, such as one USA TODAY College article, that argued "she is making a trendy political statement."
"Her speech is nothing new. Many queer people and people of color have been saying the same thing for years, but their voices aren't heard by the mainstream feminism movement, if at all," said Noah Barth, president of ActOut DePaul.
Despite Watson's eloquent speaking techniques, she is not necessarily the best representative candidate for this new feminist campaign. While she recognizes the privileges she has received and is open to sharing her experiences with inequality as a heterosexual, white woman in Britain, it is somewhat difficult for everyone to relate to her. Just as her fame gives her the opportunity to reach others, it also confirms that the issues she faces are not necessarily representative of the majority of people facing inequality. For this type of campaign to really launch, a more diverse group of people will have to join her.
While it's wonderful that Watson had such a large audience to inform about the many facets of gender inequality, she failed to address entire pieces of this large social issue. However, there is still a lot of room for others to join in the discussion and fill in the gaps she missed. Whether this campaign and approach to feminism proves to be successful, it did initiate dialogues, which are pivotal steppingstones on the path of social change.
View Comments (1)