Columbia College student dares to stand out in pink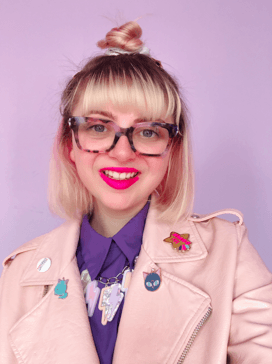 In a world of fitted black turtlenecks, cigarette skinny black slacks and leather loafers, only a few dare to add their own flare of style into their wardrobe.
Those few are brighter than the sun as they turn heads and stand out in the crowd of basic and bland business-casual and so-called urban yuppies (young professional with "style") and leave their own mark on the world of fashion.
Jessi Moonheart, 23, is a fashion studies major with a concentration in product development at Columbia College Chicago. She is also a barista at one of the many Starbucks stores in the city. Moonheart sets her own trends and doesn't fall into the crowd of those who eagerly page through the latest issue of Vogue in hopes of finding a fast-fashion dupe. Moonheart's aesthetic style is dressing in all pink and purple.
Pink and purple have been Moonheart's favorite colors since childhood, but she started dressing mainly in them in December 2017. She started dressing in a "pastel-goth," otherwise known as "larme style," last summer.
Larme started in Japan around September 2012. It's a popular fashion in Japan that gives off a sweet and girly look.
"I love how I look when I wear pink," Moonheart said. "I feel unashamed of my unbashed life-long love for the color. I tend to buy most of the objects in my life either pink or purple, or I purposefully change their color to match my aesthetic."
Moonheart said wearing pink makes her feel positive emotions, while wearing black for long periods of time has the opposite effect on her mood.
Moonheart's inspiration comes from the 20s, 50s and the 80s. Barbie is her "OG style icon" and she's heavily inspired by Japanese street style.
Although she has an extensive wardrobe, she doesn't have to break the bank for it.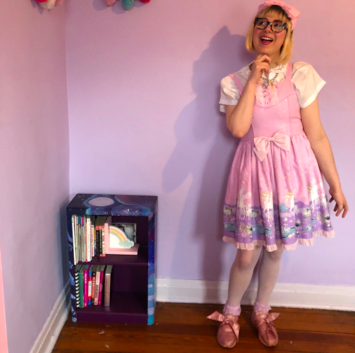 "Most of my shopping is done secondhand," she said. "I frequently thrift, purchase vintage, buy from apps like Poshmark and DePop or swap garments with friends. I spent a lot of time at Hollywood Mirror before they closed. I really like Belmont Army and Store B Vintage."
Aside from her Gucci glasses, Moonheart's other favorite accessory is her pastel lightning bolt necklace. It's from an independent brand called I'm Your Present. Her partner got it for her for their two-year anniversary.
"Lightning is symbolic of strength, creativity and inspiration, and I feel like I specifically exude those things when I wear this necklace," Moonheart said. "It's also a pivotal piece to my sky and space-themed fashion collection."
Michelle Wacklawik, 21, is a fashion business major at Columbia College Chicago and is minoring in marketing. She is doing an internship in New York City with designer Brandon Maxwell. Wacklawik has been highly interested in fashion since she was young.
Wacklawik said colors are important to fashion and that they do impact someone's mood.
"Colors do affect mood," she said. "I personally know for myself if I am feeling more daring, I will wear bright and bold colors."
Kameron Stanko, 20, is a sophomore at DePaul and writes for College Fashionista. Stanko said experiences with color make a difference in someone's mood.
"If you've had positive experiences with a certain color, you're more likely to want to wear and like that color," Stanko said. "My favorite thing about the color pink is how versatile it is. It goes well with a lot of different colors and styles."
Hayden Peter-Lee is one of Moonheart's friends. Peter-Lee met her at a Japenese fashion panel and said Moonheart was dressed to the nines in colorful clothing. Peter-Lee is also very into Japanese fashion.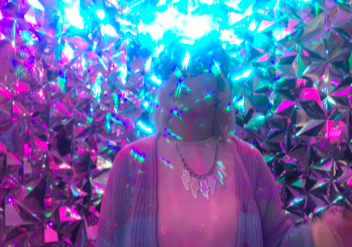 "I adore Jessi's style," Peter-Lee said. "She's so good at combining vintage and new, different textures, and coming up with coordination ideas I would have never thought of. She puts a part of herself in everything she does."
After two years of friendship, Peter-Lee could tell that Moonheart stays true to herself and her sense of style shows it.
"She doesn't limit herself to one sort of fashion and style, and instead dresses what she feels looks good and makes her happy," Peter-Lee said. "Even within J-fashion [Japanese fashion] there are things that are societally accepted and things that are not. She breaks those bounds and does what inspires her."