When it comes to getting over heartbreak, time will help you heal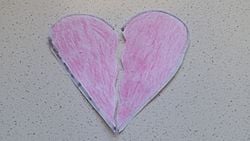 Everyone who has had a broken heart knows that not all feel the same. Some broken hearts prove that maybe the feelings weren't as strong as one thought, or that it was just lust. But, the first real painstaking heartbreak is something that nobody can truly be ready for.
What I wasn't prepared for was the love that changes you. That first serious relationship, where you become one, you become a part of their family, move in together, get pets, share bills, start building a life together. A love that you physically and mentally can't prepare for, you just have to experience it for what it truly is – painfully remarkable. 
In recent studies done through John Hopkins University and The New England Journal Of Medicine shows that heartbreak triggers your brain to cause you to feel real "pain" physically. The linkage between heartbreak and death appears to hinge on the flood of stress hormones, including adrenaline, GH and cortisol. So no, you're not crazy for getting an ache in your chest or a loss of breath when the thought of the person you lost pops into your head.
This isn't to say that you will die from a heartbreak – the point is that feeling like a painful mess after losing the one you love is normal. 
It is normal to cry, scream, laugh, smile and actually feel happy and sad at the same time. There is no manual or guide to getting over a breakup. If there was, I am sure it would be a constant No. 1 bestseller. The only manual there is is learning with time. That's what I've had to realize the most – as frustrating as it may be, it'll only get better with time. 
That's probably the last thing anyone wants to hear, even for me. Everyone tells me, "It'll just take time," and after a while, when time is seemingly at a standstill and your feelings haven't changed, you wonder how much more time it'll take. It begins to sneak up on you – one day you realize you haven't thought about that person for a few days and then you are a complete wreck for the next two. 
"You're so used to seeing them and being around them, hearing their voice, laughing with them," said Paulina Trujillo. "And all of a sudden it all ends, and you no longer have someone to share everything with. It's even harder when you've met their family or pets. It's very difficult because it's not just them you're not talking to anymore, it's their family too."
You'll find yourself purposely putting on sad music just to make yourself cry harder – hoping it's not just me who does that – to really get it all out of your system. That's one thing I think everyone should do in this situation: Let those feelings out. Become that ketchup – or ranch – bottle you see in your fridge and just squeeze out your feelings. 
"In order to try to move past that [heartbreak], I wrote down everything that happened between us," said Jillian Morrison, a sophomore at DePaul. "Everything he said, everything he did in such painstaking detail so it could exist in a place other than my brain."
Trying to suppress the pain of not being with the one you love is only going to make that, "It'll just take time" feel even longer. 
The heartache feels like the tectonic plates of your life have shifted and now your whole world is shaking. For a while, you're just trying to stand still on your feet. With every day that passes – the floor begins to settle, and you can begin to walk. 
Once you feel that earth-shattering heartbreak, every corny thing that parents always say when you're younger becomes true. It's unfortunate it takes getting your heart thrown into a woodchipper to make those corny quotes shine, but that's the beautiful part of heartbreak – growth. 
"I allowed myself to blossom under conditions that were not designed for that to happen," Morrison said. "Either conditions I directly or indirectly helped create."
You rediscover yourself and it begins to feel like the first time you watched your favorite movie or heard your favorite song. There is that, "Wow, that was so amazing" moment, and you begin to have these moments about yourself. You begin to realize what you might've lost or no longer had sight of. 
When you're stripped of the person you love, you begin to put that love back into yourself. It takes time, so much time it feels like you're waiting to check out at Costco on a Sunday. Maybe it feels longer than that three-hour long bio lab – it 100 percent does – but the feeling you get when it's over is worth it. 
"The most rewarding thing about heartbreak is how freeing it is," Trujillo said. "Once you're done with the process of healing and get over that dread. And freeing in the sense that you have all the freedom to do whatever you want with whoever you want. No rules, no guidelines. You don't have anyone to report to, everything is your business and your business only again."
The feeling of falling in love with yourself again is one of the most beautiful parts of being heartbroken. Don't fret on the amount of time it takes to heal from this. Some heal faster than others do and that is okay. In the long run, you'll learn more about who you are as a person and how you want to be loved. Most importantly, you learn happiness. 
You can't search for happiness, you just become it. It'll creep up on you when you catch yourself smiling while at dinner with friends, or when you're cooking dinner and dancing while listening to the new Lil Nas X album. It'll happen in the smallest ways that lead to the largest amount of growth.
There is a never-ending amount of beauty that can't be seen right away, but it will shine brighter than the love that was lost.
I recently saw a quote about time:
"The people we meet at the wrong time are just the wrong people. You never meet the right people at the wrong time because the right people are timeless."
Everyone will have their "timeless."