Reliving the last night on the Titanic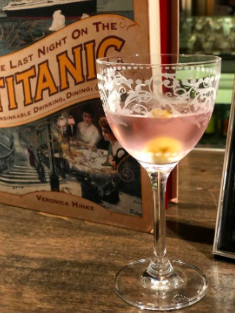 A Titanic-themed event with a gourmet menu sure to have been served on the stunning ship 1912 – and cocktails strong enough to clean the palate with just one sip – 
was held in downtown Chicago at The Gage on July 22. 
Veronica Hinke, author of the book "The Last Night On The Titanic: Unsinkable Drinking, Dining & Style," hosted the event. It included food, drinks, free copies of her book – which she signed for everyone – and a panel that included a woman whose great-uncle was a survivor of the horrific and historic event. 
The night was a step back in time that brought attendees closer to the extravagant ship that was the Titanic. Making you feel as if you were a part of that five course meal you see in the movie – which Hinke says is very spot-on to what it was like on the ship after her years of research on the subject. 
There was a full gourmet menu that included scotch eggs, asparagus bites, chicken cream puffs and duck and carrot bites. Served with three stunning cocktails as well: The Marguerite, Bloody Mary and Roman Punch.
There was a panel of people with Hinke that helped bring us back in time. Jeffery Pogesh, also known as the "cocktail guru," spoke about the delicious cocktails served on the ship and remade a couple. 
Hinke brought a panel of people together that helped her create this book filled with true stories and experiences while aboard – giving readers another way of experiencing the Titanic other than watching the award-winning film by James Cameron. 
"The people, who are these people?" Hinke said when discussing her favorite part of writing the book. "I really was happy to intertwine the history with the here and now and these folks that are here with me at the table, that's why they are pretty special. I can't talk to those people that were here in 1912. But I was able to talk to so many amazing people that are here to try to interpret the story as best we can."
A woman named Astra Burka shared letters from her great-uncle, Adolphe Saalfield, which he sent to his wife and sister while aboard the Titanic.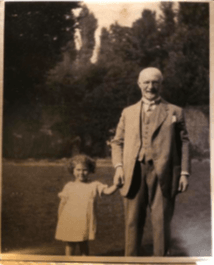 Burka read a letter dated April 10, 1912 which her great-uncle wrote and was translated from German to English. 
"We are the first to write a letter from the boat," Adolphe wrote. "It is wonderfully appointed. Uncle has a large cabin, nearly a living room with a sofa and an electric ventilator."
Adolphe also wrote a letter to his wife, which Burka said "added flavor" to what it was like being aboard the Titanic. Adolphe began his letter with, "Dear wifey."
Adolphe wrote in detail about his experience on the ship. He wrote that he had "a small table for two to myself. I had a very good dinner and first had to cigars in the smoke room." In one letter he wrote, "It is not nice to travel alone and leave you behind. I think you will have to come next time."
Burka also read a letter her great-uncle wrote to his wife after he safely made it to NYC after the shipwreck. 
"Soon engines stopped, and stepping from Veranda café, icebergs plainly seen and felt," he wrote. "Most people in bed. Boat absolutely quiet."
Hinke's book includes Burka's great-uncle's letters and the cocktails Pogesh made at the event. It also includes detailed recipes, an actual, rare printed menu from the last first class dinner on the Titanic and eyewitness testimonies about Captain Edward Smith's final moments. 
For anyone who is obsessed with the Titanic story, this book will make them feel closer than ever before. 
The only thing the event didn't offer was the "Heart Of The Ocean" necklace, but who needs that when there's strong cocktails and chicken cream puffs?
View Comments(1)